Published Jeremy. Last Updated on January 1, 2021.
Disclaimers: This review uses WSET Level 2 terminology and our own rating scale. Read more here. We use demographic data, email opt-ins, display advertising, and affiliate links to operate this site. Please review our Terms and Conditions for more information. This website is intended for those of legal drinking age in your jurisdiction.
If you like wild and funky wines, Bloomer Creek's Riesling (Clone 10 from Auten Vineyard) should be on your radar. This one took us by surprise with just how unique it is- even more so than we expected.
A Wild, Wild Riesling from Bloomer Creek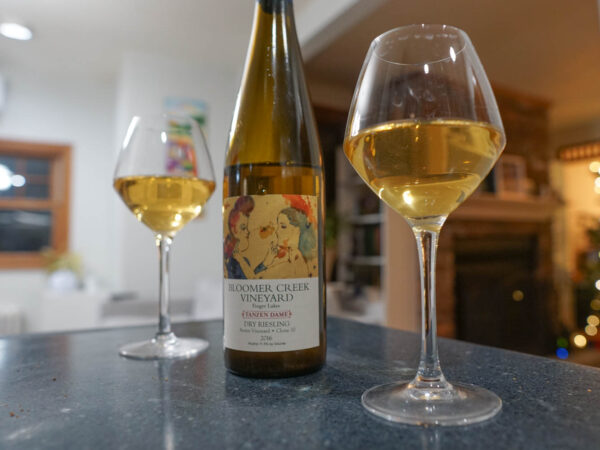 As soon as you pour Bloomer Creek's Clone 10 Auten Vineyard Riesling, you'll know it is a bit different. It is medium gold in color and has a medium aroma of yellow apple, lime, petrol, a bit of camphor, honey, and an overwhelming scene of wild funk (Angie also described this as barnyard). If you would've said this was a wild fermented cider, the aroma is not too far off.
On the palate, this one was dry, had medium acidity, flirts with some tannins, and medium body and flavor intensity. Notes of lime, grapefruit, green apple, and a minerality were all quite present while having just a bit of an unusual funk like you may expect from something that has been spontaneously fermented which made it stand out from other Rieslings we've had from the Finger Lakes.
Suffice it to say, this is a unique one- and that is a major understatement.
Bloomer Creek Riesling Food Pairing – Squash Soup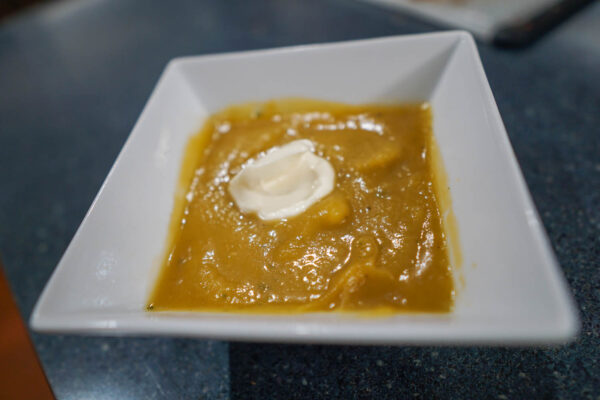 We paired this dish with squash soup as Riesling is a recommended wine to pair with squash dishes, especially in soup form. We don't necessarily think that the soup impacted the flavor of the wine one way or another, and in fact letting this one breathe for a bit did more wonders than the food pairing did itself.
Score: 3 / 5
We'd buy a glass of this one.
Overall, the funkiness of this wine is present in both the aroma and (significantly less so) on the palate. You may need to be in a specific mood for this style of Riesling when opening it and for us, we think it may be more something we'd pick a glass of rather than a bottle in the future. But if you like unconventional takes of tried-and-true styles, this one is right up your alley and done quite well.
Bloomer Creek is located at 5301 NY-414 in Hector, NY. We purchased this bottle directly from the winery and enjoyed it in 2020. Wine.com appears to have Bloomer Creek setup in their system but did not have any inventory at the time of publishing.
Looking for more wine reviews from Bloomer Creek? Check out our reviews of their Gruner Veltliner and Chardonnay blend or their White Horse red blend!