Last Updated on June 25, 2021 by Jeremy
Disclaimers: This review uses WSET Level 3 terminology and our own rating scale. Read more here. We use demographic data, email opt-ins, display advertising, and affiliate links to operate this site. Please review our Terms and Conditions for more information. This website is intended for those of legal drinking age in your jurisdiction.
Normally when we think of the grape Macabeo, it is in the context of Cava. Even there, this grape is often used for blending purposes and can be a small percentage of the overall makeup of any given glass of sparkling.
Since our quest here is to try every grape variety in the world as close to we can get as pure, single varietal expressions, you know we had to pick up a bottle of Frontonio "Microcosmico" Macabeo when we saw it.
This single varietal grape stands on its own with this rather delicious bottle (with bonus points for being six years old, too)!
Macabeo is a Delightful Grape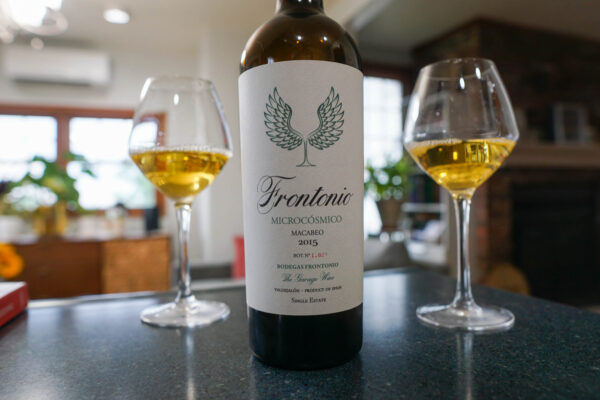 This single varietal Macabeo was deep lemon in color with medium aromas of honey, petrol, grapefruit, biscuit, lemon, gooseberry, ground cherry, pear, and wet stone that was developing.
On the palate, it was dry with medium+ acidity, body, and flavor intensity, high alcohol, and notes of lemon, lime, pear, wet stone, peach, grapefruit, and pineapple with a medium+ finish. The flavors were perhaps not as complex as the nose (where we got hints of age), but this one came together for a rather enjoyable glass all the same.
Macabeo Food Pairing – Pasta With Vodka Sauce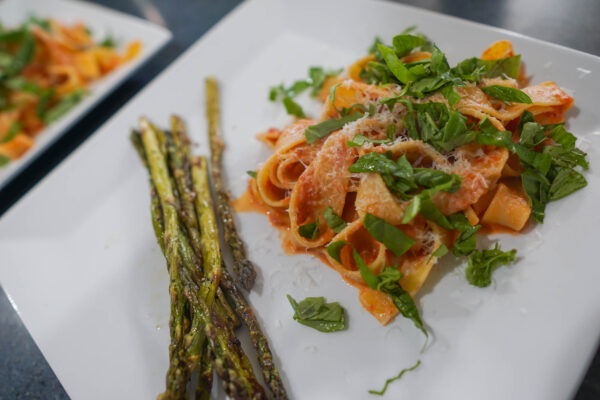 When we make pasta with any sort of tomato sauce, our thoughts tend to go to a bright, high acid red (often Italian). But as this vodka sauce had a hint of cream in it we thought we'd try something new, go white, and pair it with something just a notch down in the acid department.
Honestly, it worked quite well. There weren't any mind-blowing flavor changes of note, but just that the acidity and creaminess of the sauce worked well with this white, which probably speaks more to the versatility of this particular bottle more than anything- it'd easily pair with a lot of dishes!
Score: 4 / 5
We'd buy another bottle of this one.
Overall, this single varietal Macabeo was a surprising find and had some rather intense and complex flavors that we absolutely adored. We'll be picking up another bottle (and others from this producer) the next time we see it in a store.
Bodegas Frontonio is located at Torre Oeste Planta 13 in Zaragoza, Spain. We purchased this bottle at a local store and enjoyed it in 2021.