Published Jeremy. Last Updated on June 25, 2021.
Disclaimers: This review uses WSET Level 3 terminology and our own rating scale. Read more here. We use demographic data, email opt-ins, display advertising, and affiliate links to operate this site. Please review our Terms and Conditions for more information. This website is intended for those of legal drinking age in your jurisdiction.
Petit Verdot is one of those grapes we often see only in small percentages in a bottle often because it is late-ripening (at risk of not being fully developed) and adds big color and tannin to the blend.
So when we found Azamor's pure varietal bottle of this one, of course we had to buy it.
But we approached this one with a bit of hesitation since we knew that it could've been an intense tannin bomb. Thankfully, while would still say that the tannins in this one are firmly high, the bottle was rather approachable at seven years old and worked beautifully with a steak!
Azamor Petit Verdot is a Big Wine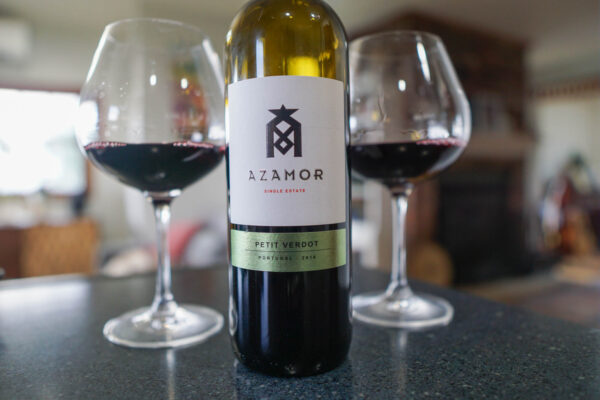 This single varietal Petit Verdot is medium ruby in color with medium aromas of baked blackberry, black raspberry, nutmeg, cassis, tar, blueberry, vanilla, violet, and a slight vegetal note (which wasn't overwhelming) that was developing.
On the palate this one was dry with medium+ acidity, body, and flavor intensity, high tannin and alcohol, with notes of blueberry, blackberry, black cherry, cassis, smoke, and vanilla with a medium finish. Big, bold, and could go with some delicious food. Thankfully, we had a steak ready to go!
Petit Verdot Food Pairing – Steak with Morel Mushrooms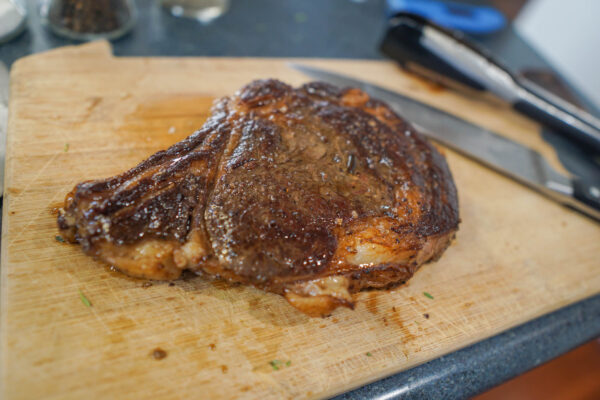 To help offset the high tannins in this one, we went with the classic sous vide, cast iron seared steak (rib steak specifically). This was paired with a heaping serving of morel mushrooms on the side as well.
The fatty cut of steak really helped minimize the perceived tannin as we drank and let the fruit notes shine, while the morels did a bit of the opposite- the earthy, mineral notes jumped out at us (we think partly just amplifying the mushrooms more than these components in the wine) and also brought out more tannin notes as well.
We also had a side of polenta with tomato sauce on top and the high acidity of the sauce really masked a lot of the fruit notes altogether and brought out more vanilla and baking spice notes on the side. All around a fun meal to play around with this fairly intense wine!
Score: 3.5 / 5
We'd buy a glass of this one.
Overall, single varietal Petit Verdot is an intense glass and we'd have to have a perfect food pairing to justify this one. If we saw it on the menu and had a fatty, meat-heavy dish (like our steak pairing) we wouldn't hesitate on a glass but could also be persuaded on a bottle in the perfect context- especially if aged like this one was.
Azamor Vineyard is located at Herdade do Zambujal in Ciladas, Portugal. We purchased this bottle locally and enjoyed it in 2021. Wine.com has a list of wines from this producer but were out of stock at the time of publishing.