Published Jeremy. Last Updated on April 5, 2023.
Disclaimers: This review uses WSET Diploma terminology and our own rating scale. Read more here. We use demographic data, email opt-ins, display advertising, and affiliate links to operate this site. Please review our Terms and Conditions for more information. This website is intended for those of legal drinking age in your jurisdiction.
North Mountain is a beautiful little estate in the Shenandoah Valley of Virginia that grows some interesting Austrian varieties like Gruner Veltliner, Zweigelt, and Riesling in addition to classic wines found throughout the region.
One wine, their Zweigelt rose, hit me as the most interesting during my tasting particularly because the rose style is not one we are used to seeing for this delightful, fruity grape. Naturally, it was my favorite of the bunch and I picked up several bottles to enjoy at home later.
Most of our bottles disappeared rather quickly and well before I could take notes for a review. The last one got lost in our cellar for not one, not two, but six years from its vintage before we finally decided to open it. While we could argue that this one was slightly past its prime, we still have to admit we adore this Zweigelt rose all the same!
North Mountain Zweigelt Rose is a Bottle To Seek Out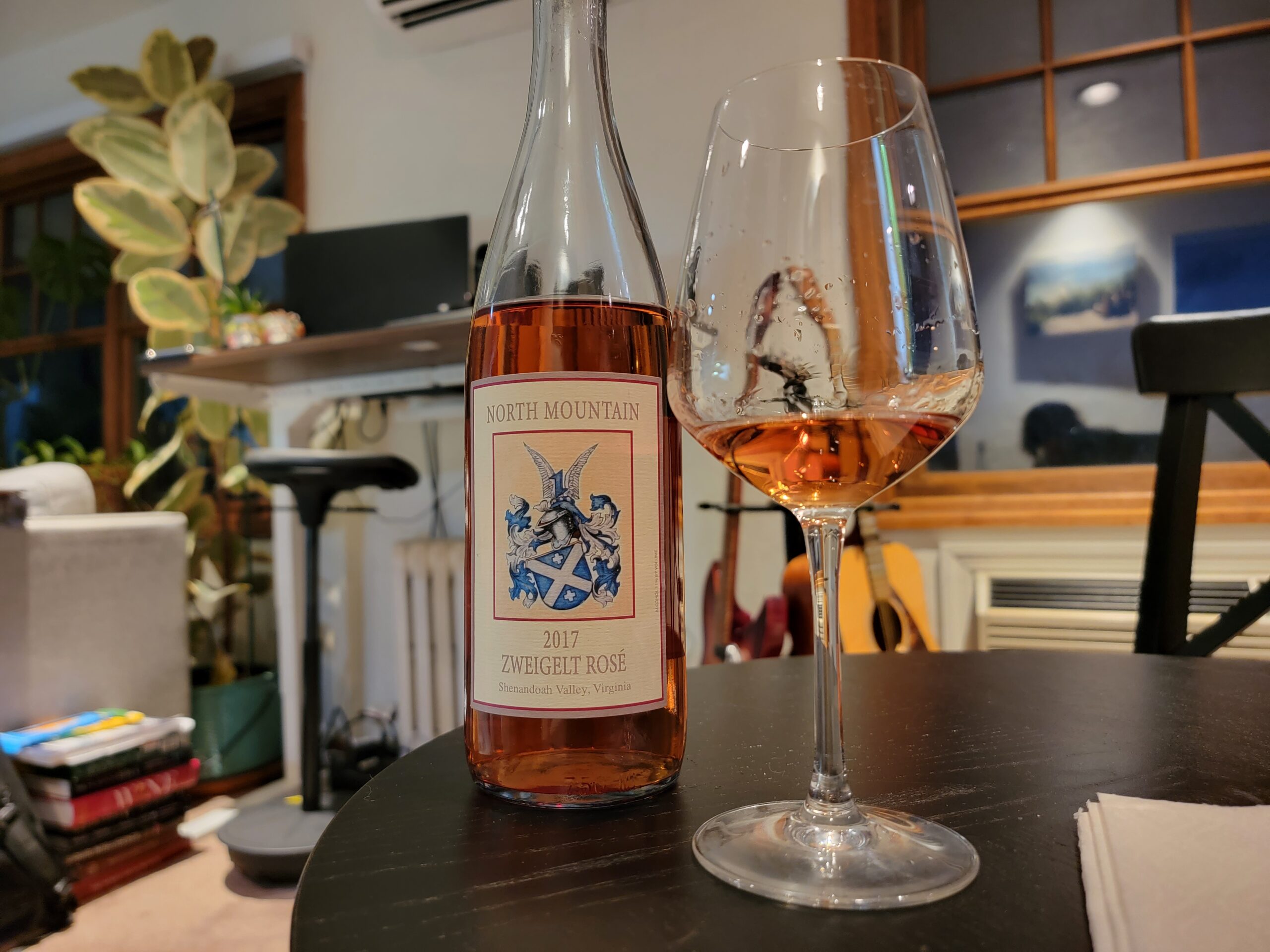 This Zweigelt rose was medium pink-orange in color with medium aromas of grapefruit, strawberry, red cherry, orange peel, marmalade, toast, almond, raspberry, candied strawberry, thyme, sage, and eucalyptus.
On the palate it was dry with high acidity, low tannin, medium alcohol, body, and flavor intensity, and a long finish. We detected notes of candied cherry, strawberry, clove, cedar, wet stone, raspberry, almond, and pomegranate to name a few.
This one was interesting as we have had North Mountain's rose several times in the past, but this was the first bottle we had that was six years old. The almond notes in this one showcased the wine's age, perhaps to its detriment, suggesting that we opened this one just past what would otherwise be considered its prime. Still, a fascinating one to try when older mostly because we very rarely ever drink roses that have age!
Zweigelt Rose Food Pairing – Chicken Tikka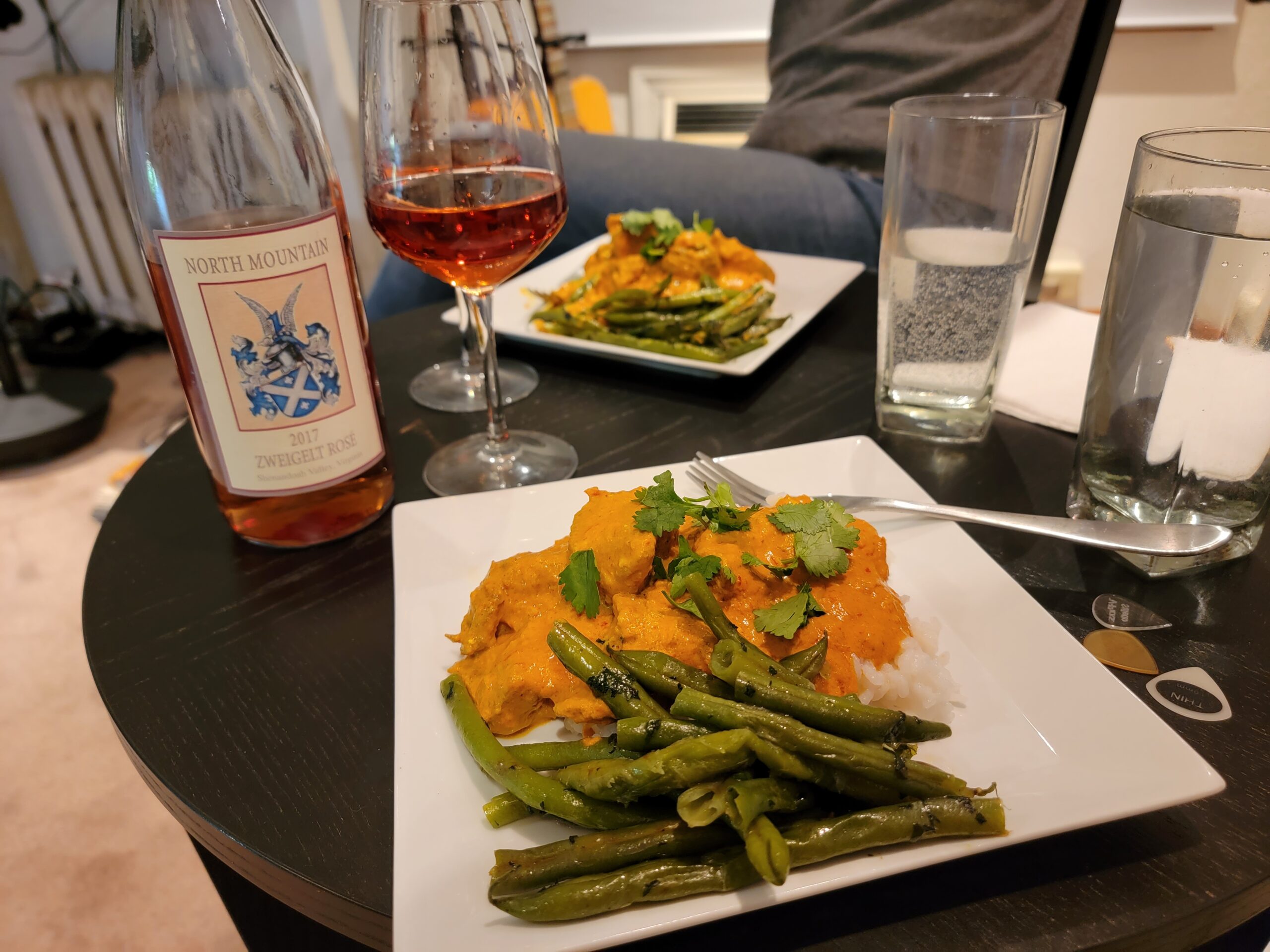 We paired this Zweigelt rose with a sous vide chicken tikka dish that came packed with a wealth of herbs and spices without being what we would personally classify as spicy (spices yes, heat no).
The rich, creaminess of the wine really helped accentuate more red and citrus character in the wine as well as mask some of the secondary notes that were found; however, the almond notes and overall slightly oxidized character of the age on this one still came through in this pairing.
Whether you enjoy that is really up to you.
Score: 3.5 / 5
We'd buy a glass of this one and a bottle in the right circumstance- namely a younger vintage.
Overall, we're big fans of North Mountain's Zweigelt rose as it is a delightful wine that should be found in everyone's cellar. That being said, us waiting six years to open our last bottle (specifically, the bottle we ultimately landed on for this review) was a bit unfortunate. So do yourselves a favor and buy this bottle if you can, but don't wait as long as we did to drink your last one!
North Mountain is located at 4374 Swartz Rd in Toms Brook, VA. We purchased this bottle at the winery and enjoyed it in 2023.