Last Updated on October 20, 2022 by Jeremy
Disclaimers: This review uses WSET Diploma terminology and our own rating scale. Read more here. We use demographic data, email opt-ins, display advertising, and affiliate links to operate this site. Please review our Terms and Conditions for more information. This website is intended for those of legal drinking age in your jurisdiction.
What we are about to say should have no ambiguity- if you are a Riesling lover you'll want to make your way to Hermann J Wiemer. This Finger Lakes winery is truly one of the best in the area, especially for this delicious white grape, and blows us away time and time again with every bottle that we open.
Naturally, we stop every time we are in the area, and our shopping haul from here is among our largest purchases every trip as well.
So when we opened the Hermann J Wiemer Magdalena Vineyard Riesling, we were excited to see what it was like after spending a bit of time in our cellar and it certainly did not disappoint.
A Minerally Riesling from the Finger Lakes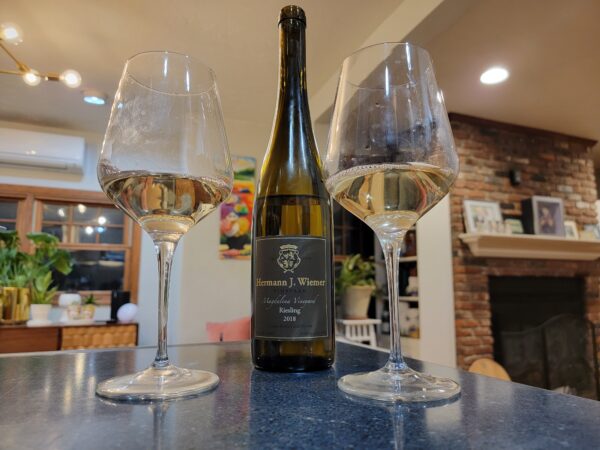 This pale lemon Riesling had medium- aromas of petrol, peach, lemon, lime, ripe pineapple, saline, geranium, elderflower, and was developing.
It was dry with medium+ acidity and flavor intensity, medium alcohol and finish, and medium- body. We detected notes of peach, lemon, lime, nectarine, pear, geranium, saline, and green apple plus a very slight pineapple note as well.
While the flavors of this one were fairly intense, we have to admit that they weren't also that complex. We were expecting to get more tropical notes for the Magdalena Vineyard which weren't really presenting themselves too much, but the balance of geranium and salinity made this one an interesting pour all the same.
We opted to drink this Riesling on its own but think it would work well with many dishes thanks to its higher acidity and slight saline notes. Pair it with anything also slightly acidic or with a good hit of salt and watch some of the flavors sing here!
Score: 3.5 / 5
We'd buy a glass of this and would consider another bottle in particular for aging purposes. 
Overall, Hermann J Wiemer doesn't disappoint with its Magdalena Riesling, and at four years old we thought this one was singing with its strong fruit and saline notes but were hoping for a bit more on the tropical side. However, at its price point, it is also one of the more expensive bottles from the producer so we would likely face a choice when buying another bottle of this one over others within their portfolio (but can be persuaded to grab one to lock away in our cellar for a longer age in particular).
This is perhaps more a testament to how delicious the entry-level wines at Hermann J Wiemer are for their price point than any reflection on this bottle on its own as it was still, as mentioned, rather delicious. That being said, we would always buy a glass of this one whenever we saw it on a menu either way.
Hermann J Wiemer is located at 3962 NY-14 in Dundee, NY. We purchased this bottle at the winery and enjoyed it in 2022.