Last Updated on May 31, 2022 by Jeremy
Disclaimers: This review uses WSET Diploma terminology and our own rating scale. Read more here. We use demographic data, email opt-ins, display advertising, and affiliate links to operate this site. Please review our Terms and Conditions for more information. This website is intended for those of legal drinking age in your jurisdiction.
During our travels in Portugal, we were fortunate enough to taste many high-end wines at wineries and via multi-course tasting experiences at restaurants like Belcanto, DOC, and The Yeatman.
One such wine we were able to try at these dinners was the Principal Grande Reserva 2011 which was one of the most memorable pours we had on the entire trip.
Naturally, when we went wine shopping on our last day at Garrafeira Nacional (perhaps the best wine store in Lisbon), we found a bottle of this one and had to buy it to bring home.
It did not last long in our cellar after that.
Principal Grande Reserva is Simply Astounding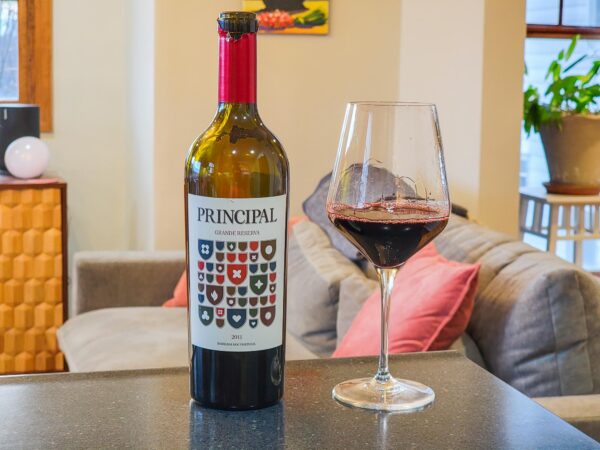 This red blend from Bairrada, made of Cabernet Sauvignon, Merlot, and Touriga Nacional, was deep garnet in color with medium+ aromas of leather, tobacco, black cherry, clove, white pepper, plum, cassis, violet, black raspberry, thyme, sage, and vanilla plus prominent alcohol notes that was developing.
On the palate, the wine was dry, with medium+ acid and body, high grippy and chalky tannins, high alcohol, medium flavor intensity, plus a medium- finish. We detected notes of dried red cherry, dried cranberry, vanilla, clove, cedar, and forest floor to name a few.
After decanting we got more chocolate and dark fruit notes on both the palate and aroma (moreso in the aroma) as well. As such, you would do well to let this one evolve in a decanter for several hours to see where the wine takes you. This one should be enjoyed over hours, not minutes to fully do it justice.
Portuguese Red Blend Pairing – Lamb Shank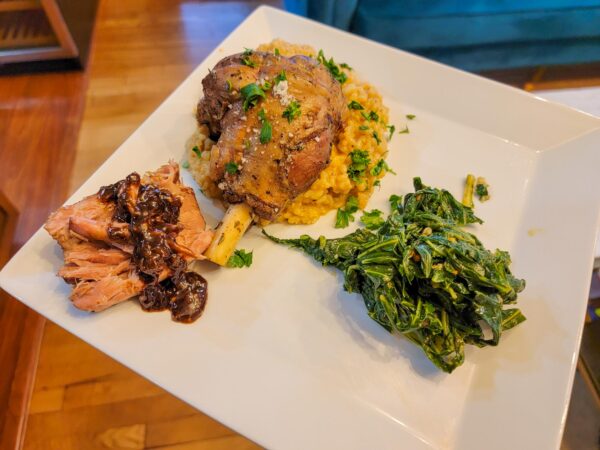 We paired this intense red with a classic Portuguese dish, lamb shake, but we prepped this one a little differently. We cooked the lamb shank in sous vide for 24 hours to break down the fat and make it delightfully tender. Despite this long cook time, the shank still had a wealth of fat remaining that really helped offset the acid of this wine to let more fruit flavors come out (both red and dark). And, since it was fatty, many of the hard tannins disappeared from our palate as well.
There is a reason why the overly tannic wines of Portugal are recommended with intense meats like lamb and this pairing certainly shows that. Anything less than a fatty dish like lamb shank will not do this wine justice, and you will likely still get the high tannin and acid even with a slightly less intense food pairing (like steak).
Score: 4.5 / 5
We would buy several bottles of this, particularly to either eat with lamb now or to age in our cellar for a decade or two (or both).
Overall, for an intense red blend from Portugal, this wine checked all the boxes for us. However, you would need to watch out for the fact that the acidity and tannins on this are quite high (even when considering it was 11 years old when we opened it) such that you really need to make a conscious food pairing to match (lamb is always the safe choice here). Otherwise, don't be afraid to let this one sit in your cellar for a long, long time too.
Colinas de Sao Lourenco is located in Bairrada, Portugal. We purchased this wine in Lisbon and enjoyed it in 2022.