Last Updated on May 31, 2022 by Jeremy
Disclaimers: This review uses WSET Diploma terminology and our own rating scale. Read more here. We use demographic data, email opt-ins, display advertising, and affiliate links to operate this site. Please review our Terms and Conditions for more information. This website is intended for those of legal drinking age in your jurisdiction.
When we visited Mexico City, we knew we had to try Mexican wine. We had heard that wine production in Mexico was increasing in recent years, but living in the United States we found that wines from the south of the border are hard to come by (and by hard, we mean virtually impossible- we simply never see it locally).
We have to admit that when we went to a few wine bars in Mexico, we left somewhat disappointed. The high alcohol and lower acidity in the wines were, well, harsh (and was something we expected since Mexico is so hot). But we did not let that deter us and we found some high-end bottles with good reviews at a wine shop in the city and took a risk by buying them sight unseen to bring home.
Vinicola La Trinidad Afrodita was one such bottle, and the Chardonnay and Chenin Blanc blend was one of our favorites from Mexico to date.
A Stellar Mexican Chardonnay Blend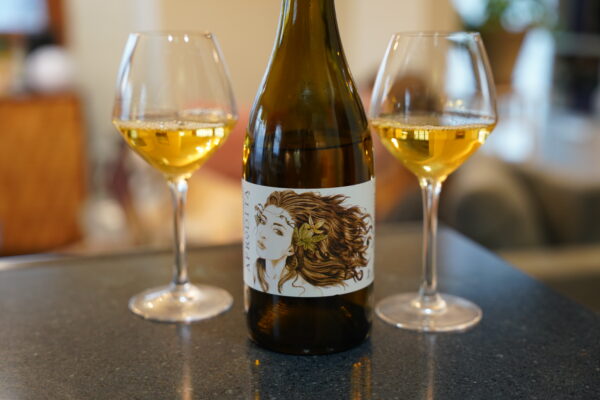 This Mexican Chardonnay blend was deep lemon in color with pronounced aromas of pear, grapefruit, pineapple, yellow apple, quince, papaya, kiwi, orange marmalade, blossoms like honeysuckle and geranium, plus a slight saline note that was youthful.
On the palate, the wine was dry with medium acidity, body, flavor intensity, and finish plus high alcohol (very high). We detected notes of pear, papaya, pineapple, yellow apple, grapefruit, vanilla, toast, and almond.
What was really nice about this one was despite the fact that the alcohol was high, the acidity was still present enough to work (as other Mexican wines simply fell flat in this balance). The minimal use of oak was appreciated and the tropical notes really sang in this one!
Mexican Chardonnay Food Pairing – Salmon with Asparagus and Risotto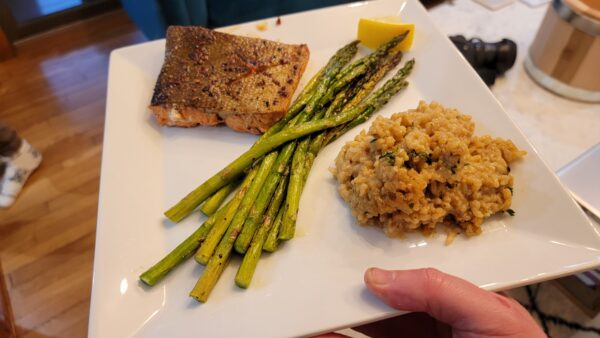 We paired this Mexican Chardonnay with a salmon filet along with asparagus and creamy mushroom risotto. This one was very fun because we had numerous flavors to try in combination with the wine.
The risotto helped highlight the acid and brought out notes of citrus and pineapple, the asparagus helped bring out the barrel and other tropical notes, and the fish brought out more barrel components as well. A lot of fun for every item on the plate in this one!
Score: 4 / 5
We would buy another bottle of this one.
Overall, this was one of the surprising finds in Mexico City. The wine still had high alcohol as we would expect from Mexican wine, but was complex and had a wide range of flavors without being overly oaky. For the price point, we would happily pick up another one of these if we ever could find it again.
Vinicola La Trinidad is located at El Sauzal in Baja California, Mexico. We purchased this bottle in Mexico City and enjoyed it in 2022.