Last Updated on July 6, 2022 by Jeremy
Disclaimers: This review uses WSET Diploma terminology and our own rating scale. Read more here. We use demographic data, email opt-ins, display advertising, and affiliate links to operate this site. Please review our Terms and Conditions for more information. This website is intended for those of legal drinking age in your jurisdiction.
When we visited Portugal in 2021, we naturally had to go tasting at the many Douro Valley wineries as well as the port houses of Vila Nova di Gaia just across the river from Porto.
One such port house we fell in love with was Kopke. Not only is this one said to be the oldest port house in the area (founded in 1638), but it is also one of the smallest, most popular, and ended up being home to one of our favorite tastings- a decades flight featuring Colheita ports from the 1960s to present spaced apart by roughly 10-year intervals.
This flight really helped us learn how flavors of tawny ports change in the barrel over time and also let us find our sweet spot of flavors we personally enjoy (generally 20 to 30 years old which works out well as prices generally spike from there).
Naturally, when we bought wine at Garrafiera Nacional in Lisbon before flying home, we had to stock up on many bottles of Kopke for our cellar. We originally wanted to pick up a bottle from our birth year (1986), but as this was not available we went one year prior and picked up a Kopke 1985 to bring home.
We opened it the following spring to celebrate our 36th birthdays because it seemed fitting to celebrate with a port that also spent 36 years in the barrel!
36 Year Old Port for Our 36th Birthdays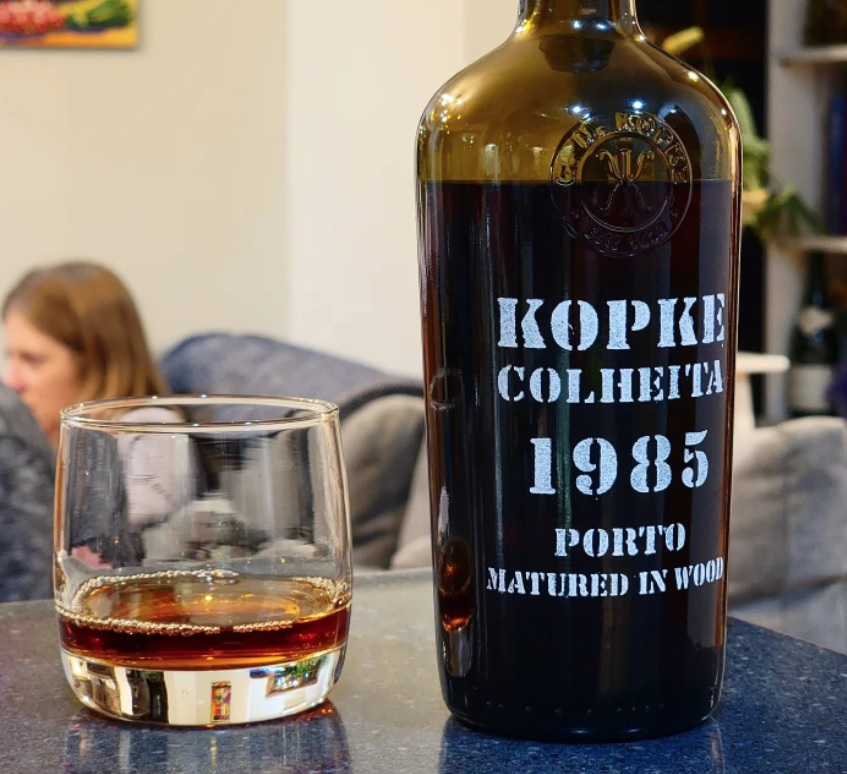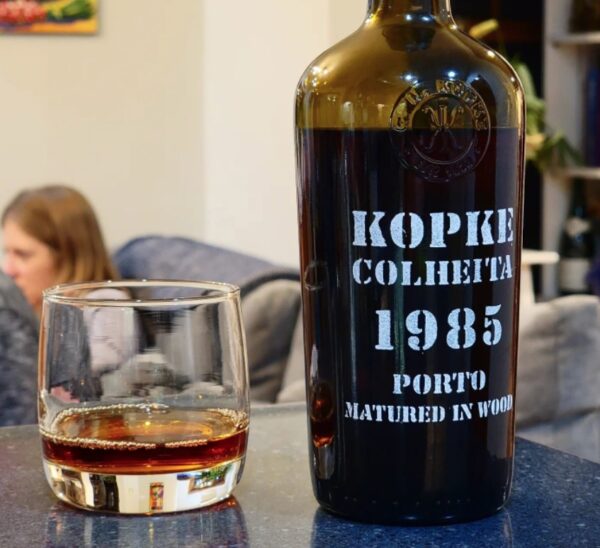 This medium tawny port had medium+ aromas of caramel, vanilla, cinnamon, almond, peanut, orange rind, clove, dried white fig, date, and was developed.
On the palate, it was sweet with medium+ acidity, low tannin, high alcohol, full body, medium+ flavor intensity, and a long finish. We got notes of chocolate, caramel, clove, vanilla, date, fig, orange rind, and almond to name a few.
As with most Kopke ports we've tried, the 1985 Colheita (bottled in 2021) was simply stellar. Admittedly, while we were getting some aged characteristics, namely chocolate and caramel, we were a bit surprised that this one did not have more nuts on the palate as you would expect with a port that is pushing to the 40-year mark. Still, we're not complaining because we find this flavor profile to be our sweet spot anyway!
Kopke 1985 Port Pairing – Pasteis de Nata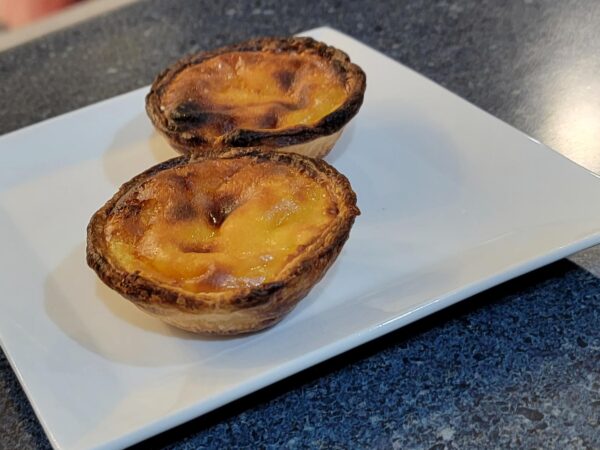 We paired the port with the classic pairing of Portuguese Pasteis de Data- egg tarts. We had younger tawny ports with these while in Portugal, and this was our first time pairing it with a 30+ year port.
The egg helped make the citrus notes in this one sing, but we thought perhaps the cinnamon coating on top possibly hid some of the prominent chocolate notes more than we would've preferred. So while this pairing was good, we have to admit that we are perfectly happy sipping on this one with not a single thing to go along with it.
Score: 4 / 5
We'd buy another bottle of this one.
Overall, this Kopke 1985 Colheita was a fabulous port that offered a wealth of flavor characteristics that we personally enjoy. While the flavor profile was probably closer to that of a 30 year tawny over one closer to 40, we have to admit we are happy with that all around.
Kopke is located at 4430 999, Av. de Diogo Leite 312 in Vila Nova di Gaia, Portugal. We purchased this bottle from Garrafiera Nacional in Lisbon and enjoyed it in 2022.
Looking for more from Kopke? Check out our visit to the Kopke Wine House in Vila Nova di Gaia!