Last Updated on July 11, 2023 by Jeremy
Disclaimers: This review uses WSET Diploma terminology and our own rating scale. Read more here. We use demographic data, email opt-ins, display advertising, and affiliate links to operate this site. Please review our Terms and Conditions for more information. This website is intended for those of legal drinking age in your jurisdiction.
While studying for my WSET Diploma, I found myself enrolled in the fortified class (D5) and studying all things sherry, port, Madeira, and VDN to name a few.
Historically, I have to admit not being too fond of sherries as the traditionally lower acidity and unique flavors from maturation (in particular the biologically aged fino style) never quite matched up to my palate.
The sweet wines, however, are an exception that I am coming to appreciate.
These wines sweeten the traditionally dry sherries with grape must or Pedro Ximenez, and convert what normally is only alright styles of wine to me to something I quite enjoy.
Mil Pesetas Cream Sherry was one such wine as this had all the hallmarks of a traditional Oloroso- but sweet!
Mil Pesetas Cream Sherry Hits the Right Notes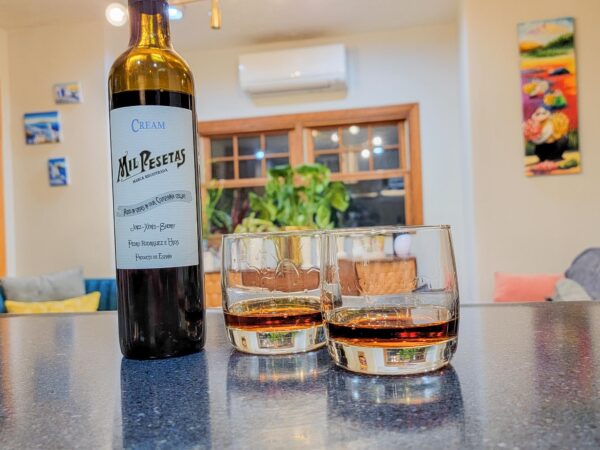 This cream sherry was medium tawny in color and had medium aromas of dark raisin, prune, walnut, date, caramel, clove, vanilla, orange peel, almond oil, nutmeg, and fig that was developed.
It was medium sweet with medium acidity, body, and flavor intensity, low tannin, medium alcohol, and a long finish. We got notes a lot like the nose but with an extra hit of black pepper, cedar, and clove from the barrel.
While the acidity could've been a bit higher for the flavors and sugar level, which is to be expected with sherry, the aged characteristics (nuts and chocolate) held up nicely to the primary and secondary notes (orange peel and clove/cedar) for a vibrant kick.
Cream Sherry Food Pairing – Pasteis de Nata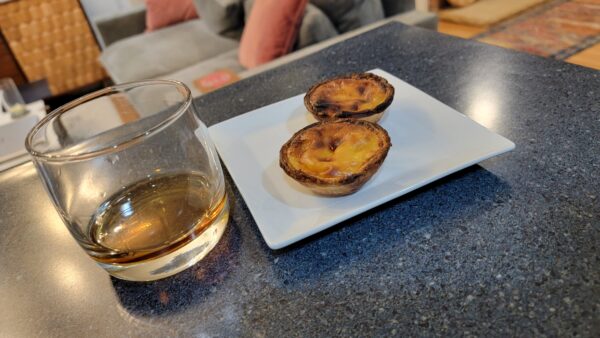 We paired this sherry with the Portuguese classic, Pasteis de Nata, as the cream sherry had flavors comparable to a tawny port (the classic pairing for the egg tarts). These egg tarts really helped bring out a wealth of citrus flavors in the wine and helped highlight the oxidative flavors of the nuts as well (albeit to a lesser degree).
While the citrus became much stronger, it worked really well with the egg tart flavor and we consider this to be a great pairing. That being said, the wine still needed a bit more acid to really sing!
Score: 4 / 5
We'd buy another bottle of this one.
Overall, this sherry had a great balance of sweetness to flavors. Perhaps it wasn't as intense as we would expect with say, a tawny port, but it had a nice balance of flavors all the same.
Pedro Rodriguez e Hijos Mil Pesetas is located in Andalucia, Spain. We purchased this bottle locally and enjoyed it in 2022.