Published Jeremy. Last Updated on May 24, 2022.
Disclaimers: This wine or experience was provided complementary for this review. We use demographic data, email opt-ins, display advertising, and affiliate links to operate this site. Please review our Terms and Conditions for more information. This website is intended for those of legal drinking age in your jurisdiction.
Whenever we visit wine regions, we often look to see if biking to wineries is an option. Ever since enjoying this activity in Mendoza, Argentina, it has been something we wanted to find more of as it is one of the most enjoyable ways to get out into the vineyards.
In many cases it is not available- many wine regions cover vast distances that often make this mode of transit unfeasible. But when it is we jump on it as hopping on a set of wheels to explore wineries makes for a great outing.
In Red Mountain, Washington, one tour company, the aptly named Red Mountain Trails, offers an organized ride to check out three wineries in the area.
I was fortunate enough to check this one out as part of a conference I was attending and loved the outing from start to finish.
*Note: I was on this tour as part of a hosted media trip for a conference. Our itinerary was reflective of standard tours offered by the Red Mountain Trails but there may have been some minor differences due to our larger group setup.
Red Mountain Trails Biking in Washington Wine Region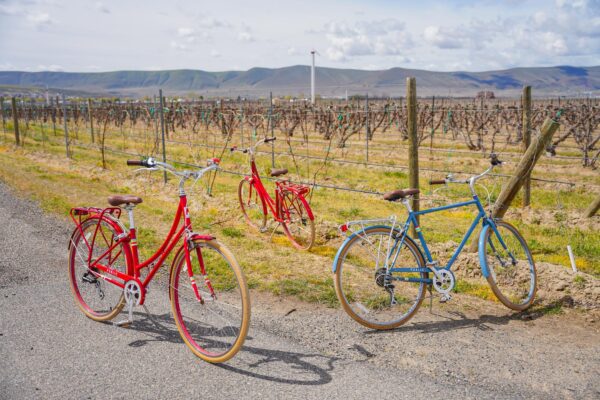 Red Mountain Trails is a one-stop-shop for all things outdoor on Red Mountain. Not only do they have their own wine but they also have bikes, horseback tours, wagon rides, and more.
The bike tours here are highly customized to your interests and winery preferences, and our group was able to cycle to three pre-selected wineries for our event- Fidelitas, Kiona, and of course returning to sample more at Red Mountain Trail's own property.
After getting outfitted with our vintage bikes and modern helmets, we were off to explore the vineyards.
Throughout the tour, we would stop and learn about the geography of Red Mountain, its history, geology, more about the growing season, and of course, how all these points factor into the wines produced. While the vines were only just at budburst in early spring, it was still a beautiful scene along with seeing Rattlesnake Mountain covered in snow in the distance (locals will no doubt tell you many times that it is the country's tallest, treeless mountain).
Wine tours like these typically only ever go high level in terms of wine knowledge discussed, but I appreciated this one for the depth of discussion as we got into topics around frost control methods used, the area's soil composition, and more. This was presented in such a way that everyone could follow and truly spoke to this wine lover's heart.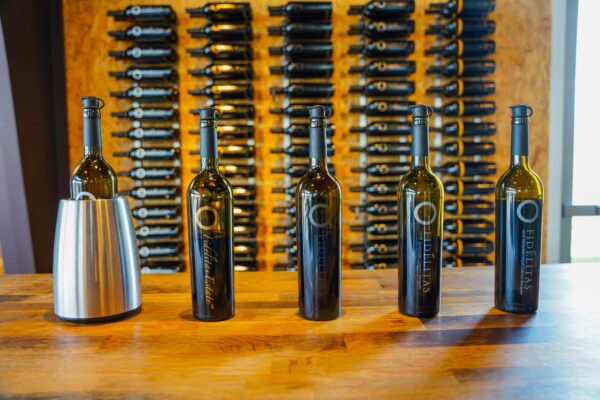 While the trail itself was a mix of gravel and paved roads (where we saw a grand total of one car on the "busy" day- admittedly harvest will be more bustling), it was an incredibly easy ride. That being said, I would say that going to the first vineyard was slightly uphill and this worked in our favor as it was also the bulk of the ride. The subsequent rides were slightly downhill and covered much shorter distances to help minimize post-drinking ride times.
Both of our stops, Fidelitas and Kiona, brought out generous flight samples with the former being a set tasting menu and the latter allowing us to pick from a preselected list. Along with them was ample charcuterie and other light snacks to enjoy as well before finishing back at Red Mountain Train's property with S'mores around the fire (it was rather chilly during our visit) and, of course, more wine.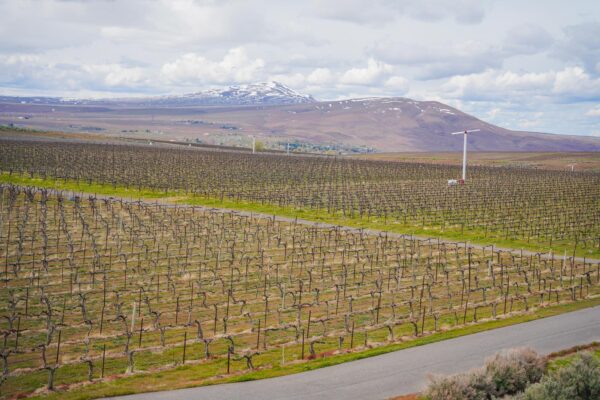 The tour also had the option to have a support van come and pick up any wine purchases as well, something this wine shopper always appreciates. However, as I picked up just one bottle due to having some packing restrictions, I biked with it in my pocket like a pro (don't be me- use the van).
In the end, the bike tour only amounted to being a mile in total length- far less than our conventional 10, 20, or 50 miles ride at home. But while this one was shorter, it made up for it that almost all of the ride was in the vineyards and allowed us frequent opportunities to stop, take photos, and learn about the grapes far more than simply driving between spots.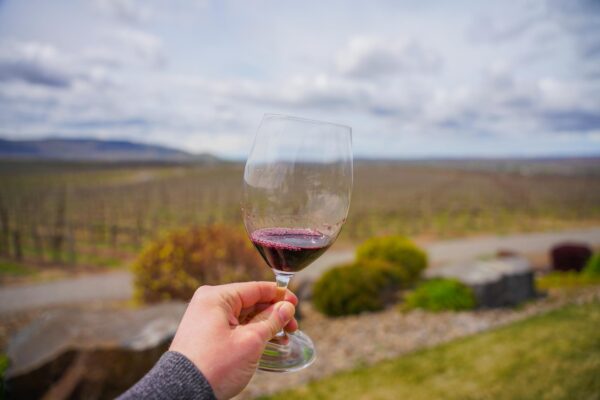 With a wine region as gorgeous as Red Mountain in Washington, well, you can't ask for much more!
Red Mountain Trails is located at 27314 Ambassador PR NE in Benton City, WA. I was able to take their bike tour as part of a conference itinerary.
Looking for where to stay when going wine tasting near Tri-Cities? Check out The Lodge at Columbia Point!