Published Jeremy. Last Updated on March 11, 2021.
Disclaimers: We use demographic data, email opt-ins, display advertising, and affiliate links to operate this site. Please review our Terms and Conditions for more information. This website is intended for those of legal drinking age in your jurisdiction.
When planning a trip to enjoy Napa Valley wineries or Sonoma wineries, it is very easy to get a bit of planning paralysis.
By some estimates there are well over 400 vineyards in the bay area, with the bulk centered around these two popular regions thanks to their unique terroir that results in delicious wines.
But odds are good you won't be able to make a dent in the 400+ vineyards when you visit. In fact, depending on your trip length you may find it hard to hit more than 10 or so in a couple of days.
So how do you pick where to go on a short visit? In this one we want to break down our thoughts in the big picture of comparing Napa Valley or Sonoma (and give a few of our favorite vineyards in each).
Note: We drove around Napa from North to South, but in Sonoma stuck mostly around the Russian River Valley portion. The below summaries are anecdotal based on our own experiences at about 10 vineyards between the two locations only and may not be true for every vineyard. Please keep this in mind when reading as some points are simply limited generalizations.
Napa Valley or Sonoma? Your Interests Matter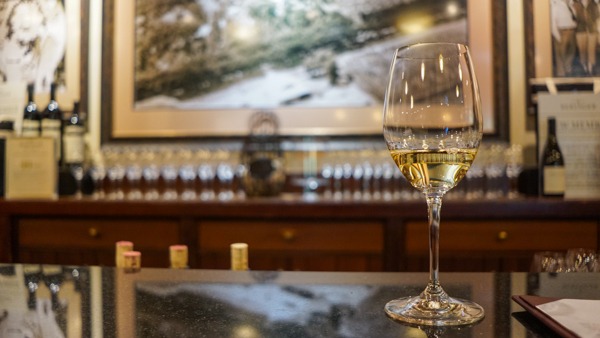 Prior to visiting Sonoma and Napa Valley, we thought that the two would be quite similar. They are located about 30-60 minutes apart from each other depending on your starting point, each region is about an hour tip-to-tip by car, and both are known for producing similar grape varietals (although there are some differences which we'll touch on later).
While these global thoughts are somewhat true, there are some rather stark differences that we realized after visiting that are important to keep in mind.
The biggest one itself has nothing to do with the wine themselves, but rather the regions at large.
The Views in Napa Are King, Driving Not So Much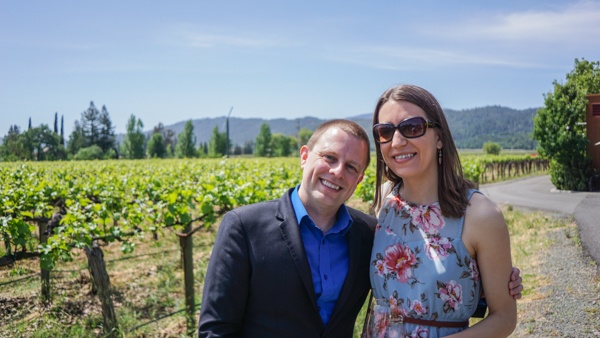 Napa Valley is stunning. I really have no other words for it. Think rolling hills, sweeping vistas, and gorgeous lighting at sunrise and golden hour (especially on the outskirts). It is the kind of place that driving around is a treat, and that is all before stopping to sample any vineyard's product.
The trade-off here is that driving in the main stretch of Napa is also bit frustrating. Most vineyards are off one main road with limited lights outside of town, and during our visit at least was fairly congested. (If you've ever been to the Finger Lakes wineries, it felt like a more congested version of that minus the lakes.)
Aside from coming in for vineyards, Napa is also home to many acclaimed restaurants like The French Laundry (where we dined- read more at the previous link!) that brings in the crowds seemingly much more than in nearby Sonoma.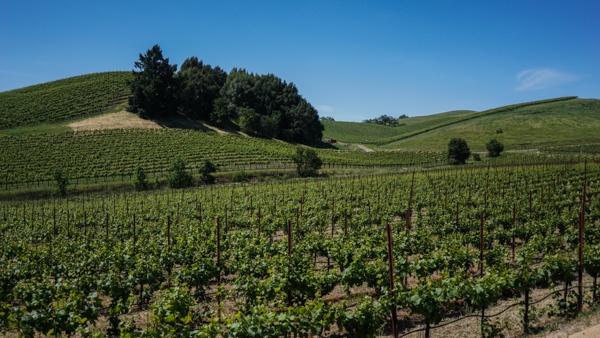 Whenever we left a vineyard we'd have to wait a fair bit of time to turn out on the roads, and we often missed the entry to our next appointment due to poor signage and had to repeat the process when turning around at the next vineyard up the road.
Sonoma, especially the Russian River Valley area, was a bit lacking in sweeping vistas. It is still beautiful in its own way but appeared to be hillier with more trees surrounding individual estates (which were much more spread out than the centralized Napa Valley corridor). When you're on any given property you'll enjoy some stunning vistas, but in your car the views are few and far between from our experience at least.
Driving in Sonoma is much easier, as is finding estates as they are much more spread out than in the main Napa corridor. The downside here was that on our weekend visit it seemed like everyone in the area was out on their bikes (or running… at night) such that you have to pay extra attention when on the road.
The Vineyard Experience Varied Considerably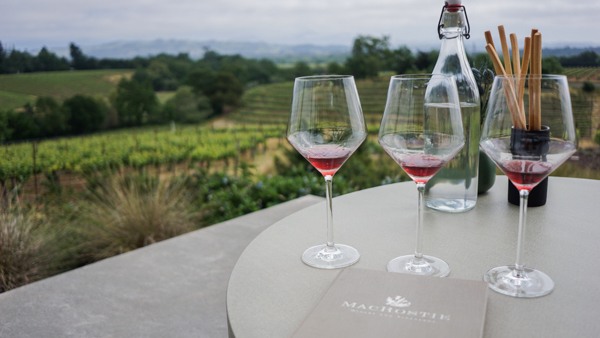 We had two fairly different experiences at the vineyards in Napa and Sonoma.
In some aspects, tasting at the wineries are similar. Most of the higher-rated vineyards require advanced reservations, are able to do one tasting for two guests (but you need to call ahead to re-confirm- all of the ones below split for us), and a taste of 3-6 wines will generally run $25-$40 depending on the location and what quality tier you select.
Beyond this, there are some notable differences.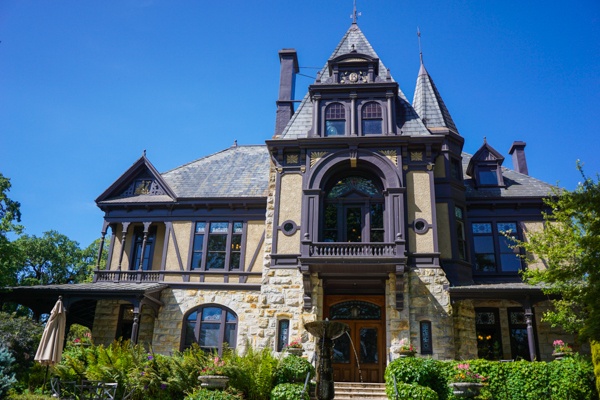 In Napa, we felt like most of the base-level tastings were rushed. You walk in, get your tastings, a quick explanation, and are done. The base tastings at Beringer (reservation required) and Grgich (no reservation) were quick, a bit impersonal, and lacking for the price in our opinion- although we're certain some of the more premium tastings would have been a bit more of an experience overall.
A rare exception to this was Cakebread which offered a rather in-depth tasting of base-level wines for small groups, led by a knowledgable guide, that even included a few extra pours of whatever she had open at the time (which for us was a really nice Rosé that we ended up buying a bottle of).
In fact, our favorite experience in Napa was at Anarchist Winery, a tasting bar on the Vino Collina Resort resort complex on the south end of Napa Valley proper near the county airport. The winery does unique takes on different wines that you may not be able to try elsewhere, and even has a stellar orange wine (white wine grapes fermented with the skin on) that we left with a bottle of.
On the resort property you can pop around to about a half-dozen tasting rooms on foot (some with later hours than the big estates that normally close at 4 or 5pm), and we enjoyed much more conversation and explanations by the bartender due to the smaller foot traffic during our visit.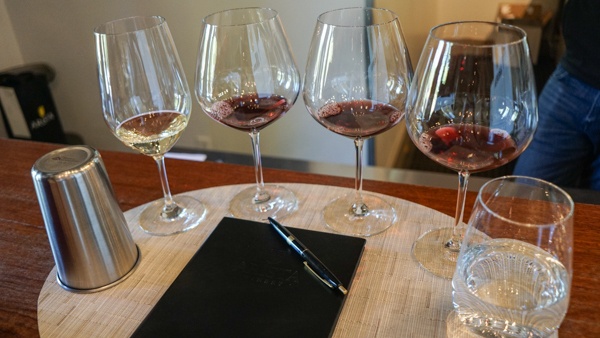 In Sonoma, most wine tastings were of the Cakebread variety at smaller, boutique vineyards. We had more rounded experiences, in-depth explanations, and a fair bit of extra samples once the servers knew what we liked. Our experiences at MacRostie, Arista, and Iron Horse (known for their stellar sparkling) were among the highlights of our trip for these reasons, and we ended up buying the most bottles from these spots.
As far as tastings are concerned, it is also worth mentioning that every winery we visited in Napa that required reservations had us pay in advance, while no vineyard in Sonoma that needed reservations required advanced payment. It could've been a fluke, but we also seemed to find that many vineyards in Sonoma waived a tasting fee with bottle purchase (generally about three bottles). It seemed like only some of the no reservation spots in Napa offered this.
The rare exception here was the Francis Ford Coppola Vineyard which felt more like a mega-vineyard in Napa than a more intimate Sonoma property. Tastings were available without reservation and are a bit more impersonal based on the volume of visitors the property receives. We're glad we went as the estate is stunning and also almost a museum for the director's acclaimed works (we mostly went because of this), but as far as wines go we took a pass on bottles from here.
Now, I understand that the above is a generalization based on the limited wineries we visited. But I would be quite surprised if this was not a trend due to the popularity of Napa vs Sonoma at large. As such, your mileage may vary on this.
Your Wine Taste is the Ultimate Judge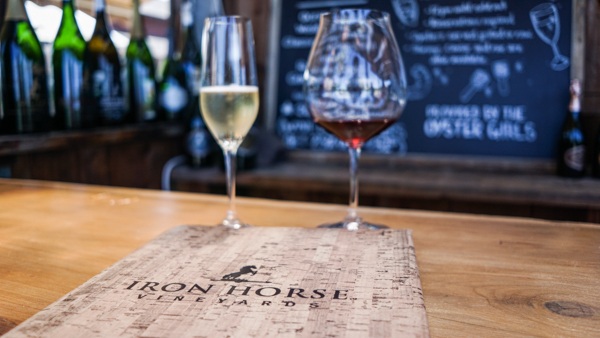 When it comes down to it, your ultimate deciding factor between Napa and Sonoma is going to come down to your wine tastes.
Based on our experience both regions are well known for their whites (especially the Chardonnays), but the main difference is that Napa produces some of the best Cabernet Sauvignon's in the world and Sonoma is all about Pinot Noir.
Cabernet's are generally fuller body, with more tannins and deeper flavors. As noted at the start of this guide, we generally shy away from tannin-rich wines, but were impressed to find some that were still quite enjoyable during our visit.
Pinot Noir's tend to be a bit lighter, with less tannins notable on the palate. Naturally, it should be no surprise that we gravitated to Sonoma for this very reason, and our bottle haul to take home shows this.
The biggest surprise to us was at Iron Horse for their previously mentioned sparkling wines. If you are a fan of bubbly, there is no question- this is the spot for you. Although we would recommend doing a flight of red followed by a flight of sparkling rather than doing them side-by-side like we did here. That was on us.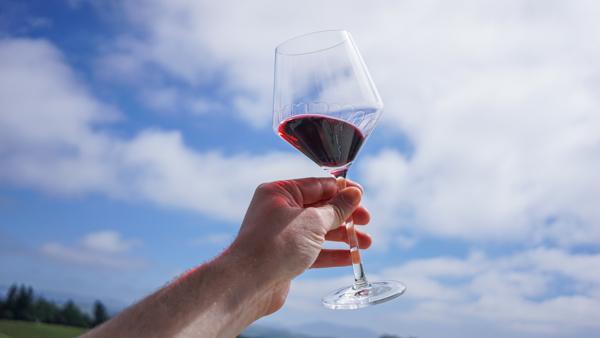 That being said, it is possible to find these wines available in all regions, but you should not be surprised to find that Napa is heavy in Cabernet's while Sonoma is heavy in Pinot Noirs as a good rule of thumb.
Overall, we thought that Sonoma and Napa offered similar wine tasting experiences in terms of the arrangements and pricing, but differed in terms of regional views, primary grapes, and overall feel. Napa felt a bit more high-end, crowded, and even rushed at times, whereas Sonoma offered a more laid back feel that we can fully appreciate.
That being said, your wine tastes should be the biggest guide on whether you pick one over the other. Otherwise, do what we did and plan for a day at each to try it all. You really won't regret it if you make that choice!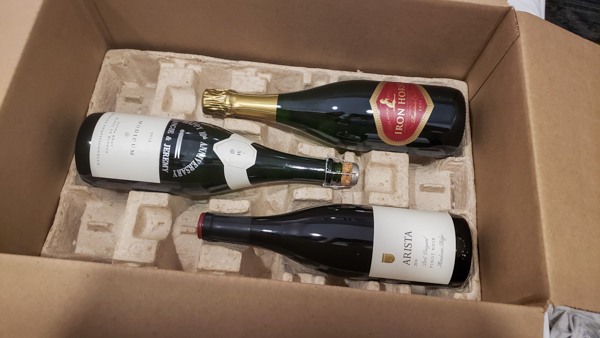 Want to buy bottles but don't know how to get them home? Check out our wine shipping tips and our experience bringing 15 bottles home via checked bags and boxes!