Published Jeremy. Last Updated on August 3, 2021.
Disclaimers: This review uses WSET Level 3 terminology and our own rating scale. Read more here. We use demographic data, email opt-ins, display advertising, and affiliate links to operate this site. Please review our Terms and Conditions for more information. This website is intended for those of legal drinking age in your jurisdiction.
While our love affair with the Sonoma winery, Arista, is primarily due to their stellar Pinot Noirs, we have been known to sample some of their other offerings like Chardonnay and even a rose made from Pinot Noir from time to time.
The rose from the Russian River Valley may not pack as much of a full-body punch as its intense-red siblings, but this rose wine from Sonoma checks the boxes for us all the same.
All Our Favorite Rose Notes in This Arista Wine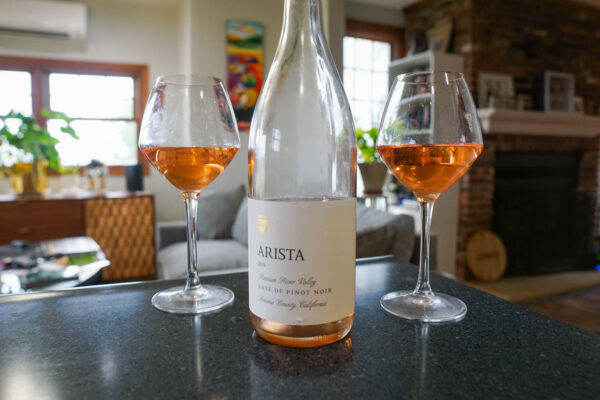 The rose of Pinot Noir from Arista was medium salmon in color with medium aromas of pink grapefruit, watermelon, strawberry, raspberry, tart red cherry, and rose with an overall youthful bouquet.
On the palate the wine was dry with high acidity and medium alcohol, body, flavor intensity, and finish across the board. We got many of the same flavors as on the aroma minus the floral component and overall quite enjoyed this rose for having some of our favorite notes in it despite not being terribly complex overall. Let's be honest- it really is hard to beat strawberry, watermelon, and cherry in a rose no matter where it is from!
Food Pairing – Salmon and Asparagus
We paired this wine with sous vide salmon and a side of roasted asparagus primarily because high acid rose tends to go with just about everything.
Can I say that the flavors of the wine changed at all with this pairing? No. Or in the food? Also no. But this is the kind of match where the wine can still exist on its own with all of its characteristics intact with the meal, and for that, we would pair it with this dish again. (We'd just try and remember to capture a photo of the plate next time, too!)
Score: 3
We'd buy a glass of this one.
Overall, Arista's Pinot Noir Rose from the Russian River Valley is a nice, clean rose wine with all the characteristics we love from the style. Is the bottle a bit more expensive than we would otherwise like? Probably. Would we buy a glass if we saw it on a menu? Absolutely. This winery truly is one of our favorites, after all.
Arista is located at 7015 Westside Rd in Healdsburg, CA. We purchased this bottle directly from the winery, are members of their A-List club, and enjoyed it in 2021.