Last Updated on August 4, 2021 by Jeremy
Disclaimers: This review uses WSET Level 3 terminology and our own rating scale. Read more here. We use demographic data, email opt-ins, display advertising, and affiliate links to operate this site. Please review our Terms and Conditions for more information. This website is intended for those of legal drinking age in your jurisdiction.
We first heard about Muscadet Sevre et Maine Sur Lie in our WSET classes. This wine hails from the western part of the Loire Valley near the ocean and is considered to be a cool-to-moderate maritime climate- perfect for a white grape such as this one.
But it is the Sur Lie element that makes this one the most intriguing because the wine is aged on the lees to give it a bit of added character in the glass (something you do not see in many muscat variants, or at least, something we haven't seen much of). Naturally, as soon as I spotted this bottle from Chateau de la Rogotiere in the store, I had to buy it to give it a shot.
While would say that the lees elements in this bottle are not as intense as others we've had since cracking this one open, it adds a nice complexity to the wine all the same.
A Fair Bit Going On in This Sevre et Maine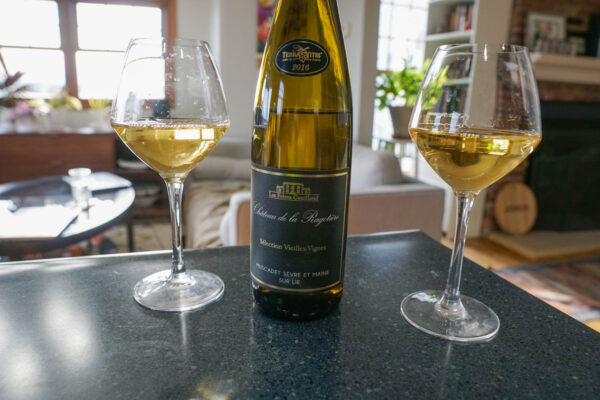 This Muscadelle (Melon de Bourgogne) had a deep lemon color with medium+ aromas of pineapple, lemon, lime, yellow apple, grapefruit, melon, banana, mint, sage, brioche, wet stone, ginger, and a yeasty note that was developing.
On the palate, it was dry with high acidity, medium alcohol, medium+ body and flavor intensity, with notes of lemon, lime, pineapple, slate, saline, wet stone, grapefruit pith, toast, yeast, and a long finish. As mentioned in the introduction to this one, the yeast and toast elements were a bit harder to pick up on over the fruit flavors, but there was a nice complexity in this wine all the same which we fully appreciated.
Muscadet Sur Lies Food Pairing – Indian Cuisine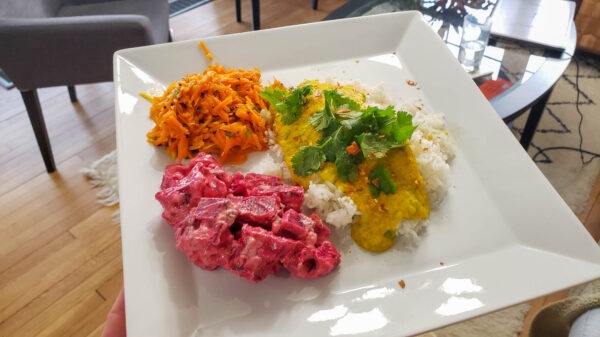 We selected this wine to pair with Indian food primarily because of the high acidity and we thought some moderate yeasty, toast notes from the lees could play off the food well.
As the flavors of the latter component were a bit tempered, we relied a bit more on the acid component for this pairing which worked nicely with the Indian meal overall. That being said, for a bottle such as this (such as those with even more pronounced lees elements), we may hold it for a seafood pairing instead- perhaps oysters or something higher in salinity.
Score: 4 / 5
We'd buy another bottle of this one.
Overall, we really enjoyed this bottle despite thinking the lees elements were a bit on the lighter side. It truly had a lot going on and the high acidity and long finish made us fans. As such, we'll happily drink another bottle of this.
Chateau de la Ragotiere is located at La Grande Ragotiere, 44330 La Regrippiere in the Loire Valley of France. We purchased this bottle locally and enjoyed it in 2021.