Last Updated on July 28, 2021 by Jeremy
Disclaimers: This review uses WSET Level 3 terminology and our own rating scale. Read more here. We use demographic data, email opt-ins, display advertising, and affiliate links to operate this site. Please review our Terms and Conditions for more information. This website is intended for those of legal drinking age in your jurisdiction.
We're quickly learning that we love South African Chardonnay and it is for two great reasons.
First, the grape seems to grow beautifully in this country and many wine makers do not seem to go over-the-top on winemaking choices like barrel aging or malolactic fermentation (of the ones we've tried, at least). Second, you can find an incredible bottle for a fraction of the price of other, perhaps more well-known regions for this particular grape (California I'm looking at you on both accounts).
So while Hamilton Russell's Chardonnay may be a bit of a splurge by South Africa wine standards, this one holds up and is perhaps our favorite Chardonnay we've had to date.
The Perfect Chardonnay? For Us it Might Be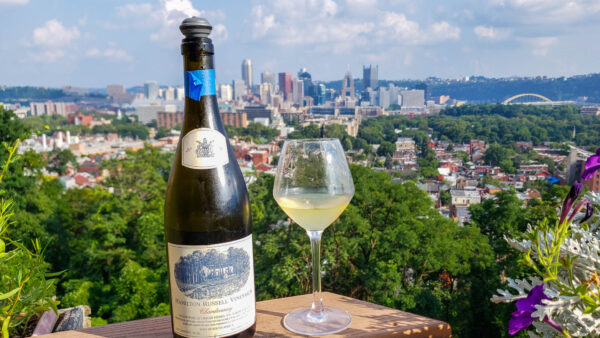 Hamilton Russell's Chardonnay was medium+ lemon in color with a pronounced aroma of pineapple, papaya, mango, yellow apple, pear, vanilla, and slight hints of toast, brioche, and perhaps even honey that was developing.
On the palate it was dry with medium+ acidity and body, medium alcohol, pronounced flavor intensity, with notes of pineapple, yellow apple, pear, vanilla, toast, perhaps a slight wet stone note, and a long finish.
Overall, while there was a tish less on the tropical notes on the palate compared to the aroma, this one checked a lot of boxes for us in that it leaned towards that direction without being too intense on both malolactic and barrel notes (two things that can be quite overpowering in Chardonnays).
Hamilton Russell Chardonnay Food Pairing – Pork Loin Sous Vide with Mushroom Sauce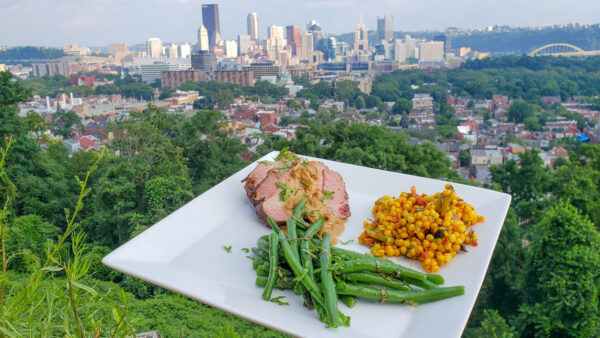 We paired this wine with a pork loin cooked medium rare in sous vide for 36 hours. The loin was seasoned with salt, pepper, garlic, and herbs in the bag, finished with a sear, and topped with a sauce comprised of chanterelle mushrooms, shallots, garlic, a Chardonnay deglaze (a cheaper Chardonnay, mind you), cream, and a bit of mustard as well.
While the sauce here was cream-based, the addition of wine and mustard helped bring out a nice acidic zip to it that worked well with the acid-forward wine. This helped offset the fatty nature of the cut of meat and really let some of the fruit flavors sing with every sip. However, we also have to give a hand to the wine maker in this one as the lighter malolactic and barrel notes didn't overpower any aspect of the dish either. Had those been stronger, we maybe would've considered a different pairing.
But for this, it worked out nicely.
Score: 5 / 5
We'd buy a case of this one.
Honestly, Hamilton Russell checks all the right notes for us when it comes to a stellar Chardonnay. Stone fruit leading into tropical territory, light notes of malo and barrel aging that isn't overpowering, and the right price for the quality. In 2021 this bottle was sub-$50 and we personally think it'd go toe-to-toe with any much more expensive bottles from regions like California or Burgundy. As such, we'd love to have a case on hand if we could.
Hamilton Russell is located at Hemel en Aarde Rd, Hermanus, 7200 in South Africa. We purchased this bottle from Wine.com and enjoyed it in 2021.