Last Updated on July 23, 2021 by Jeremy
Disclaimers: This review uses WSET Level 3 terminology and our own rating scale. Read more here. We use demographic data, email opt-ins, display advertising, and affiliate links to operate this site. Please review our Terms and Conditions for more information. This website is intended for those of legal drinking age in your jurisdiction.
Every so often we come across a bottle of wine where we simply can't find out much about it. Bottles where the grapes are not listed on the label (or even on Vivino), online reviews are few and far between (and rather generic when we find them), and the brand's website appears non-existent, too.
Adaga's Vinho Verde was one such bottle that we received in a mystery box from Plonk Wine Club. As we had misplaced the shipping information and the club no longer carries this one, by the time we opened it we really didn't have much to go on (we had to email the club to find out it is a mix of Arinto, Alvarinho, and Loureiro but that is all we've got).
So while the limited notes from the club were all we've got, we have to admit this one was quite the sipper all the same!
An Easy Sipping Portuguese White Wine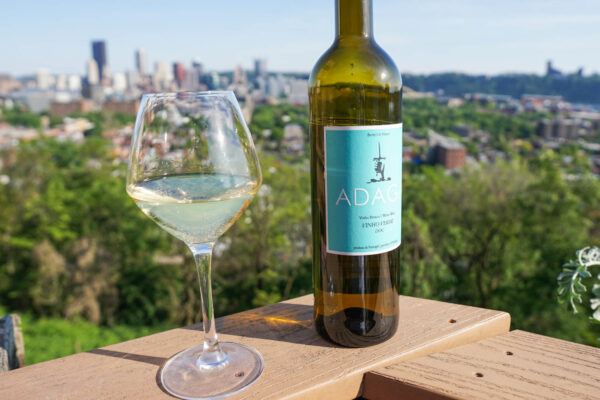 This Portuguese white wine was pale gold in color and had a light effervescence. It had medium+ aromas of peach, lime, lemon, yellow apple, grapefruit, honeysuckle, and a slight salinity that was youthful.
On the palate, the wine was dry with high acidity, medium alcohol, body, and flavor intensity with notes of lime, peach, yellow apple, a lot of pear, melon, geranium, and a lingering salinity on the medium+ finish. A pretty easy sipper all around with a nice balance between the fruit, floral notes, and salinity.
Food Pairing – Korean Shrimp on Kimchi Fried Rice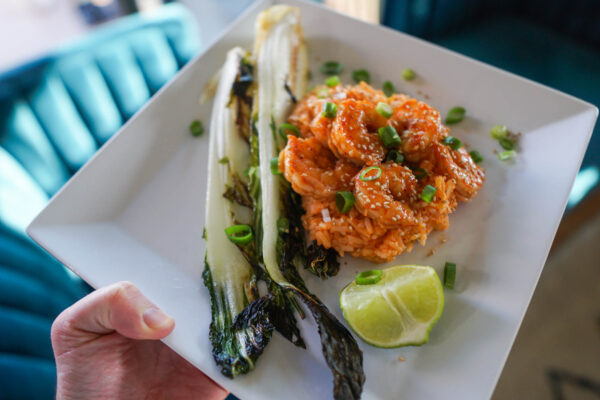 We paired this one with a Korean-inspired shrimp with a gochujang sauce served on top of kimchi fried rice with bok choy on the side and selected it in particular for the medium flavor intensity/body and high acidity combo to hold up to the intense and slightly spicy flavors of the Korean food.
Surprisingly, the best part of this pairing was not so much the Korean shimp, but the bok choy and the kimchi fried rice. The bok choy brought out more stone fruit flavors in the wine and heightened minerality components on our tongue as well, while the kimchi fried rice muted those and helped highlight more of the citrus notes in the wine. A fun duo to pop back and forth between while eating!
Score: 3.5 / 5
We'd buy a glass of this one and perhaps another bottle in the right context.
Overall, we quite liked this one. It was an easy drinker and had a nice balance of flavors that worked well with our out-there Korean meal. Shame we can't find any more information about this one though!
Adaga is located in Minho, Portugal. We received this bottle as part of a mystery case from Plonk Wine Club and enjoyed it in 2021.