Published Jeremy. Last Updated on August 16, 2022.
Disclaimers: We use demographic data, email opt-ins, display advertising, and affiliate links to operate this site. Please review our Terms and Conditions for more information. This website is intended for those of legal drinking age in your jurisdiction.
As a means to start building up our wine cellar, and to get out of our comfort zone with wine purchases, we've decided to pursue a number of wine subscriptions. Our first was Plonk Wine Club which is making headlines for approachable, natural wines with a very attractive price point.
But for us, there was another reason why we chose Plonk to start with as well- unusual grape varietals!
What is Plonk Wine Club All About?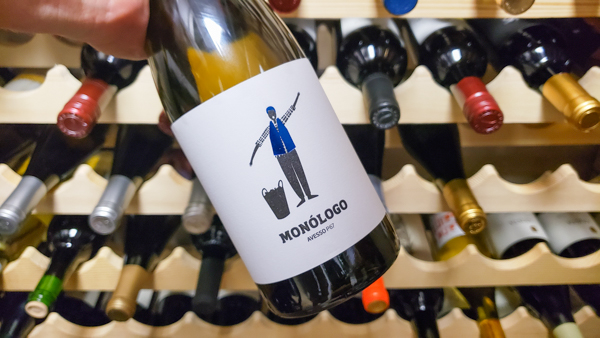 There were a number of reasons why we chose Plonk Wine Club to be our first club, but there was one that really sealed the deal for us- they actively promote having obscure grape varietals. As our goal here at The Grape Pursuit is to try every grape varietal in the world, this caught our attention right away.
From there, a few other aspects of the service caught our eye. First, you can order as few as four bottles per month with either red, white, or mixed cases with no minimum time commitment (although you are initially set up for automatic recurring orders so you will need to make sure you create an account to cancel later on). Second, all of the wines are organic. Finally, shipping within the United States is included in the price!
While you may not get to pick the wines you receive in any given month (in fact, you won't know what they are until after you order), the service is also pretty transparent about sharing their previous wines and sell them separately for those who want to order more- these are sold individually with a minimum of six-bottles for an order.
This published data of previous shipments was interesting as it allowed us to perform a more thorough analysis to see if the service would be worth purchasing in advance.
Pricing and Quality Analysis of Plonk Wines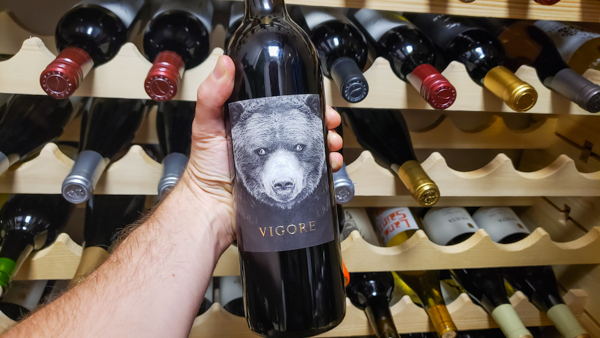 One of our biggest hesitations of joining wine clubs is that not knowing what you're going to get could mean taking a gamble with your order. Are the wines high enough quality? Are they a value? We could go on.
As Plonk publishes their previous wines online, we did a bit of data analysis on their red, white, and mixed cases to see how they compare in cost, varietals selected, and quality. We cross-referenced all the wines with average prices on Vivino and Wine.com and average user score on Vivino as well.
We should note that for this analysis we are only listing the wines by varietal here as part of the thrill of a wine club is the surprise aspect when you open your box. If you are curious about what specific vineyards they've sourced, you can check out their current month's feature on their website and change the month name in the hyperlink to check out past months (July 2020's red club linked here). To check out white or mixed cases, swap out the names accordingly.
Highlights from our mid-2020 analysis were as follows:
We looked into 46 unique wines over a 6-month period (January to June 2020).
The varietals featured included: Aligote, Arneis, Mutli-Varietal Blend (x3), Cabernet Sauvignon (x2), Carignan, Cattarrato, Chenin Blanc (x2), Cortese, Dolcetto, Erbaluce, Gamay, Garnacha Blanca, Grenache/Syrah Blend, Jacquere (x2), Lambrusco Salamino, Malbec, Merlot (x2), Montepulciano d'Abruzzo, Moschofilero, Mouvedre, Nero d'Avola, Pais, Pecorino, Pinot Grigio, Pinoit Noir (x3), Riesling (x2), Sangiovese, Sauvignon Blanc (x2), Tannat, Trebbiano, Turbiana, Vermintino, Vespolina, Zinfandel (x2).

Note that some of these were blends and we are highlighting the primary grape. The multi-varietal blends often had 6+ grapes and no listed percentages. Ignoring these, Plonk does a good job showing bottle compositions.

No wine was older than four years old at the time of the analysis, and the average bottle age was two years. So you should expect young wines here.
There was only one repeat vineyard and that was in one red and one white case in different months. On average each red and white case contained at least one varietal we'd consider to be lesser-known but sometimes had more than one. Your mileage may vary on this definition.

Outside of this analysis, our July shipment had one red and one white from the same vineyard- we were okay with that.

The mixed club was made up almost exclusively of wines also found in that month's red and white collection; however, in the summer one white appeared to be replaced with a Rose that was only available in the mixed case. To increase our chances of getting obscure varietals, we decided to order one red and one white case instead of the mixed case.
38 wines had user reviews on Vivino and the average score was 3.7 out of 5- generally above average quality in our experience. The lowest average we found was 3.3 (average) and the highest was 4.4 (exceptional). 47% were within 0.1 points of the average score (18 wines).
The average user reported price on Vivino was $19.67 per bottle over 31 bottles. Note that purchase locations may influence the price considerably here.
Only 12 bottles were available on Wine.com and several were not in the exact vintage match. As such, we believe that many of these bottles could be hard to come by. The average price per bottle for wines we found within 2-3 years of the Plonk supplied vintage was $22.32 per bottle.
Overall, the above analysis suggests that Plonk does dive deep into lesser-known varietals (skewing more unusual for whites) and generally supplies above-average wine with some exceptional bottles thrown into the mix as far as user-reported aggregated reviews are concerned.
For those who look at wine clubs purely on price, you'll need to do a bit of math to determine if this club is for you. At the time of writing, four bottles from the club cost $110 but also includes shipping and tax (the latter was the case for us- it is possible this could vary by state). If you estimate that shipping would normally be about $25 for a case and taxes would be about 10%, then the average bottle price ends up being about $20 and is in line with user-reported reviews on Vivino for the average. If you buy multiple cases, like we did with one red and one white, there was no price break for combined shipping (they are still shipped separately).
If you purchase bottles from Plonk a la carte, almost every bottle was listed at $23.75 in 2020 (only two were higher at $28.75) and also included tax and shipping. This amounts to a 14% discount over the club price above but requires a commitment of six bottles in total and a minimum of two for any given bottle. Do the same math as above to factor out an estimated tax and shipping and the average bottle price decreases to about $17.63- a pretty good deal for select bottles!
As far as price is concerned, the club appears to be priced well and falls in line with what you'd pay if you bought the bottles on their own and paid for shipping from most vendors. The real benefit here is not the cost, but rather than you are likely going to get bottles that are hard to come by elsewhere.
Our First Order of the Red and White Clubs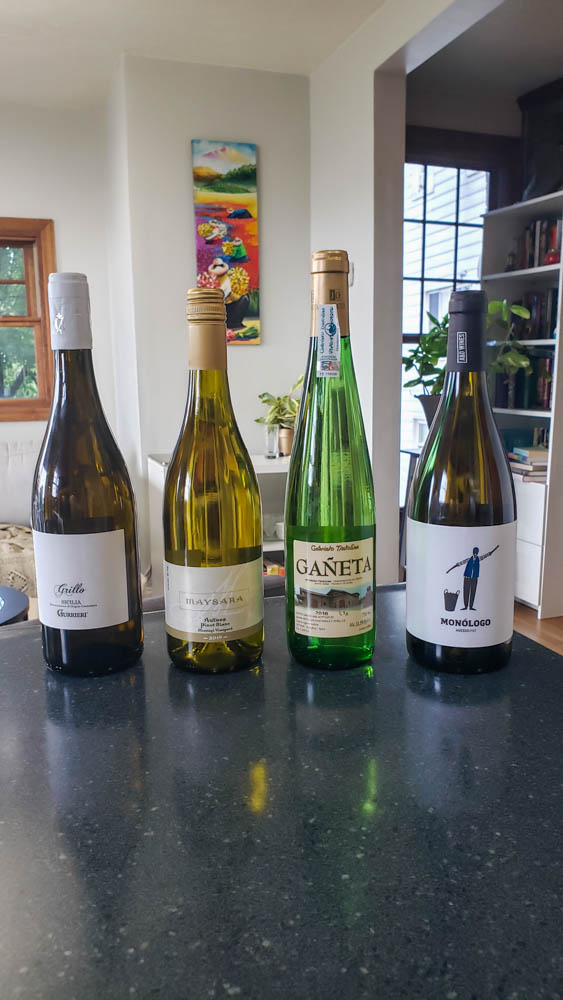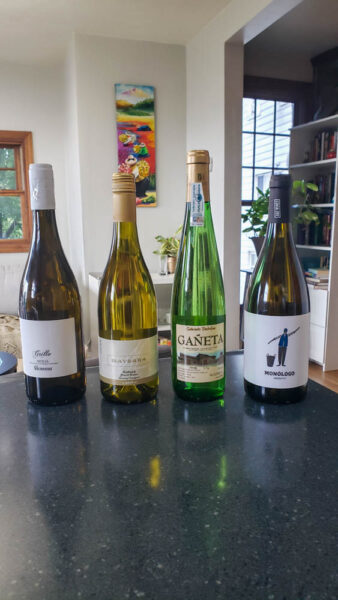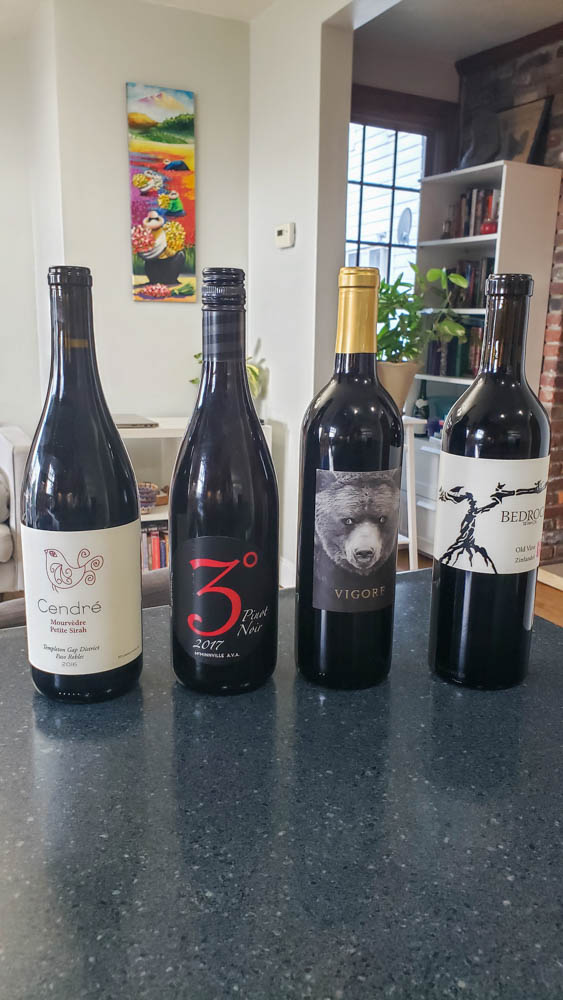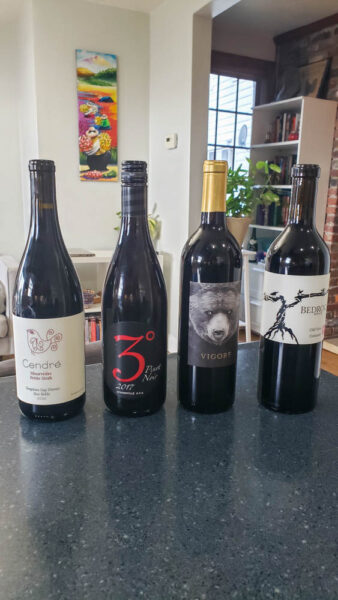 To give the wine club a fair shake, we ordered one red and one white shipment for July. The shipments were made up of the following (as we drink these, we'll update to link to our full reviews):
While we did not include these grapes in the previous analysis (which was done ahead of our purchase and before July's shipment was announced), we were quite pleased with the variety in the bottles shipped. As expected, the Vivino reviews for these bottles fell between about 3.7 to 3.9, and the average price per bottle was about $19.
Likewise, based on our initial analysis, we suspected that we would find more variety in a white club, and this most certainly is the case here- three of the bottles had completely new grapes and the fourth was one we only had tried once before (Pinot Blanc). The red case had more commonly grown grapes, but we were quite okay with that all the same.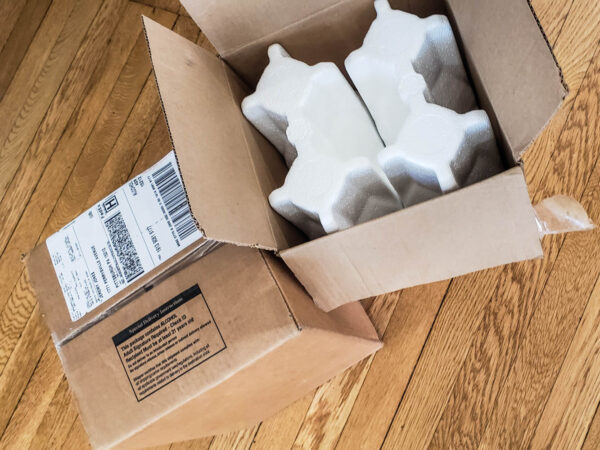 As a final note here- we were originally concerned about ordering in the summer months but were told that our shipment would utilize FedEx refrigerated services. This was a great side perk that put our minds at ease for purchasing a membership in the summer (but keep reading for a caveat for one-off purchases below).
The bottles arrived in fairly small boxes with styrofoam inserts as seen above. When we removed the bottles, we did note that the exterior glass was a bit on the warmer side, but we saw no visible effects of heat on the bottles (such as seepage or a slightly popped cork).
A Second One-Off Wine Order from a Sale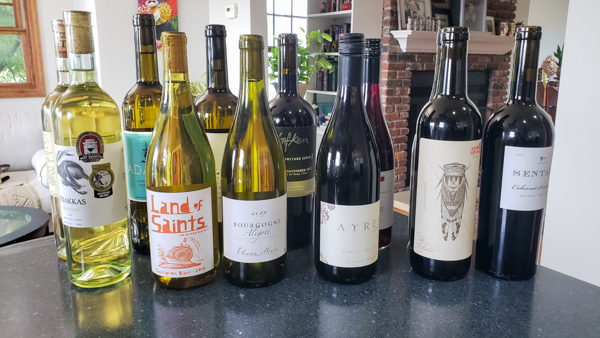 While waiting for our wine club order to ship, we saw a sale on a case of mystery wines with a $30 discount via a custom coupon code. As the average price of the wine was quite attractive ($18.33) with this discount and included shipping, we jumped on it.
Sadly, I should have verified shipping logistics prior to ordering, as this order was not shipped refrigerated like the summer wine club orders are (as discussed above). When inquiring after the fact, I was told that only the monthly club orders are shipped refrigerated in the summer months, so that case of wine I ordered was traveling FedEx ground, across the country, in the peak of summer. Lovely.
I partly blame myself on this one for assuming that all orders would be shipped refrigerated like the monthly club. However, the email we received with our club purchase about refrigerated shipping had ambiguous wording of "During the hot summer months we take the liberty to ship your packages using refrigerated transit in order to protect the wines from heat damage as they travel", so you can see how I made the leap that it could apply to all orders and not just club orders.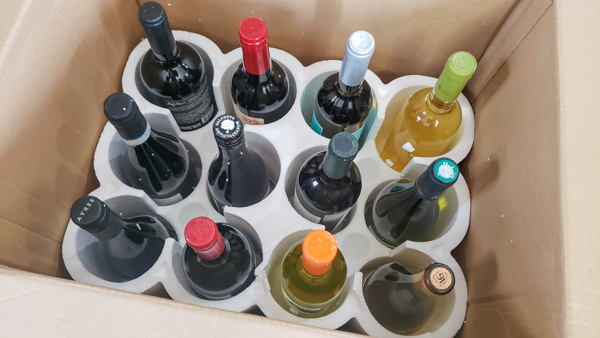 Again, I blame myself here, although I think there could be better correspondence with orders in the summer months as I happily would've delayed shipping if it was recommended. That being said, the wine arrived in the same EBS shipping inserts as the club, this time packaged an entire case to one box. Much like the club bottles, these felt warm to the touch, perhaps just a bit warmer, but we saw no visible signs of the cork being pushed out or seepage which was quite encouraging. (Note: As we drink these we'll update if we find any heat damage in tasting.)
I assumed that part of the discount was to move excess bottles from previous clubs, but we were pleased when only four out of the twelve were any that we saw in the above analysis and our July shipment (totaling seven months). And, true to form, the average review was around 3.9, most of the bottles were $18-$24 (with a few cheaper ones thrown into the mix), and the white wines were more obscure varietal over the reds (of which we received three Cabernet Sauvignons- I'm not upset by that). As such, factoring in the coupon code and free shipping, we came out ahead here as well and were pleased with the purchase.
Overall, ignoring the shipping concern for non-club orders above, we really enjoyed our orders from Plonk. If you are looking for a wine club with natural wines, a pretty competitive price point, want to get bottles that are hard to come by elsewhere, or simply want to explore unusual varietals as we do, you may want to give this one a try. Although, we do have to say if the latter point is your primary interest we may recommend sticking to the white clubs!
To purchase a Plonk wine club subscription, click here.