Last Updated on July 22, 2021 by Jeremy
Disclaimers: This review uses WSET Level 3 terminology and our own rating scale. Read more here. We use demographic data, email opt-ins, display advertising, and affiliate links to operate this site. Please review our Terms and Conditions for more information. This website is intended for those of legal drinking age in your jurisdiction.
Our first wine from Armenia comes from the Armenia Wine Company and was simply labeled "Dry Red Blend" (without even a vintage found on the bottle).
Thankfully, this one did label the grapes at least and we found out it was from two new-to-us grapes of Areni and Haghtanak. However, had the bottle been hidden from us we would've claimed this one was a young Pinot Noir or possibly even a Gamay as the flavor profiles were quite comparable.
For a basic red blend, well, we'll take that!
A Simple Red Blend from Armenia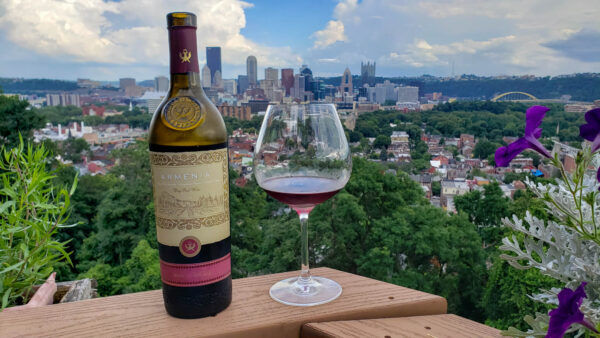 This red blend from Armenia was pale ruby in color with medium- aromas of red cherry, clove, vegetal notes, dried cranberry, leather, forest floor, and a bit of blueberry that was developing.
On the palate, it was dry with high acidity, low tannin, medium body and alcohol, and medium+ flavor intensity with notes similar to the nose including red cherry, cranberry, vanilla, clove, cola, and slight vegetal notes as well as a medium+ finish. As this one breathed, we caught a bit more on the dark fruit notes as well which is why we think it flirts between Pinot Noir and Gamay in this respect.
Armenian Red Blend Food Pairing – Zucchini Lasagna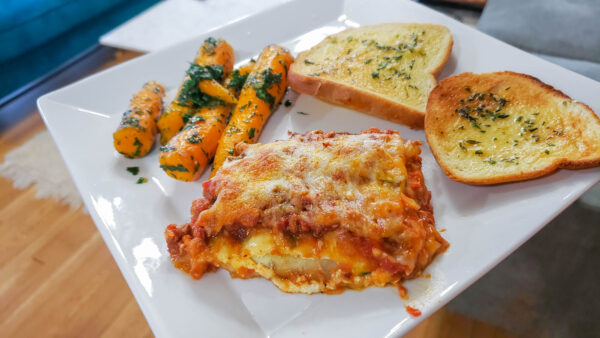 We paired this red blend from Armenia with a zucchini lasagna featuring a meat-based cacciatore sauce.
As the tannins on this one were rather low, we could've gone either way with the meat in the dish, but we noticed the biggest change when sipping with the tomato sauce on its own. Here, the acidity matched up well with that in the wine and allowed more dark fruit notes (blueberry, blackberry) to come out as well as a more pronounced hit of vanilla.
Score: 3 / 5
We'd buy a glass of this one.
While you could make the case that this wine is a simple table wine, it was quite well balanced and worked out well for a low tannin red. We could entertain arguments that this one was a lot like a basic Pinot Noir or Gamay, and overall was the kind of bottle that disappeared quickly. We'd happily have a glass of this one if it was on a menu, and perhaps more if it was appropriately priced.
Armenia Wine Company is located in Sasunik, Armenia. We purchased this bottle locally and enjoyed it in 2021.