Published Jeremy. Last Updated on July 15, 2021.
Disclaimers: This review uses WSET Level 3 terminology and our own rating scale. Read more here. We use demographic data, email opt-ins, display advertising, and affiliate links to operate this site. Please review our Terms and Conditions for more information. This website is intended for those of legal drinking age in your jurisdiction.
If you are not familiar with the red grape Lemberger, you may know it by its German name- Blaufrankisch. This grape is grown primarily in central Europe and especially in and around Austria where we have had many glasses during our visits.
But Lemberger is becoming more and more popular outside of Europe, and the Finger Lakes in the United States is one such wine region growing this grape successfully.
We tried this one while at Damiani on Seneca Lake and knew we had to come home with a bottle.
A Nice Kick with a Shorter Finish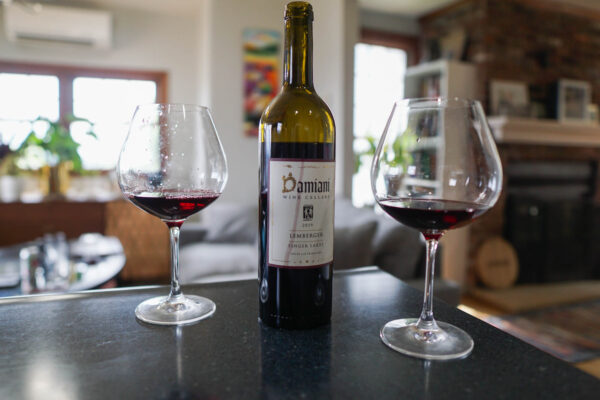 This Lemberger was pale ruby in color with medium- aromas of black cherry, herbs, vanilla, cola, nutmeg, cinnamon, and leather that was developing.
On the palate it was dry with high acidity, medium- tannin and body, medium alcohol and flavor intensity with notes of red cherry, cranberry, clove, cedar, raspberry, and a slight vegetal note and a medium- finish.
While we appreciated how the fruit and spice notes worked together in this one, the shorter than average finish was a bit detracting as we simply wanted the flavor to stick around more as it was quite good!
Lemberger Food Pairing – Meatballs and Pasta with a Cacciatore Sauce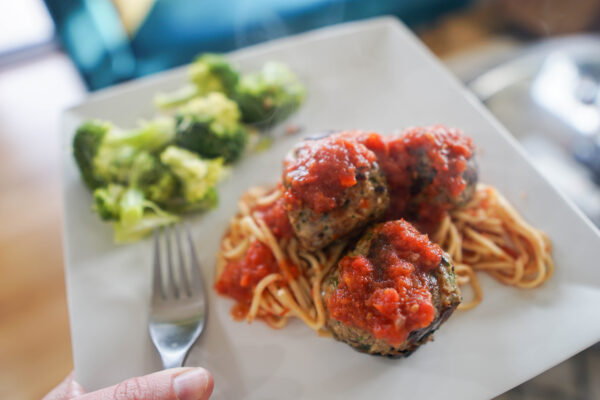 We paired this Lemberger with a pretty straightforward pasta with cacciatore sauce topped with homemade meatballs. The high acidity in the wine worked with the tomato sauce and was quite reminiscent of a not-overly-intense Pinot Noir- the fruit flavors really shined with the sauce.
Could it have a bit more oomph in the tannin or body department for this pairing? Sure, anything with a substantial amount of fatty meat should (in our opinion), but we quite liked it all the same for how well it worked with the acid-rich tomato sauce.
Score: 3.5 / 5
We'd buy a glass of this one and a bottle in the right context.
Overall, despite a shorter finish than we prefer we really love the flavor profile of this Lemberger. The black cherry and cola notes were matched beautifully by vegetal and leather characteristics that were not overpowering. We will definitely be on the lookout for this one more!
Damiani Wine Cellars is located at 4704 NY-414 in Burdett, NY. We purchased this bottle directly from the winery and enjoyed it in 2021.