Published Jeremy. Last Updated on July 22, 2021.
Disclaimers: This wine or experience was provided complementary for this review. We use demographic data, email opt-ins, display advertising, and affiliate links to operate this site. Please review our Terms and Conditions for more information. This website is intended for those of legal drinking age in your jurisdiction.
Canned wines are starting to take the world by storm, and one female-led, California producer, Bev, is leaning into this one hard with numerous varieties available for direct shipping nationwide (included in every order).
We were contacted by Bev to see if we wanted to try out their wines for a review, and of course, had to say yes.
As it turns out, these were the first canned wines we've ever had, and they most certainly will not be the last.
Note: We received these wines complimentary for this review. All opinions are our own. Bev Wines also has provided 20% off one-time orders for our readers with the discount code THEGRAPEPURSUIT as well. Click here to check out their inventory!
Bev Canned Wine Serves a Niche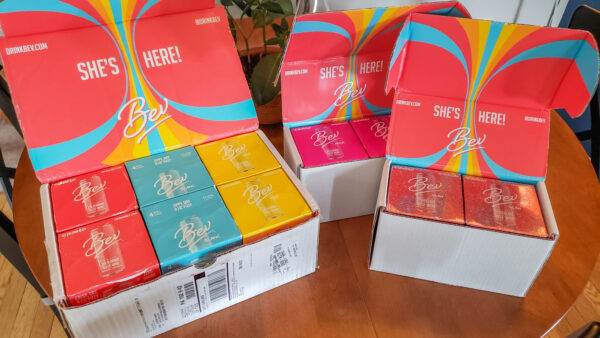 Before jumping into our reviews of the wines outright, we thought we'd take a step back and talk about the fact that Bev's wines are the first canned wines we've had. Yes, we've never had a canned wine before these.
It took me a while to see the allure of canned wine as we had been conditioned on the glass bottle for, well, ever.
When it comes down to it most wines are meant to be consumed young, and really the traditional glass bottle and cork is often best suited for bottles that are meant for aging. Everyone else does it because that was simply how things always had been done and no one really wants to be the first (or among the first) to try something different- outliers are always viewed with suspicion in any industry and it is no different in wine.
While we are still suckers for the traditional way of things, after having some canned wines we can see their allure. They're often packaged in single-serving sizes, can be immensely sippable, and are perfectly suited for places where glass bottles are not allowed- namely out at a park, on a beach, or by the pool.
Bev wines are no different in this respect, and at 1.5 glasses per can you really can get a nice little serving without having to commit to an entire bottle.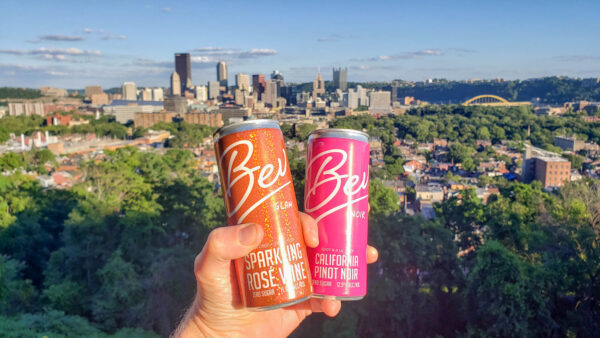 While the wines here are somewhat simple and have straightforward flavor profiles for their respective varietals, we can definitely see packing a few of these for outings where we'd otherwise skip the bottle of wine outright.
In this review, wanted to share some of the tasting notes we got for Bev's Sauvignon Blanc, Pinot Gris, Pinot Noir, and Sparkling Rose!
Bev Sauvignon Blanc
This medium lemon wine had medium- aromas of grass, bell pepper, lemon, lime, and very faint peach that was youthful.
It was dry with medium+ acidity, medium alcohol, medium+ flavor intensity and body, and notes of lemon, peach, nectarine, and a slight wet stone minerality and a medium+ finish.
For this one, it was a pretty characteristic Sauvignon Blanc with an overt grass and pyrazine aroma on the nose and some strong fruit flavors on the palate. I wouldn't have called this one overtly complex by any means but checked all the points we look for in a sippable Sauvignon Blanc.
Bev Pinot Gris
This pale lemon wine with medium- aromas of buttered popcorn, green apple, lemon, and some floral notes like elderflower that was youthful. It is worth noting that these aromas only came out after letting this wine sit for a while as it had a strong reductive/rubber aroma when first poured.
This wine was dry with medium acidity, medium alcohol, flavor intensity, and body, with notes of lemon, green apple, grapefruit, lime, and possibly trending into the stone fruit territory like peach or apricot plus a slight almond oil note and a medium- finish.
I have to admit that I am not really a fan of Pinot Gris or Pinot Grigio outside of a few key cases as the wine tends to be might lighter in many categories than I'd prefer. This one is no different. That being said, some of the aromas we got on the first pour of this one were a bit off-putting but thankfully went away after the wine breathed for a few minutes.
Bev Pinot Noir
This medium ruby wine had medium- aromas of red cherry, cranberry, pomegranate, vegetal notes, cola, herbs, and eucalyptus that was youthful.
It was dry (possibly even trending towards off-dry) with high acid, low tannin, medium alcohol and flavor intensity, and medium+ body with notes of raspberry, red cherry, strawberry, grapefruit, and minerals and a medium- finish.
Much like the Sauvignon Blanc, the Pinot Noir here was pushing on the lighter side and had some of the normal characteristic flavor notes we expect. In fact, we'd go as far as saying some of the flavor notes were what we'd expect from a rose as opposed to a straight-up red like this one, so it could be of note depending on which way you lean preference-wise.
Bev Sparkling Rose
This pale salmon sparkling rose had medium- aromas of watermelon, strawberry, raspberry, white peach, grapefruit pith, a slight salinity, and a hint of rose that was youthful.
It was dry with high acidity, low tannin, medium alcohol, medium+ body and flavor intensity, with notes of watermelon, raspberry, strawberry, wet stone, grapefruit, dried rose, and salinity with a medium finish.
Overall, this was a nice sparkling rose with pretty characteristic flavors and perhaps our favorite of the bunch thanks to its high acidity and stronger intensity. Sign us up for this one as our summer sipper!
Enjoy 20% Off Bev Wines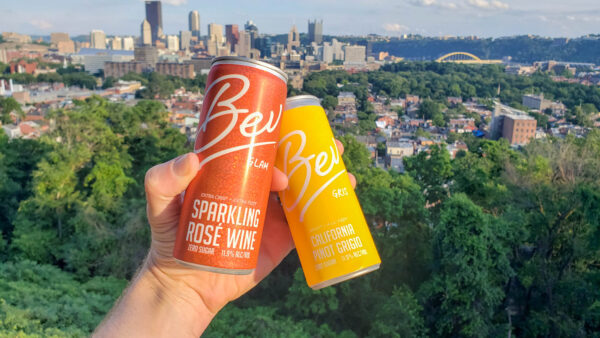 Looking to pick up some Bev wines? Click the previous link and use the discount code THEGRAPEPURSUIT at checkout to receive 20% off your order! This code is only valid for one-off orders as the recurring subscription options are already discounted.
Have you tried Bev Wines before? Comment below to share what you think and if you have a favorite from their various styles!
Bev Wines provided the above wines for us to sample for this review. As always, all opinions are our own.