Last Updated on August 15, 2022 by Jeremy
Disclaimers: This review uses WSET Level 3 terminology and our own rating scale. Read more here. We use demographic data, email opt-ins, display advertising, and affiliate links to operate this site. Please review our Terms and Conditions for more information. This website is intended for those of legal drinking age in your jurisdiction.
Our first 100% varietal Picpoul comes not from the more well-known regions of Europe but rather the Columbia Valley of Oregon from Flat Brim Wines.
This bottle is rather aptly named Not Basic as it is an orange wine made with skin contact for two weeks and foot trodden regularly and is something you don't see all too often. (So you can see why the Not Basic name works.)
While we noted some Brettanomyces and possibly reduction on the nose that took away from this one a bit for our liking, we have to say it was rather interesting all the same!
A Lighter Orange Wine All-Around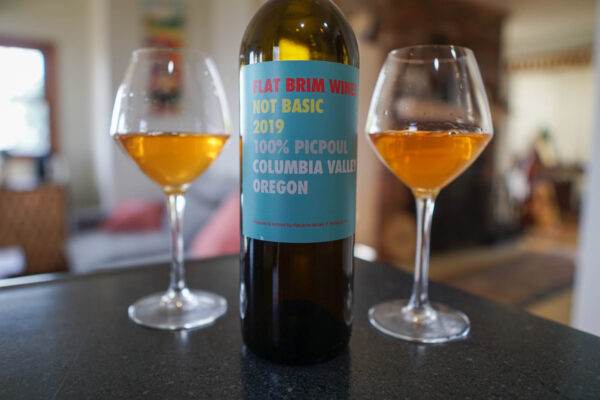 This orange Picpoul wine was medium amber in color with medium aromas of honey, lemon, apricot, blossom, grapefruit, and some Brettanomyces/reduction notes that were a bit stronger than we'd otherwise prefer. Overall, we'd consider the aroma youthful despite the presence of honey.
On the palate, this Picpoul was dry with high acidity, low tannin and alcohol, medium- body and flavor intensity, with notes of lime, orange, apricot, grapefruit, blossom, and Brettanomyces with a medium- finish. A bit lighter than we'd prefer, but definitely picked up some interesting flavors from the skin contact all the same!
Orange Picpoul Food Pairing – Korean Bulgogi and Scallion Pajeon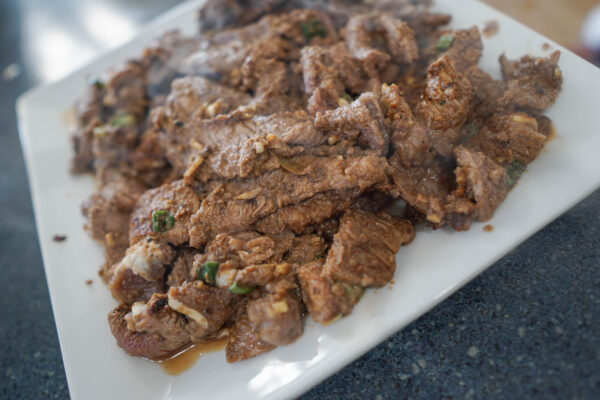 We paired this one with Korean bulgogi and scallion pajeon (pancake) as we thought the high acidity and complex orange wine characteristics would work well with one of our favorite cuisines (specifically the fat content of the beef as well as the slightly spicy nature of the meal at large).
While we were correct in the above assumptions, what we really found interesting with this pairing is that the slight sweetness in the bulgogi really did wonders in hiding the Brettanomyces notes in the wine. We was almost indistinguishable whenever we had a bit of the sweet sauce on our tongue and it brought out more pear and apricot notes overall. As such, if brett isn't your thing this could be a good thing to consider when pairing this wine!
Score: 2 / 5
We're okay on this one.
Overall, the Bretannomyces and reductive notes on this one (especially in the aroma) were just a bit too much for our liking. That, paired with the lighter characteristics of the bottle overall, make us okay on needing another bottle. That being said, the food pairing for this one was quite nice- we just wish the wine was a bit more intense (although we'll fully admit that we know many people would prefer orange wines that are less intense, so your mileage may vary here).
Flat Brim Wines is located in the Columbia Valley, Oregon. We received this bottle as part of our Mysa Wine Club and tried it in 2021. To purchase a Mysa subscription, click here.