Published Jeremy. Last Updated on January 1, 2021.
Disclaimers: We use demographic data, email opt-ins, display advertising, and affiliate links to operate this site. Please review our Terms and Conditions for more information. This website is intended for those of legal drinking age in your jurisdiction.
MacRostie Winery is one of those places that is near and dear to our hearts as we had a chance to personally visit the estate when traveling around Sonoma in early 2019. We were one of the first appointments for the day and got a prime outdoor seat on their patio (complete with complimentary blankets as it was quite cold) and enjoyed our wine with some of the finest views we had on that trip.
We picked up some bottles to take home, one of which was the MacRostie Dutton Ranch Chardonnay 2016. We held off on drinking this one for about a year and cracked into it in mid-2020- just under four years from the point of harvest.
MacRostie's Mellow California Chardonnay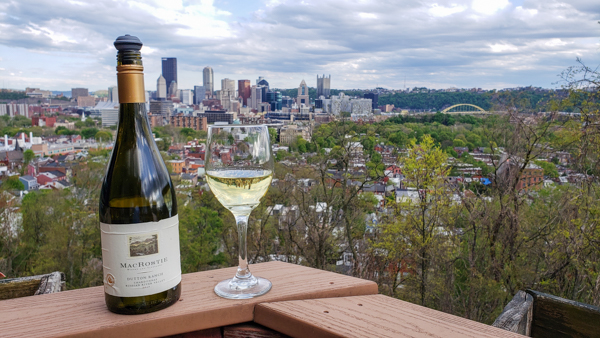 The MacRostie Dutton Ranch Chardonnay 2016 is a medium-bodied Chardonnay that has subtle notes of the oak and buttery notes from malolactic fermentation without being too intense. This allows a moderate acidity and strong fruit flavors to come through that may otherwise be masked in other more oak-forward Chardonnay.
On the nose we got strong notes of apple and honeysuckle, and on the palate we had strong yellow apple and citrus notes with minor stone fruits on the backend. While not intense, and perhaps even on the mellower side, the flavors were in a wonderful balance overall. I am not certain I would age this one much longer and would be happy to enjoy it now.
While we always open a bottle of wine to enjoy a glass on its own before eating, this wine is best enjoyed with food and we decided to partner it up with a duo of ravioli and a goat cheese and pear salad.
Macrostie Chardonnay Food Pairing – Ravioli Duo with Salad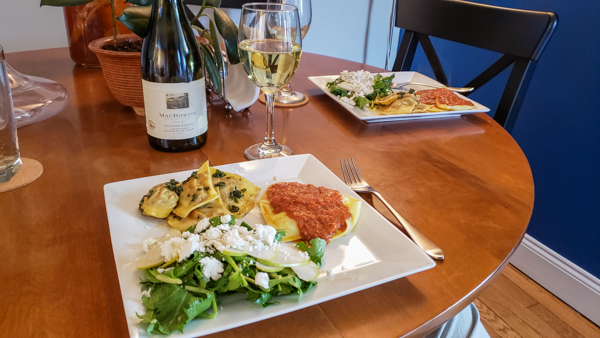 We paired this Chardonnay with a duo of homemade ravioli. One featured a puree of roasted butternut squash, onion, and garlic and was topped with a sage brown butter sauce. The second featured lemon ricotta and topped with a basic homemade marinara with a small amount of cream added.
The expression of the wine with the two ravioli was striking. The heartier roasted butternut squash ravioli allowed the wine to show off both fruit and a notable acidity whereas the highly acidic marinara sauce masked some of the fruit flavor notes overall.
We consulted one of our favorite wine books when constructing the salad, What to Drink with What You Eat, and found that Chardonnay often goes remarkably well with goat cheese and pears. So we prepped an arugula salad with goat cheese, pears, and a honey mustard dressing. What was interesting about drinking this wine with the salad was that the creaminess of the goat cheese seemed to mask a number of the fruity flavors and really brought out some of the wine's earthy/minerally in each sip while also making the wine feel less acidic.
At the end of the meal, we thought this was a great pairing for the plate but we both agreed that the wine was best suited for the roasted butternut squash ravioli due to the richer flavors, heavy butter, and sage. The more acidic marinara sauce and creamy goat cheese on the salad masked some of the best notes of the wine a bit too much for our liking. That being said, this wine was versatile with all the flavors and was a fun pairing to see how different notes paired with the variety on our plate.
Score: 3.5/5
We would buy a glass of this and would consider buying a bottle in the right context.
Overall, the MacRostie Dutton Ranch is a mellow Chardonnay that has the potential to pair well with a number of dishes. The oak and buttery flavors you sometimes get from Chardonnays were minimal in this bottle, and the flavors are not as intense as other Chardonnays we've had overall (including the MacRostie Wildcat Mountain Vineyard which we thought was a bit more intense in flavor). As such, this bottle is much more approachable for a wide array of palates.
MacRostie Winery is located at 4605 Westside Rd, Healdsburg, CA. We purchased our bottle when visiting the estate in 2019 and consumed it at home in 2020. Recent vintages of this wine may be available on their website and Wine.com.