Last Updated on January 1, 2021 by Jeremy
Disclaimers: We use demographic data, email opt-ins, display advertising, and affiliate links to operate this site. Please review our Terms and Conditions for more information. This website is intended for those of legal drinking age in your jurisdiction.
If you ever find yourself in Sicily and want to go wine tasting, a trip to Gambino Vini on the slopes of Mt. Etna should be on your radar.
Not only is the tasting experience phenomenal (with an array of wine, extra splashes of your favorites, and a lovely tasting plate with their housemade olive oil), the property itself is also stunning with a gorgeous view down the hillside all the way to the ocean. As with most every winery visits we go on, I purchased a few bottles to bring home.
One of which was the Tifeo Etna Rosso 2016- a blend of 95% Nerello Mascalese and 5% Nerello Cappucio (two Sicilian varietals) that we enjoyed in early 2020 when the bottle was just under four years old.
Tifeo Etna Rosso from the Slopes of Mt. Etna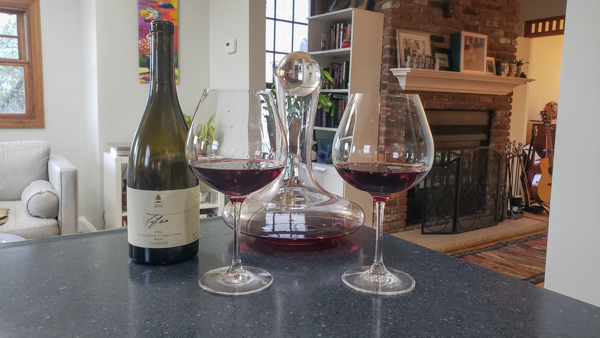 Gambino Vini's Tifeo Etna Rosso is made almost exclusively with Nerello Mascalese, arguably the most well-known grape varietal found in Sicily that is known for growing along the slopes of the island's volcano (Mt. Etna).
At four years old the wine poured with a beautiful medium ruby / garnet color but still retained a strong aroma of leather, tobacco, and earthy notes. Subtle scents of cherry and other berries came out as undertones but only briefly as the barrel characteristics jump out front-and-center.
We tried this one after corking and after about 20-30 minutes of decanting and felt that a brief decant helped open up the fruitiness on the palate a bit- but not an overwhelming improvement. The wine had a fairly strong acidity with mild tannins that seemed to linger on our palate longer than the flavors of the wine itself. Tasting notes were predominantly cherry and cranberry with subtle hints of orange and a bit of minerality that lingered as well (but not nearly to the extent of the tannins).
I could see aging this one for a few more years before it was at its prime, but we enjoyed it now especially with a specific food pairing below.
Gambino Vini Tifeo Food Pairing – Seafood Paella and Pasta with Marinara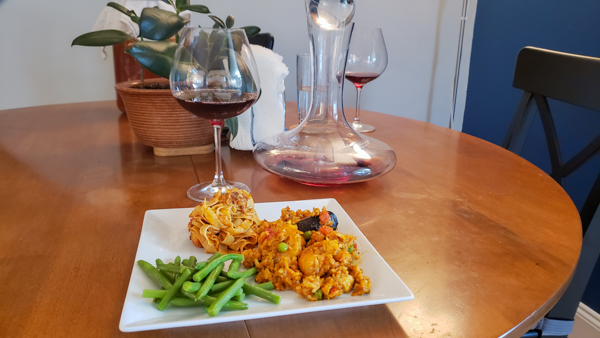 We decided to pair Gambino Vini's Tifeo Etna Rosso with a seafood paella (leftovers from a restaurant) and shrimp pasta with a lightly seasoned marinara with cream sauce (homemade).
I have to admit that the fairly aggressive spices in the paella didn't work the best as it muted a number of the key flavors in the wine. But the shrimp pasta with marinara sauce, on the other hand, shined. The acidity of the tomato sauce and subtle fat due to the cream (and butter) really allowed for the fruit flavors to come out vibrantly- so much so that it improved our overall view of this wine immensely.
Prior to having this one with the pasta, we would've described the bottle as a nice table red that is easy drinking and an enjoyable representation of the grape. However, with the right food pairing we'd definitely consider ordering a glass of this in the future.
Score: 2.5 / 5 
We would buy a glass of this in the right situation- namely a good food pairing.
Overall, Tifeo Etna Rosso from Gambino Vini drinks like a fruity table wine that opens up remarkably well with a simple marinara sauce. I'd order a glass of this one with a pairing similar to the above. Likewise, if you are interested in trying more Italian reds but find Chianti (Sangiovese) to be a bit too intense, this bottle had some of the best characteristics without being as overpowering as some Chianti we've had and could be worth a try on that note alone.
Gambino Vini is located at Contrada Petto Dragone, 95015 Linguaglossa Ct. on Mt. Etna in Sicily. I purchase this bottle when visiting the estate in 2019 and consumed it at home in 2020. Recent vintages of this wine may be available on their website.