Published Jeremy. Last Updated on January 1, 2021.
Disclaimers: We use demographic data, email opt-ins, display advertising, and affiliate links to operate this site. Please review our Terms and Conditions for more information. This website is intended for those of legal drinking age in your jurisdiction.
We recently celebrated our eighth wedding anniversary, and so naturally we were looking for a wine to pair with a special dinner. Our menu included a cheese and charcuterie board, crab cakes, and black cod so we were looking for a dry white wine.
We chose a 2016 Heritiers du Comte Lafon Macon-Milly Lamartine Clos du Four, a Chardonnay from the Maconnais region of Burgundy (arguably the region's most popular grape, and our first Chardonnay from Burgundy). While we didn't end up being terribly big fans of this wine, it did pair nicely with our seafood dinner.
Tropical Notes in This Maconnais White Burgundy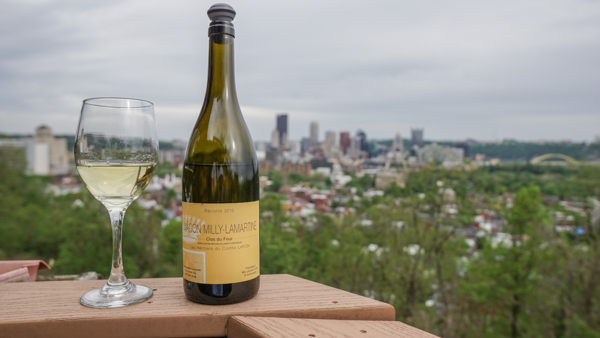 The 2016 Heritiers du Comte Lafon Macon-Milly Lamartine Clos du Four is from the Macon-Villages appellation within Maconnais. This organic and biodynamic 100% Chardonnay is aged in large neutral wood which allows fruit and minerality to shine through.
This medium straw wine had strong aromas of melon, papaya, and overripe pineapple. We also got faint notes of slate and few floral characteristics as well.
On the palate, the wine had a medium acidity with prominent lemon notes, hints of tropical pineapple, and salinity with a finish that lingered a decent amount. On its own we enjoyed the flavors in this Chardonnay, but we have to admit that it paired best with a few specific components of our meal.
Burgindian Chardonnay Food Pairing – Charcuterie Board plus Crab Cakes and Black Cod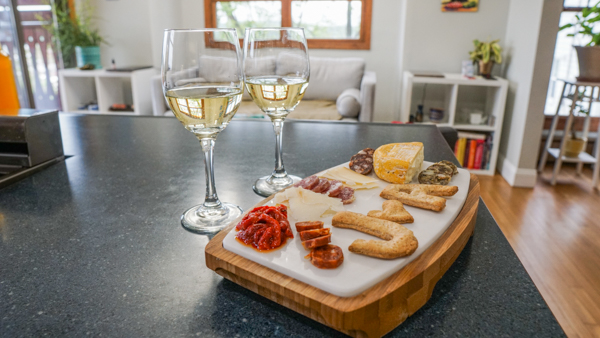 As we were celebrating, we savored this wine over multiple courses.
First was a cheese and charcuterie board from two of our favorite local specialty shops. We weren't sure how the wine would pair with the items on this board, but the acidity of the wine ended up working really well with the richness and fattiness of the different components. In particular, we had a soft French cheese that highlighted offset the acidity well and allowed the melon flavors and fruitiness of the wine to shine.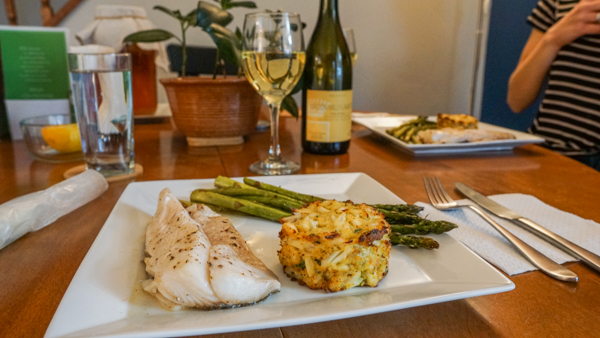 For our main course, we paired the wine with a duo of crab cakes and sous vide black cod in a simple garlic and herb sauce. While we have to admit that the flavors of the wine did not particularly change much with the cod, it was much more intriguing with the crab cakes as the sweetness of the crab brought out more of the mineral and salinity notes of the wine.
Would we pair this wine with a meal like this in the future? Perhaps, but we weren't 100% sold on it at the end of our meal. The wine actually went best with the creamy cheese in our starter as it let the fruit flavors shine, but we admit worked with the crab cake in an unexpected way as well.
Score: 3/5
We would buy a glass of this at a restaurant.
Overall, the Heritiers du Comte Lafon Macon-Milly Lamartine Clos du Four is a decent, fruit-forward Chardonnay and we could definitely see ordering a glass of this one with a meal at a restaurant. I'm not quite sure I'd need another bottle for our cellar, but do look forward to trying other Chardonnays from the Maconnais region of Burgundy in the future.
Macon Milly-Lamartine is within the Maconnais region of Burgundy, France. We purchased our bottle online and consumed it at home in 2020. Recent vintages of this wine may be available on Wine.com!