Published Jeremy. Last Updated on July 11, 2021.
Disclaimers: We use demographic data, email opt-ins, display advertising, and affiliate links to operate this site. Please review our Terms and Conditions for more information. This website is intended for those of legal drinking age in your jurisdiction.
We've been fans of Boundary Breaks since the tasting room was in the owner's kitchen (2015). In its early days, this Finger Lakes winery focused exclusively on single clonal Rieslings and was, pardon the pun, breaking boundaries when it came to this famous varietal.
Since then the winery has expanded immensely with a gorgeous tasting room, bringing on many non-Riesling varietals, and more. While we enjoy these quality wines, it is their Reisling that have us returning time and time again. In this one we broke open one of our bottles of the Grand Reserve Riesling #110- the best bottle we've had yet.
The Best Riesling from Boundary Breaks Yet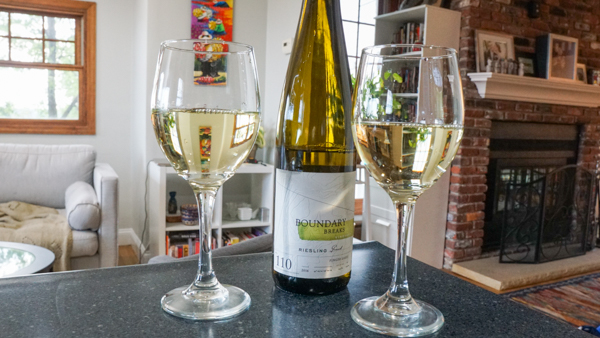 Boundary Breaks is located on the eastern shore of Seneca Lake in the Finger Lakes and is a prime growing region for Riesling in North America.
This straw-colored wine had a wonderful scent of ripe pear and green apple and had a much more complex aroma than some of the straight-forward apple scents you may get from other Rieslings.
When tasting this one, there was a lot going on. Very quickly you are hit with a lot of bright acidity and flavors of passion fruit, apricot, ripe pineapple, and stone fruits. Tart apple notes are present but are part of the mix as opposed to being a dominant flavor. It is dry, but the strong fruit flavors made us second guess its bottle rating as we would've expected more sugars to go with the flavors. There is a slight lingering minerality, salinity, and some floral notes, but are overall quite minor compared to the strong fruit flavors at the front-end of each sip.
While we could just as easily enjoy this one without food due to its strong fruit profile, we opted to pair it with a holiday barbecue feast to see how well it would work with its acidity.
Boundary Breaks Riesling Food Pairing – Barbecue Pork and Chicken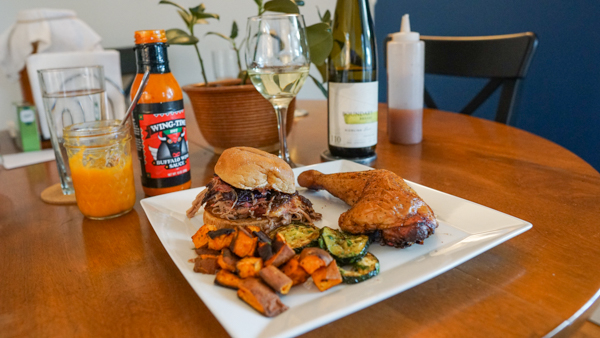 One of my favorite food-related activities is barbecue meat on my smoker, and for this meal I did a smoke of pork butt and chicken legs for a traditional American barbecue (with spicy barbecue sauces).
Generally speaking, we understand that the spicier the food, the better higher acidity and sweeter wines pair with it. In fact, we almost opened Boundary Breaks #198 for this meal purely because it is listed as a semi-sweet. However, the full fruit body of this one really matched well for our (admittedly only slightly) spicy barbecue, and the high acidity of the wine worked wonderfully with the greasy, smokey meats.
Did any particular note get accentuated by the meal? Not specifically, but we definitely appreciated the balance in the acidity to let all those lovely fruit flavors shine all the same.
Score: 5/5
We would gladly have a case of this in our cellar.
Overall, the Riesling produced from Boundary Breaks is among the best we've had from the Finger Lakes and the #110 is the cream of the crop (with the semi-sweet #198 coming up as a close second). While we've only ever seen this one available when visiting the tasting room, we will be buying as many as we can justifiably afford the next time we see it. You'll do well to pick up a bottle or two if you see it available, too.
Boundary Breaks is located at 1568 Porter Covert Rd in Lodi, NY. I purchased this bottle when visiting the tasting room and we enjoyed it in 2020. While this one could probably age more, we enjoyed it immensely at four years old. Boundary Breaks sells many of their bottles directly on their website and they are also available on Wine.com.