Published Jeremy. Last Updated on January 1, 2021.
Disclaimers: We use demographic data, email opt-ins, display advertising, and affiliate links to operate this site. Please review our Terms and Conditions for more information. This website is intended for those of legal drinking age in your jurisdiction.
I was fortunate enough to visit a tasting room for Poggio Amorelli in Italy in 2019. I found myself here while on a Walks of Italy Tuscany day tour that included, Siena, San Gimignano, and the winery (a tour we cannot recommend highly enough even if the specific winery may vary). During our stopover, I was able to sample many of their products with a massive feast and put an order in for a few bottles to be shipped home.
One of these bottles was their Chianti Classico Reserva 2016 which we popped open to enjoy with a nice steak dinner in 2020.
A Strong Cherry-Forward Wine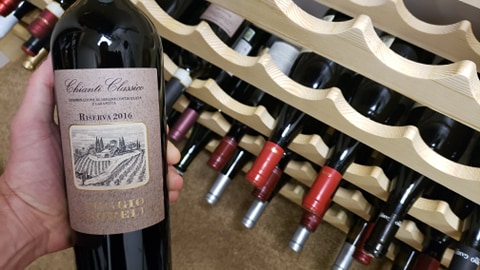 When we think of Chianti Classico, we often think of very strong and distinguishable flavors that are quite reflective of Sangiovese. While we get many of these notes from the Poggio Amorelli Chianti Classico Reserva, the bottle is much more nuanced than we are used to.
This pale to medium ruby wine has a strong scent of ripe red fruits like cherry and cranberry, with notes of leather, vanilla, and thyme as an undertone.
When tasting, it is medium-bodied and fairly acidic with cherry and plum flavors coming through. There are noticeable tannins in this wine and worth decanting briefly but we have to admit they are fairly mild overall compared to other Chianti Classico bottles we've had. Likewise, there were also mild hints of smoke, leather, and some herbs that have been much stronger in other bottles we've tried of this particular varietal.
Poggio Amorelli Chianti Food Pairing – Medium Rare Steak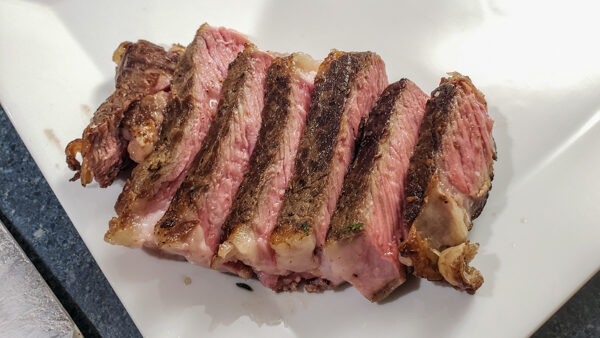 We opted to pair this one with one of our favorite foods- steak. Specifically, steak cooked sous vide to perfect medium rare and finished on a cast iron.
The fat in our steak matched the acidity of this bottle fairly well and left us having some pretty cherry-forward sips in between. But to give this one an Italian twist we topped our steak with some truffle and mushroom sauce I brought home from Italy that brought out a wealth of herbal notes in the wine that were otherwise only subtle undertones.
I'd go as far as saying that Chianti is perhaps not my favorite pairing for steak as the cherry flavors were almost too one-sided for the flavorful meat, but the addition of a truffle and mushroom sauce to the steak really let the complexity of this wine shine more.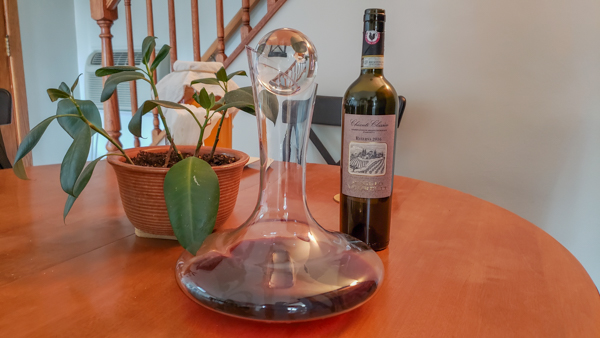 Score: 3.5/5
We'd buy another bottle of this one in the right context.
This is one where Angie and I disagreed slightly with regard to the final scoring. She likes more pronounced bottles of Chianti with full body and stronger tannins whereas I appreciated this one for being much more nuanced for what you'd likely otherwise expect. As such, we split the difference here and said it would be a good bottle in the right context or could be a perfect wine to order a glass of if you find it on the menu.
Poggio Amorelli is located at Loc. Poggio Amorelli, 53011 Castellina in Tuscany. I purchased this bottle when visiting the estate and we enjoyed it in 2020. Poggio Amorelli sells bottles via a wine club on their website and this bottle may be available on Wine.com.