Last Updated on February 28, 2023 by Jeremy
Disclaimers: This wine or experience was provided complementary for this review. We use demographic data, email opt-ins, display advertising, and affiliate links to operate this site. Please review our Terms and Conditions for more information. This website is intended for those of legal drinking age in your jurisdiction.
California Chardonnay can be hit or miss with us if only because we are not terribly fond of the overly oaky bottles we have tried from major producers.
Thankfully, the industry is moving away from oak bomb, buttery wines and instead incorporating oak and malolactic fermentation minimally to display an elegance that we prefer. Cameron Hughes Lot 863 is one such bottle, and, much like the Cameron Hughes Lot 896 Cabernet Sauvignon that we also got to try as part of a sample delivery from the negociant, was a winner for our palates.
A Well Balanced California Chardonnay from Cameron Hughes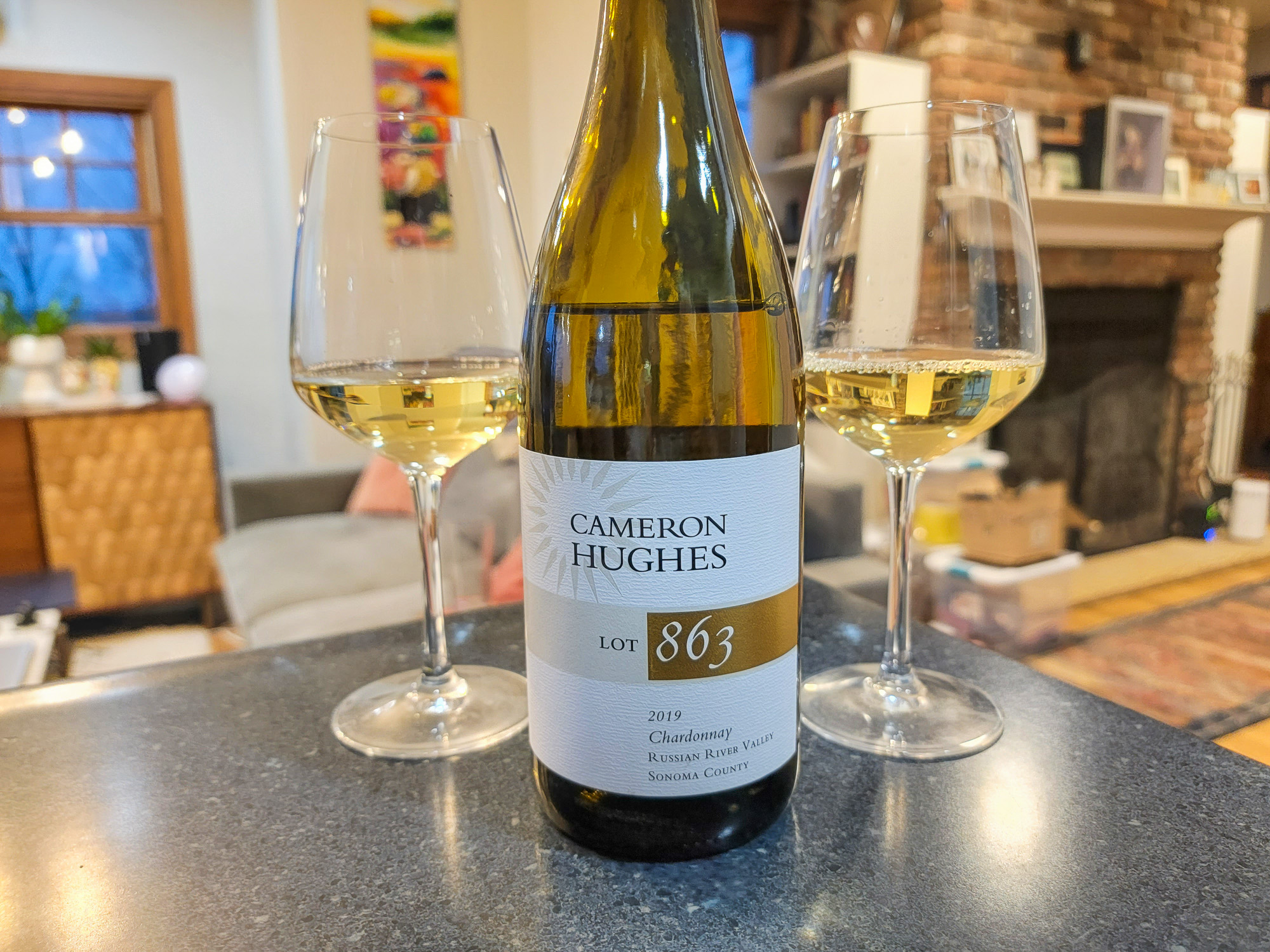 This California Chardonnay from the Russian River Valley was medium gold in color with medium aromas of pear, yellow apple, honeysuckle, vanilla, toast, geranium, peach skin, lemon, and eucalyptus. The aromas on this one had noticeable oak characteristics but were lighter than we have come to expect from California Chardonnay, which we appreciated.
On the palate the wine was dry with medium(+) acidity, body, and flavor intensity, high alcohol, and a long finish. We detected notes not unlike the nose of lemon, yellow apple, pear, pineapple, grapefruit, wet stone, salinity, and light toast and vanilla.
This wine had a number of elements we look for in a California Chardonnay, intense flavors pushing into the tropical territory, present but not overwhelming oak notes, and a nice intensity to go with the high alcohol.
California Chardonnay Food Pairing – Mushroom Ragu Pasta
We paired this Chardonnay with a rich mushroom ragu pasta to have the acidity and strong fruit flavors shine. Here, the earthiness of the mushroom cut the minerality and oak notes in the wine perfectly and allowed fruit flavors like pear, grapefruit, and pineapple to shine all around.
Would we have liked more of the minerality and oak to shine through in the pairing? Sure. Are we upset? Not in the slightest.
Score: 4 / 5
We'd buy another bottle f this one.
Overall, Cameron Hughes delivered a pretty incredible bottle of wine for its price point that hit on the complexity we like in a Chardonnay without being overwhelmingly barrel-forward as is the case from many other regional producers. Still, we go back to just how reasonable this bottle was as the main driver for why we want more.
Cameron Hughes is a negociant that primarily operates out of Napa and Sonoma, California. We received this sample bottle for review and enjoyed it in 2022.