Published Jeremy. Last Updated on January 6, 2023.
Disclaimers: This wine or experience was provided complementary for this review. We use demographic data, email opt-ins, display advertising, and affiliate links to operate this site. Please review our Terms and Conditions for more information. This website is intended for those of legal drinking age in your jurisdiction.
Through our wine studies via WSET, we have learned a lot about the French negociant system where companies will buy grapes or premade wines from local producers and ferment/mature/blend them into a final product before selling them on their private label.
This practice is also common in the USA; however, is often not discussed nearly as much compared to European counterparts. In some regions this is fairly common, like Washington state, and in others it is less frequent, like California where wine-producing estates are plentiful.
One such merchant taking this unique approach to wine in California is Cameron Hughes, and as a result of their set up they are able to source wines from prestigious wine regions all over Napa and Sonoma for a rather robust product line at approachable prices.
So when we were offered a few bottles for review, we knew we had to give it a try and our first bottle was their Lot 896 from the Stags Leap District in Napa.
A Well-Balanced Cabernet Sauvignon All-Around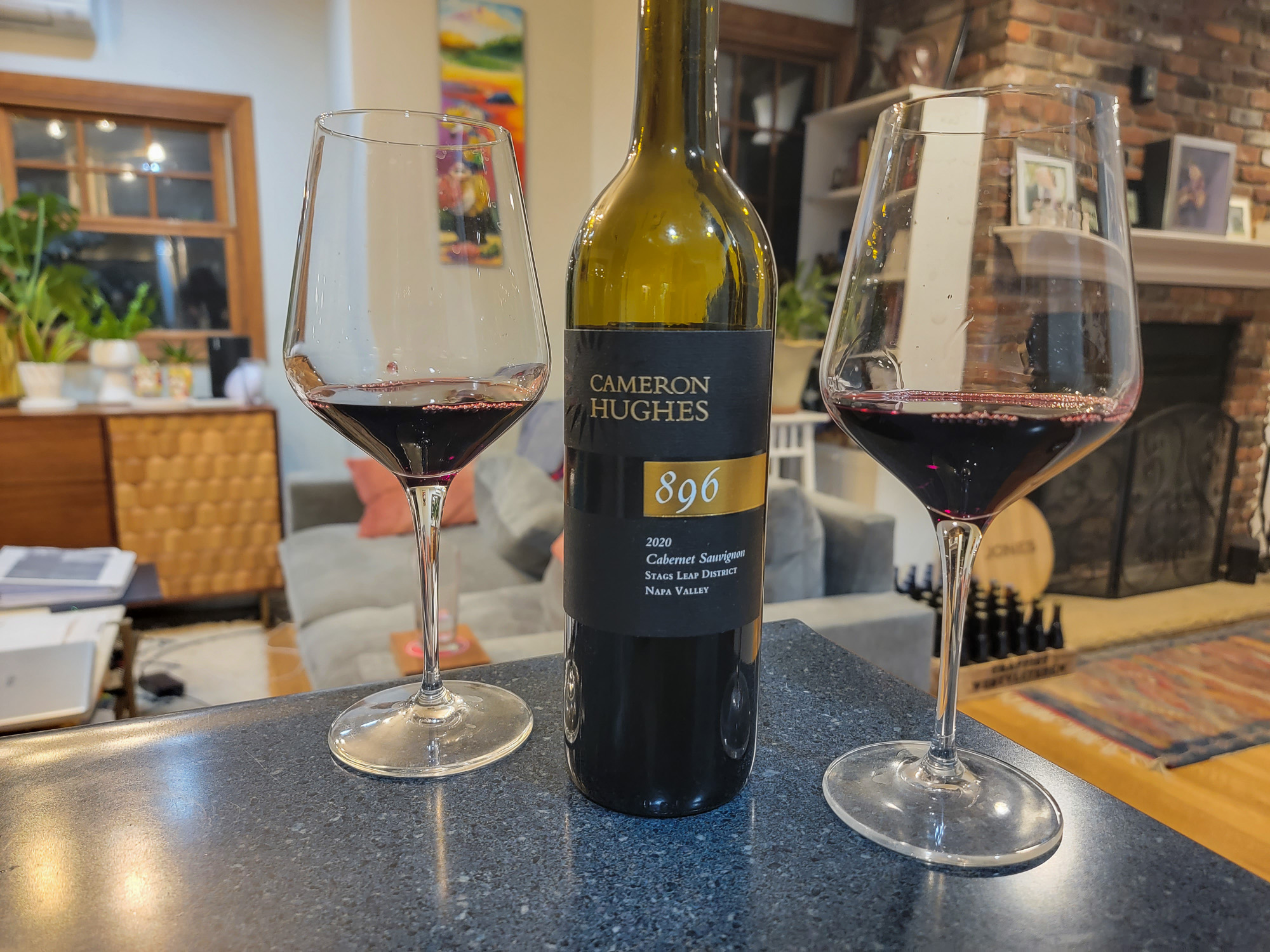 This Cabernet Sauvignon from Stags Leap was medium ruby in color with pronounced aromas of blackberry, currant, black cherry, black raspberry, pomegranate, clove, tomato leaf, cedar, vanilla, dried leaves, nutmeg, and a slight cacao undertone. While we did detect some tried and true jammy California Cab notes, they too also felt more like undertones than being the first thing to hit you.
On the palate, it was dry with medium(+) acidity, body, flavor intensity, and finish plus high alcohol and chalky/grippy tannins. We detected notes not unlike the nose but with more red fruits- black cherry, red cherry, cranberry, clove, cedar, sandalwood, dried leaves, light caramel, black currant, blackberry, and nutmeg to name a few. The baking spices we often think of for jammy Cabernets were much more minimal on the palate and let the fruit and non-spice oak characters shine a bit more which we fully appreciated.
Stags Leap Cabernet food Pairing – Sous Vide Duck Breast with Blackberry Sauce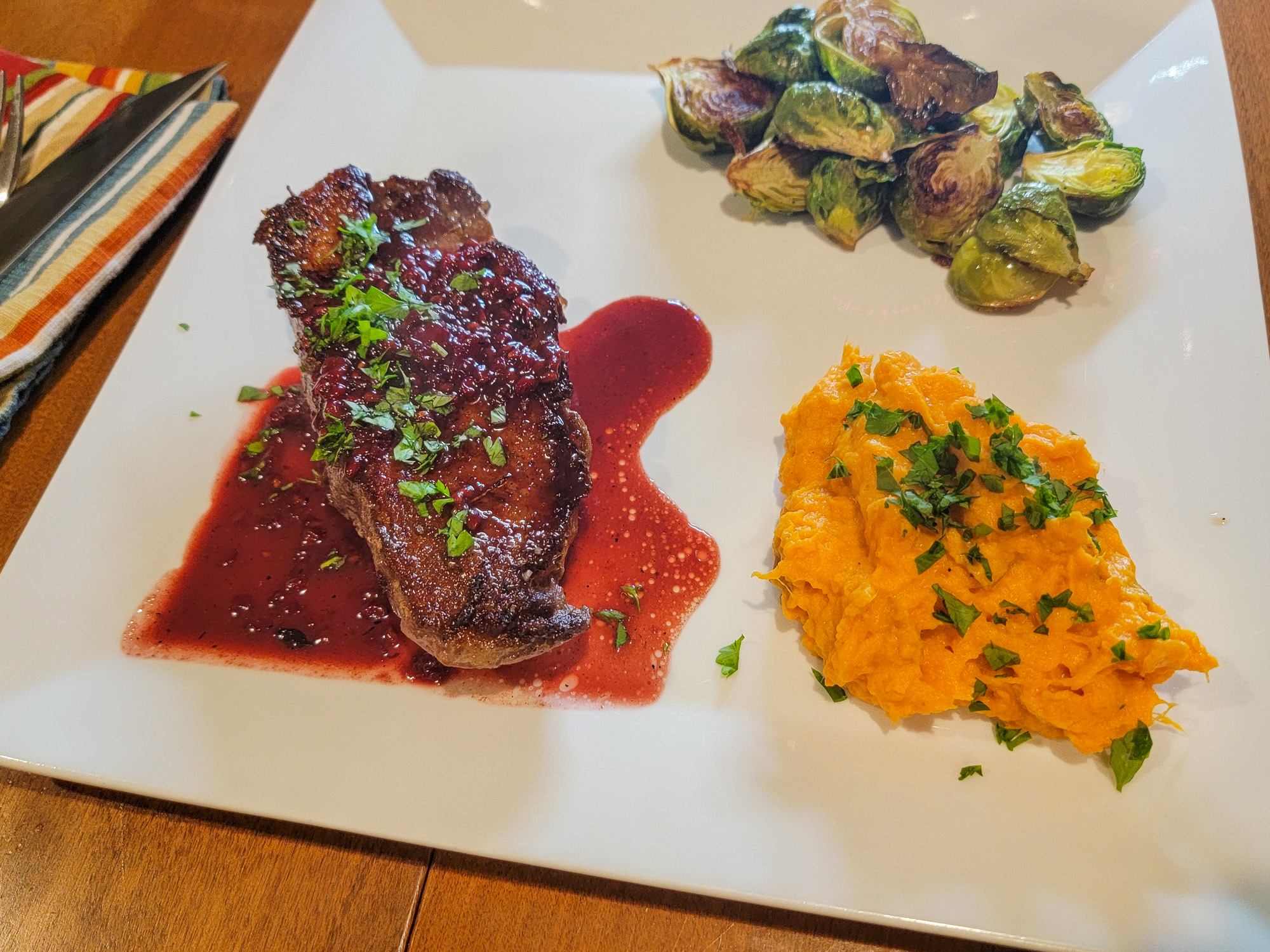 We paired this California Cabernet Sauvignon with sous vide duck breast that was pan-seared and topped with a blackberry sauce comprised of blackberries, pan drippings, chicken stock, white wine, a few fruit wine reductions we had, and herbs.
The sauce was of particular note because we had it finished before opening the wine, and our very first thought after doing our aroma notes was "either the wine smells exactly like this sauce or we have some sauce on our fingers." Yes, it really was quite close to the wine, and it was perfect.
Part of this was from the duck itself- the high-fat content cut the tannins considerably. But then the blackberry notes in the sauce paired with the notes in the wine, so other dark fruits started to come out more all around. Just what we love in a great wine pairing!
Score: 3.5 / 5
We would buy a glass of this one and a bottle in the right circumstances.
Overall, this was a delightful Cabernet Sauvignon from California and is one that certainly makes us want to try more from Stags Leap in particular. This bottle had a nice balance of jamminess on the aromas and non-jam notes on the palate which we appreciated. While it probably could be a bit more complex (particularly with age), as we are not Cabernet Sauvignon drinkers typically this one had a balance for us on the slightly moderate side that we enjoyed. So we would be happy to have a glass or a bottle here with the right food pairing like our duck!
Cameron Hughes is a negociant that primarily operates out of Napa and Sonoma, California. We received this sample bottle for review and enjoyed it in 2022.