Last Updated on January 10, 2023 by Jeremy
Disclaimers: This review uses WSET Diploma terminology and our own rating scale. Read more here. We use demographic data, email opt-ins, display advertising, and affiliate links to operate this site. Please review our Terms and Conditions for more information. This website is intended for those of legal drinking age in your jurisdiction.
After going down the Champagne rabbit hole, we realized that there is Champagne and there is Champagne.
If you have had incredible Champagne, you know exactly what we mean about this. Strong acidity, pronounced fruit and lees notes, an incredible mouthfeel, and a finish that just hangs on.
While we generally like all bottles of Champagne that find their way to our table, only certain bottles are Champagne in this sense. These are often vintage or prestige blends that are some of the top of the line bottles from any producer and often come at a price to match.
Champagne Dumenil's 1999 was one such bottle for us. Although this one clocked in at one of the highest price points we have ever paid for Champagne (about $120 a bottle), oh was it worth it.
An Intense 1999 Champagne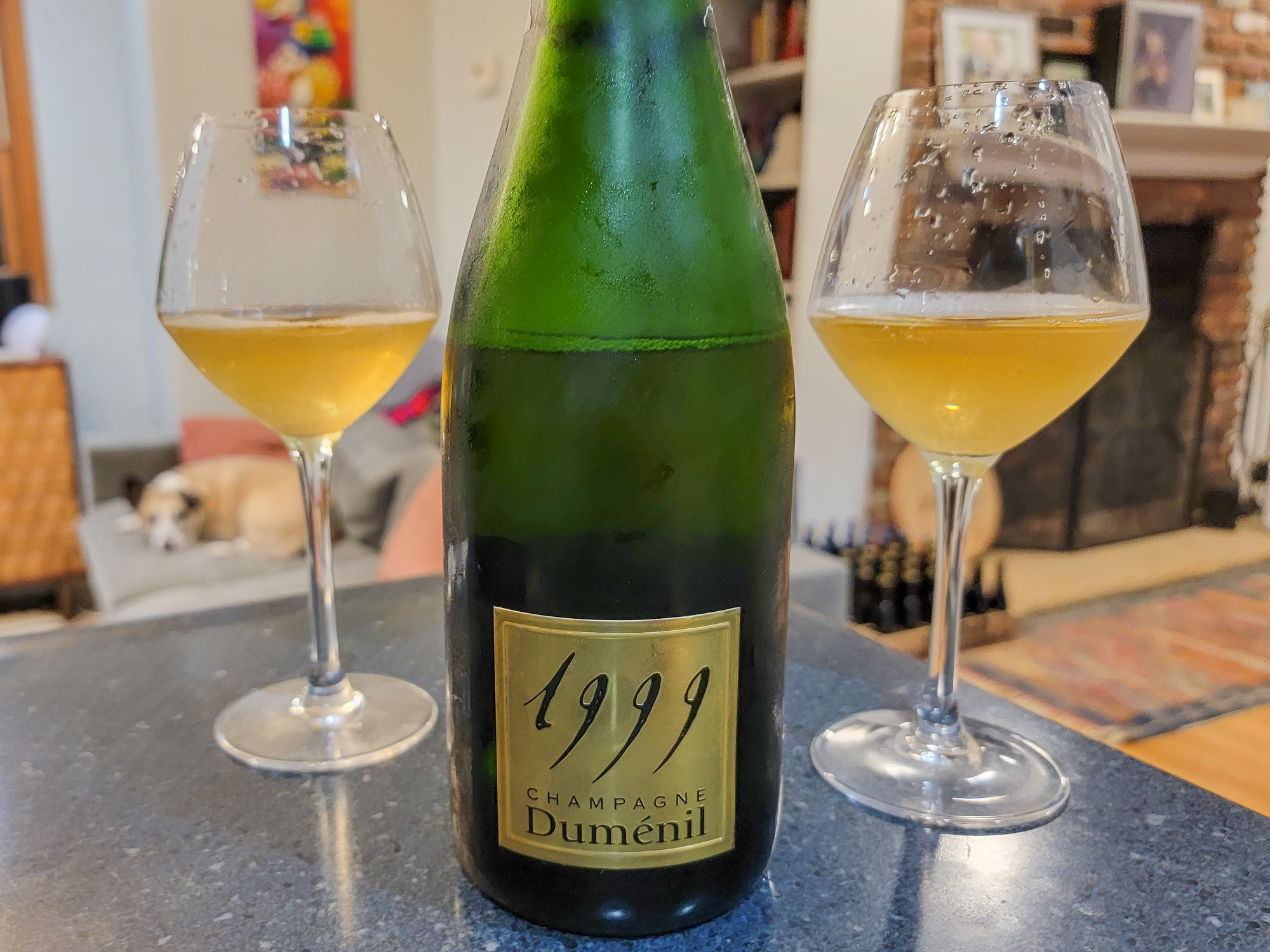 This 1999 vintage Champagne was deep gold in color with medium aromas of pear, peach, almond, yellow apple, hazelnut, toffee, apricot, golden raisin, brioche, and cream.
On the palate, it was dry with medium(+) acidity and body, medium alcohol, pronounced flavor intensity, creamy mousse, and a long finish. It had notes of yellow apple, almond, hazelnut, cream, brioche, lemon, lime, peach skin, toffee, and grapefruit amongst many, many others.
It was interesting to us in this particular bottle as we both pointed out a coffee and almost caramel-like note, particularly on the aroma. While we would say that the lees notes were a bit less pronounced on the palate, perhaps indicating that the bottle was approaching peak or is just past, we have to admit the oxidative notes of almond, hazelnut, and others more than made up for it. The nuttiness was just spectacular.
Would we save our second bottle much longer? No. But that just means another great one is in our future!
1999 Champagne Food Pairing – Crab Legs and Mushroom Risotto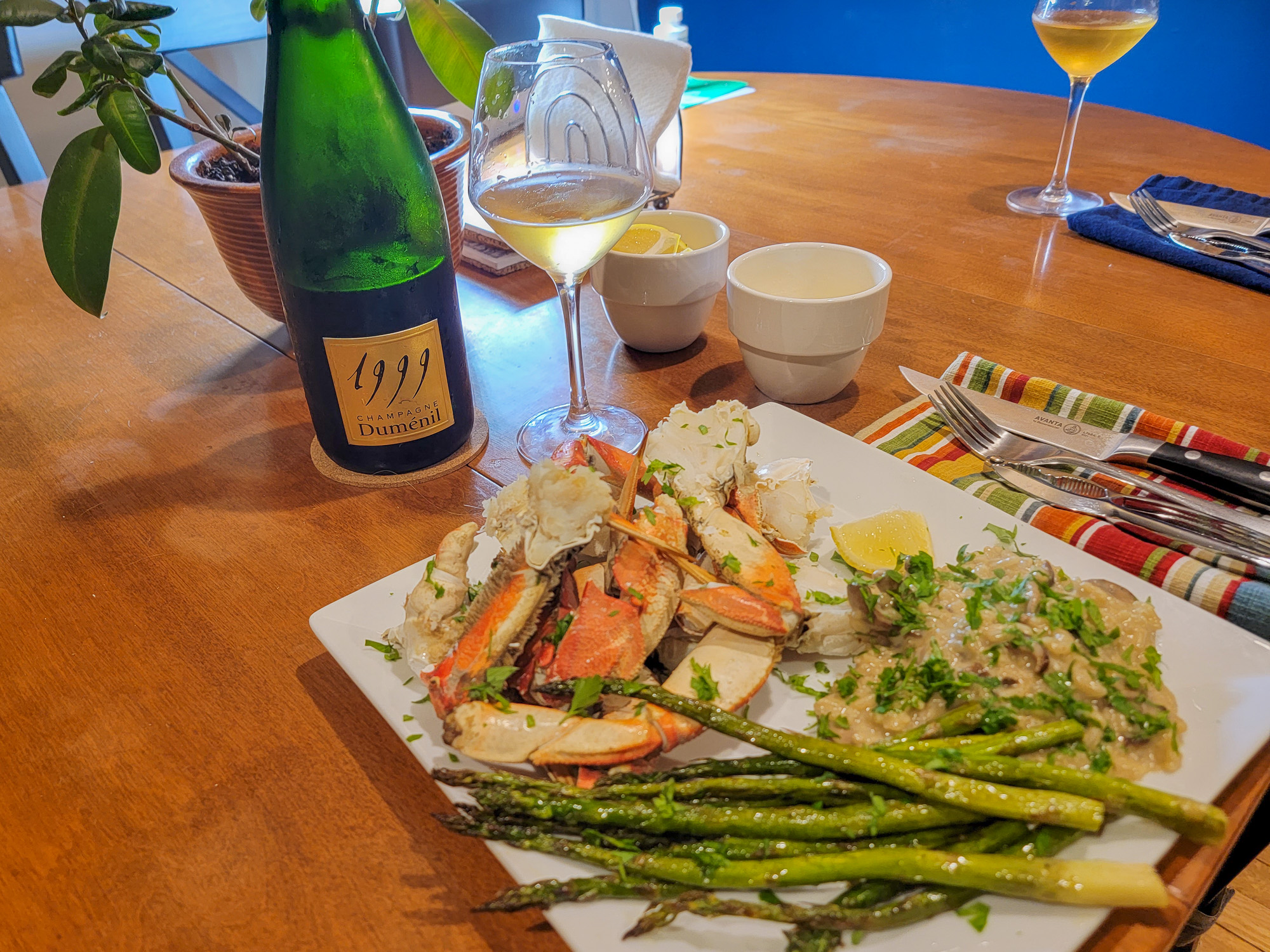 We paired this Champagne with steamed Dungeness crab legs and mushroom risotto as we thought the sweetness of the crab, the richness of the butter, the nuttiness of the risotto, and the acid from the lemon would all play well with the Champagne.
We were not let down.
Each respective food helped accentuate the other flavors in the wine, all while the acidity and texture of the Champagne held on through each bite. Were there any notable flavor changes? Not particularly, but we liked how certain elements popped ever-so-slightly all the same. In the end, we kept going back to the flavor in the wine and lingering over it until the last drop was gone.
Score: 4 / 5
We would buy a bottle of this one.
Overall, this was one of the most intense and complex Champagnes we've had to date, and by far the oldest, too. While we would love to have several bottles on hand (typically our 4.5 score), we also recognize that this one is probably just past peak as well so the best time to drink this is now. So if you have one in your cellar, give it a try. Our 2nd bottle won't last much longer!
Champagne Dumenil is located at 38 Rue du Puits, 51500 in Sacy, France. We purchased this bottle locally and enjoyed it in 2023.