Published Jeremy. Last Updated on January 1, 2021.
Disclaimers: This review uses WSET Level 2 terminology and our own rating scale. Read more here. We use demographic data, email opt-ins, display advertising, and affiliate links to operate this site. Please review our Terms and Conditions for more information. This website is intended for those of legal drinking age in your jurisdiction.
The Clos du Roy Fronsac is a primarily Merlot-based wine (90%) with just a bit of Cabernet Sauvignon and Cabernet Franc blended in for good measure (5%) of each.
We quickly noticed two things after opening this one. On the nose, it was incredibly perfumed and on the palate, it was significantly more tannic than we expected.
You guessed it, we opened this one too soon.
Surprisingly Tannic for a Merlot
The Clos du Roy Fronsac was deep purple in color and came with pronounced aromas of black currant, violet, sandalwood, leather, vanilla, and baking spices. The violet in this one was almost overwhelming at first and detracted from the rest as it gave the wine an overly perfumey bouquet. Thankfully, this one went away a bit after decanting for a brief period of time.
On the palate, the wine was dry with medium acidity, high tannins, high alcohol and body, and medium flavor intensity with notes of black fruit, an earthy must, cedar, and chocolate. We did not expect a Merlot to have as high of tannins as this one, and it needed ample time in our decanter to start to mellow out (60-90 minutes if not longer).
As such, we may also recommend waiting to consume this one outright as it could stand to have several more years on it. In all likelihood we simply opened this one far too soon.
Clos du Roy Fronsac Food Pairing – English Pasty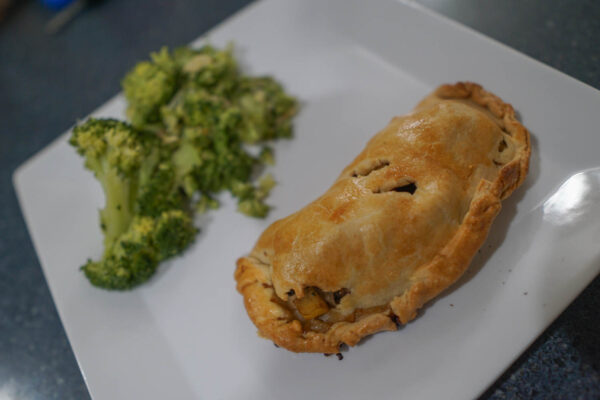 We paired this one with an English pasty stuffed with potatoes and steak. The richness of the dish held up to this rather intense wine, but we have to admit the food pairing worked out a bit more after the wine was decanted and it opened up a bit more to mellow out the tannins- the pasty simply did not have as much going on in it to hold up otherwise.
Score: 2 / 5
We are okay on this bottle.
Overall, we were surprised with how high the tannins were in this bottle considering it was four years old and also primarily Merlot based. This one either needs to age several more years or requires ample time decanting to really mellow out the tannins and flavors (as we noted above), but when it comes down to it we may try other Fronsacs in the future- especially if they're younger. That being said, we could be persuaded to try this one again if it had some age on it.
Clos du Roy is located in Fronsac, France. We purchased this bottle from Wine.com and enjoyed it in 2020.