Published Jeremy. Last Updated on January 1, 2021.
Disclaimers: This review uses WSET Level 2 terminology and our own rating scale. Read more here. We use demographic data, email opt-ins, display advertising, and affiliate links to operate this site. Please review our Terms and Conditions for more information. This website is intended for those of legal drinking age in your jurisdiction.
Our first Trimbach Riesling was a Grand Cru sampled at Wine Bar George at Disney Springs in 2019. It was truly one of the finest Rieslings we've ever had and helped cement our love affair with all things Alsace.
A little while later, we found another Trimbach bottle in our local liquor store- the Trimbach Cuvee Frederic Emile 2011. While this one came with a fairly sufficient sticker price ($70 in 2020), we reflected on how much we enjoyed our earlier Trimbach, threw caution to the wind, and picked it up all the same.
Then we decided to crack it open on a Monday night just because we can.
Petrol, Tropical Fruit, and Nuts in this Riesling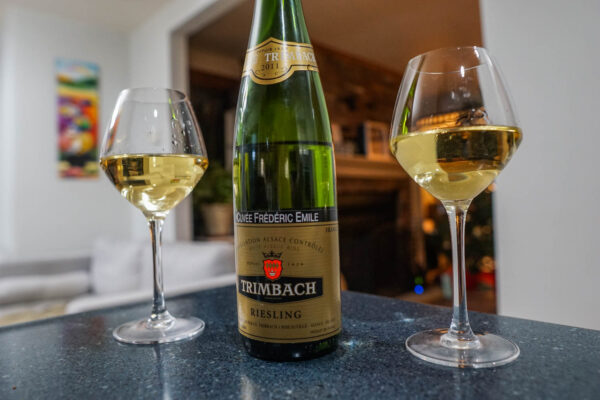 Trimbach's Cuvee Frederic Emile Riesling poured with a medium+ lemon color and had a medium aroma that started out with a strong whiff of petrol right out of the gate. Thankfully, this one burned off quickly for me (a bit longer for Angie) and we detected notes of apricot, ripe pear, green apple, and some mustiness as well.
On the palate, this Riesling was dry, with high acid, body, and alcohol, and a medium+ intensity of flavor. We were able to detect notes of pineapple, lemon, a tish of tart apple, as well as almond which lingered for quite some time. Not only did we appreciate some tropical notes, but the lingering almond also helped give this one a bit of a punch.
But really, when it comes down to it, if you like a high acid Riesling, this one is sure to satisfy.
Trimbach Riesling Food Pairing – Spinach Paneer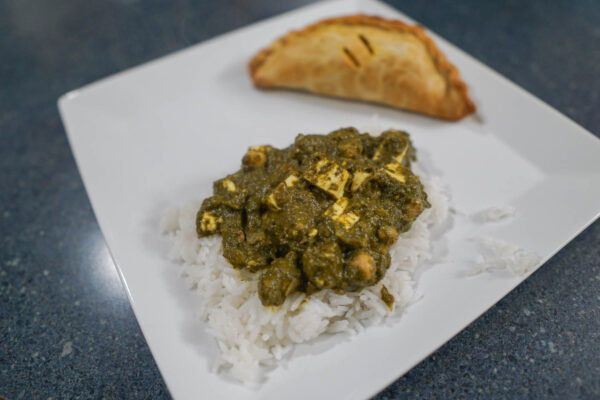 We paired this wine with homemade Indian spinach paneer, and if it sounds like an odd pairing for a high-end bottle of wine, you're probably right. As I often do, I look up recommendations for wine pairings and saw that Riesling was recommended for a dish like this.
In being a Monday and wanting to throw caution to the wind simply because we can, it seemed like a good enough reason to open up the Trimbach Frederic Emile.
The first thing we noticed in the pairing was that the high acidity in this bottle held up quite well to the rich flavors of the spinach, paneer, and the (not overly aggressive) Indian spices. The fruit flavors in the wine shown just a bit brighter with this food pairing but didn't have any major expression changes as we've had with other matches. The high acid here was simply just enough for the wine to hold its own, and for that, we can appreciate it.
Score: 4 / 5
We'd buy another bottle of this one.
Overall, our love affair with Alsatian Riesling continues with the Trimbach Cuvee Frederic Emile 2011. Its high acidity, slight tropical notes, and almond finish really made this one an intriguing wine in our glass. Some may give reason to pause for the price, but if you can find it for a good value and want a splurge, you may be in for a treat.
Trimbach Estate is located at 15 Route de Bergheim – 68150 Ribeauville in Alsace, France. We purchased this bottle from a local liquor store and enjoyed it in 2020. It was listed on Wine.com at the time of review but was out of stock.