Last Updated on January 1, 2021 by Jeremy
Disclaimers: This review uses WSET Level 2 terminology and our own rating scale. Read more here. We use demographic data, email opt-ins, display advertising, and affiliate links to operate this site. Please review our Terms and Conditions for more information. This website is intended for those of legal drinking age in your jurisdiction.
We had our first bottle of wine from A&D Wines in our Plonk Wine Club order- the stellar Monologo Avesso that was one of the best whites we had that year.
Naturally, when we put in an order for more wine from Plonk a la carte we decided to check out another bottle from this supplier- the Casa do Arrabalde. While this one was a blend of near equal parts of Avesso, Alvarinho, and Arinto, it stacked up being a delicious Portuguese white wine all the same.
Grapefruit and Saline Forward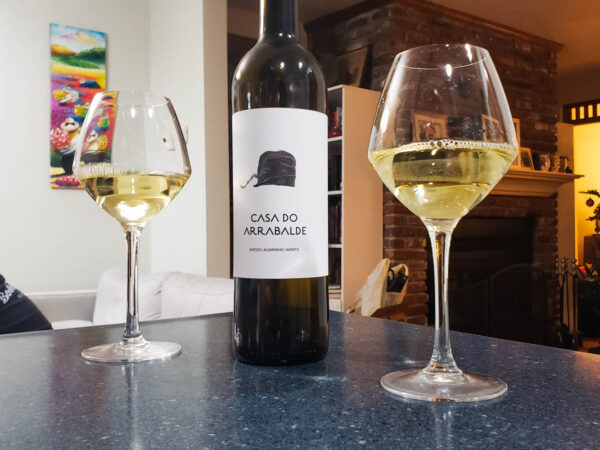 This pale lemon wine had a medium- aroma of tart grapefruit, lemon, saline, and some undertones of minerality that we couldn't quite place.
On the palate the wine was quite high in acidity with medium alcohol, a light body, and medium intensity of flavor. We detected comparable flavors to the nose with grapefruit being the predominant note with undertones of lemon and then a finish of saline in minerals. Naturally, considering how high the acidity was on this one we weren't terribly surprised that those notes came through!
Casa do Arrabalde Food Pairing – Seafood Paella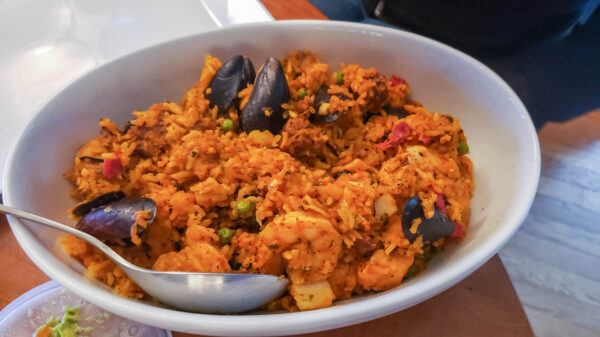 We ordered takeaway for this wine pairing and matched it up with a seafood paella from one of our favorite restaurants in Pittsburgh, Kaya.
For the wine's high acidity and tart flavors, the intense spices of paella were perhaps a bit much. I wouldn't call the wine delicate in any sense of the word, but rather that paella is, well, simply a bit too robust for what this wine offers.
This Portuguese blend would likely go much better with a seafood-forward dish served with lemon as opposed to one that has seafood as a component with other competing flavors (specifically, spices). That being said, getting a bite of scallop, shrimp, or eating a mussel and then taking a sip of the wine made us melt all the same.
Score: 3 / 5
We'd buy a glass of this one.
Overall, we quite enjoyed this wine. Its strong acidity and intense grapefruit and lemon flavors gave us many moments to pucker despite not being terribly complex beyond that. Did it work with paella? A little- if only because of the seafood bites in between. Would we get a glass of this one with a white fish entree at a restaurant? Definitely.
A&D Wines is from Quinta de Santa Teresa, Portugal. We purchased this a la carte from Plonk and enjoyed it in 2020.