Published Jeremy. Last Updated on January 1, 2021.
Disclaimers: This review uses WSET Level 2 terminology and our own rating scale. Read more here. We use demographic data, email opt-ins, display advertising, and affiliate links to operate this site. Please review our Terms and Conditions for more information. This website is intended for those of legal drinking age in your jurisdiction.
When you look at the bottle of Standing Stone Blanc de Blanc from the Finger Lakes, you may be a little confused. Its branding leans in heavily on Hermann J Wiemer, the parent winery of Standing Stone that is located just across Seneca Lake.
But while this one does carry the Hermann J Wiemer branding, the grapes were sourced from vines planted on Standing Stone's property in 1974 all the same. As we are big fans of both of these vineyards, we bought a bottle of the Blanc de Blanc without even sampling it and quickly popped it open after we got home from the region.
High Acid With Citrus and Mineral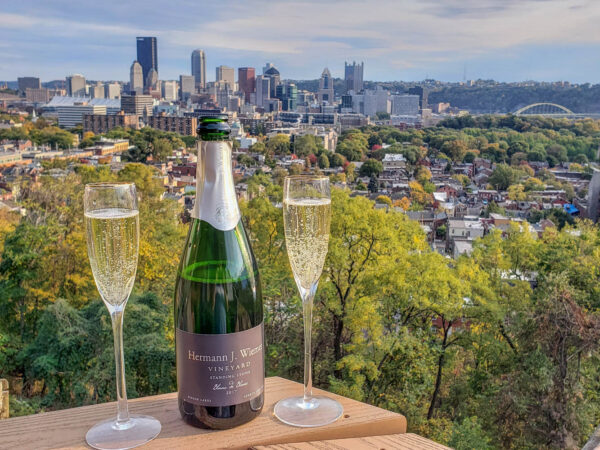 When you take in the aroma of Standing Stone's Blanc de Blanc, you'll get a fairly medium intensity of lime, grapefruit, and peach. There were few, if any, funky notes, and overall held pretty strong on these key aromas.
When sampling, most of these flavors came through plus additional bitter grapefruit pith and minerality on the finish. While this one was aged on the lees as well, we really didn't get any of the notes we'd expect to find from this step and were a bit let down in that regard.
Still, all things being equal the high acid and fruit flavors came together for a nice bubbly all the same- so much so that we did not bother to pair this one with anything and simply enjoyed it on our deck on one of the last, warmer fall days.
Score: 3 / 5
We could buy a glass of this one.
Overall, the flavors you get from this Blanc de Blanc hold up well to the high acidity, but we have to admit that we're partial to sparkling wines that have a bit more intense flavors from aging on the lees. So while we'll never say no to a glass of this delightful sparkling, we could also say we look for just a bit more when buying bottles.
Standing Stone is located at 9934 NY-414 in Hector, NY. We purchased this bottle at the winery and enjoyed it in 2020.