Published Jeremy. Last Updated on January 1, 2021.
Disclaimers: This review uses WSET Level 2 terminology and our own rating scale. Read more here. We use demographic data, email opt-ins, display advertising, and affiliate links to operate this site. Please review our Terms and Conditions for more information. This website is intended for those of legal drinking age in your jurisdiction.
Xynisteri is a new grape varietal for us and one that is indigenous to the island of Cyprus in the eastern Mediterranean. Naturally, we were eager to crack this one open as soon as possible purely for this reason.
While we ended up thinking this one was a tish heavy on the minerality for what we like (relative to the acids and fruit, at least), we are glad we tried it all the same.
Citrus and Slightly Out of Balance on Minerals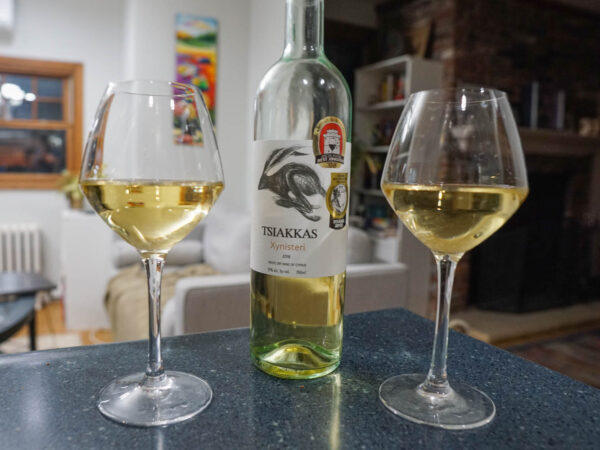 This medium lemon wine had a medium aroma intensity with notes of grapefruit, lemon, peach, and a prominent flinty minerality with some salinity shining through.
On the palate the wine was dry with medium acidity, body, and flavor intensity. Upfront the wine tasted quite similar to the nose; however bitter grapefruit pith and wet stone flavors were present- so much so that we'd almost consider it out of balance slightly with more minerality than we'd otherwise prefer for the acid level and fruit intensity.
That being said, it was still a nice glass overall.
Tsiakkas Xynisteri Food Pairing – Fresh Pasta with Red Peppers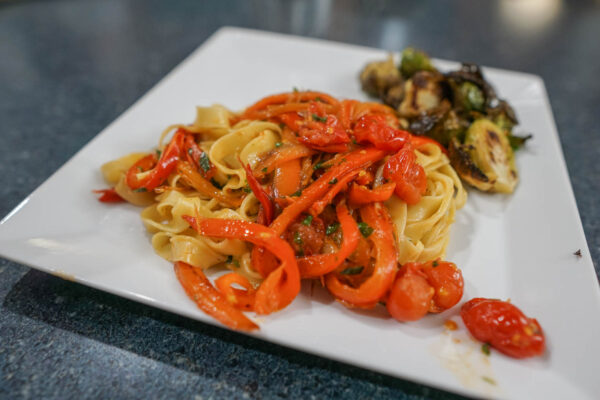 One of our favorite white wine pairings is homemade pasta tossed in oil and with a few choice vegetables and herbs thrown in, and for this one we added on tomatoes and sauteed red peppers for good measure as well as brussel sprouts on the side.
Originally we had selected this wine hoping for a decent acidity and citrus flavors to pair with the pasta, but we ended up really talking about the pairing with the brussel sprouts thanks to the stronger mineral and saline flavors going on in the glass. It seemed to work with the bitterness of the brussel sprouts and helped more of the fruit notes shine in the wine- an unexpected surprise that we talked about more than the pasta pairing.
Score: 2 / 5
We're ok on this one.
Overall, we quite enjoyed the food pairing with this one but had a hard time getting over the slightly out of balance mineral flavor in the wine. It just didn't work quite well for us with the level of acid and fruit in the glass, but this is more a preference thing more than anything.
Tsiakkas Winery is located in Limassol, Cyprus. We received this bottle as part of a mystery box from Plonk Wine Club.