Last Updated on January 1, 2021 by Jeremy
Disclaimers: This review uses WSET Level 2 terminology and our own rating scale. Read more here. We use demographic data, email opt-ins, display advertising, and affiliate links to operate this site. Please review our Terms and Conditions for more information. This website is intended for those of legal drinking age in your jurisdiction.
When we decided to make a lemon eggplant risotto, it didn't take long for us to settle on the Boutari Moschofilero from Greece. The dish checked a lot of boxes for us as having similar flavor profiles we'd expect to find in Greek food, and the citrus and minerality notes in the wine sounded like they'd go well with the lemon and eggplant respectively.
We were not let down by this one– on its own and with the food.
Balanced Fruit and Acidity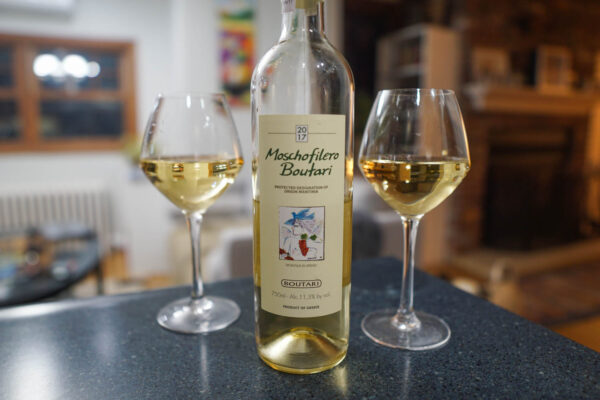 This pale gold wine had a light aroma with notes of lime, grapefruit, melon, green herbs, and a faint minerality.
On the palate it was dry with medium acidity, body, and flavor intensity with characteristics of lime, grapefruit, underripe nectarine, yellow apple, and a stronger minerality and salinity on the finish over what we got on the nose. These all came together for a very well balanced wine despite not being too terribly intense in acidity.
Boutari Moschofilero Food Pairing – Lemon Eggplant Risotto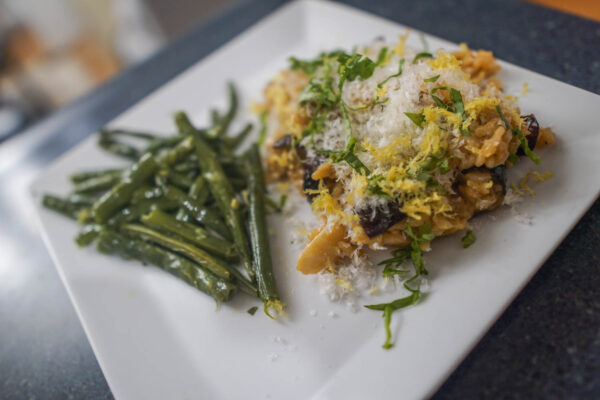 We paired this with lemon eggplant risotto that did not shy away from the lemon zest in the dish. The eggplant in the dish worked well with the minerality of the wine, and the lemon helped pair some of the acidity and let some of the stone fruit flavors shine that much more.
Although, give us enough acid and citrus flavors and strong lemon in our dish and we'll probably be in heaven!
Score: 4 / 5
We'd buy another bottle of this one.
We really enjoyed this bottle as it had a modest acidity and citrus fruits that was balanced with a not-overbearing minerality on the finish. It worked really well with our lemon risotto and we'd make that pairing again!
Boutari grows various indigenous grapes all over Greece. The Moschofilero bottle is reported to be from Mantinia from 3rd parties. We purchased this wine from Wine.com and enjoyed it in 2020 although it was out of stock at the time of publication.