Published Jeremy. Last Updated on January 1, 2021.
Disclaimers: This review uses WSET Level 2 terminology and our own rating scale. Read more here. We use demographic data, email opt-ins, display advertising, and affiliate links to operate this site. Please review our Terms and Conditions for more information. This website is intended for those of legal drinking age in your jurisdiction.
When we think of Argentinian red wines, we don't often think of Syrah. But after a few sips of this one from our WSET 2 class, we knew we had to pick up a few bottles of the Chakana Nuna Syrah to enjoy as this one was quite a delicious representation of the varietal.
The first one didn't last very long in our cellar.
Stellar Syrah Characteristics in This One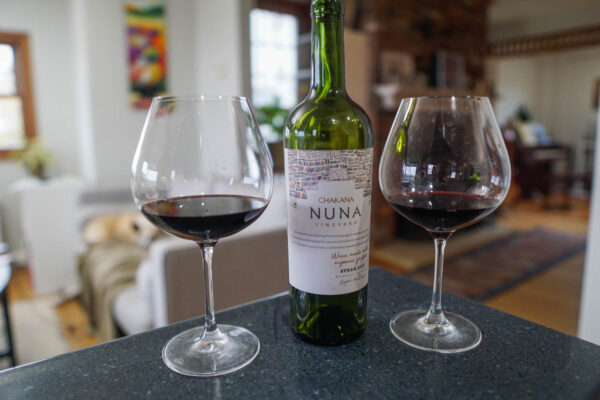 This deep purple wine came with medium intensity aromas of smoke, blackberry, spices, and crushed black pepper.
On the palate we noted pretty high acids, tannins, and alcohol with predominantly dark fruit flavors like blackberry, black cherry, and barrel notes of vanilla. There was also a faint pepper spice in the wine as well, which came out more with our pepper-heavy food below.
Overall, this was a rather lovely Syrah from Argentina with some great characteristic flavors of the varietal.
Chakana Nuna Syrah Food Pairing – Smoked Ribs and Chicken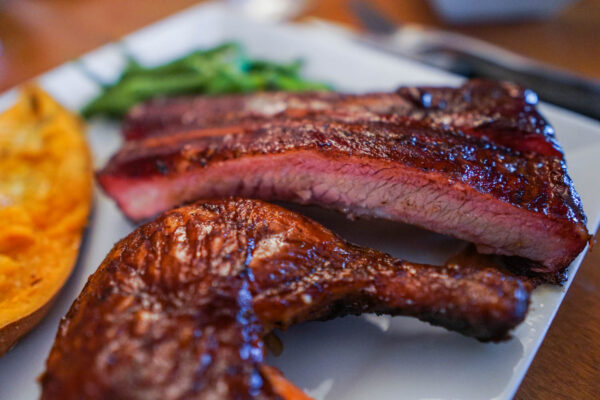 We paired this one with smoked ribs and chicken on the recommendation of our instructor when another student asked what the wine would go well with. In fact, we were already planning on doing ribs a few days later so it only helped facilitate that purchase.
I smoked a rack of ribs with an overnight brown sugar dry rub with salt, pepper, chili, za'atar, and more as well as a brined chicken with a nominal amount of the dry rub applied just before hitting the smoker. The rub was also used to make the barbecue sauce which I also basted on both meats towards the end of the smoke (heavier on the ribs).
Suffice it to say, the rich, smokey meats held up quite well to the high acids and tannins in the wine, the fruit flavors sang, and the pepper-forward rub helped accentuate the undertones of pepper in the wine. Let's just say this bottle ended up disappearing just as fast as the ribs did.
Score: 4 / 5
We'd buy another bottle of this one.
Although our scoring system is based on if we'd buy another bottle, we have to admit that this one is a bit unusual since we had bought two already. So for this one, we're just going to say we'll definitely be buying more and looking to put some age on the bottles as well.
Chakana Nuna grows their Syrah in the Lujan de Cuyo region of Mendoza, Argentina. We purchased this wine from a local supplier and enjoyed it in 2020. Other wines from this producer might be available on Wine.com.