Last Updated on January 1, 2021 by Jeremy
Disclaimers: This review uses WSET Level 2 terminology and our own rating scale. Read more here. We use demographic data, email opt-ins, display advertising, and affiliate links to operate this site. Please review our Terms and Conditions for more information. This website is intended for those of legal drinking age in your jurisdiction.
When we think of Gamay, our minds instantly head to Beaujolais in France. For many, many years our experience with this varietal was from wines that solely came from this region, and it wasn't until we got our hands on a bottle from Ayres Vineyard that we tried from the new world.
Yes- Ayres Vineyard Gamay does not come from France, and is instead from Oregon!
A Riper Gamay with Dark Fruit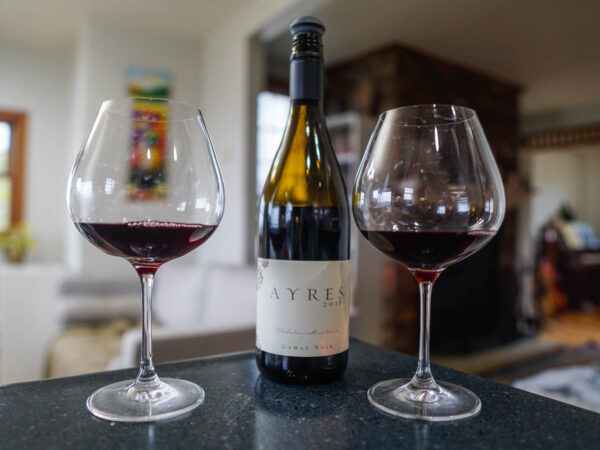 This pale ruby wine had a medium intensity aroma with pronounced notes of candied cherry, raspberries, and ripe plum. Notes of darker fruits were also present but hard to distinguish plus subtle vanilla, oregano, and other cooking spices on the end.
On the palate this one had medium acidity, body, and flavor intensity with relatively low tannin structure. The fruit started out cherry but then darker fruits like blueberry and plum started to present themselves. There was an interesting velvety mouthfeel with this one like you get after eating a nice piece of chocolate and there were some nominal moss and slate notes on the finish.
Ayres Gamay Food Pairing – Pork Chops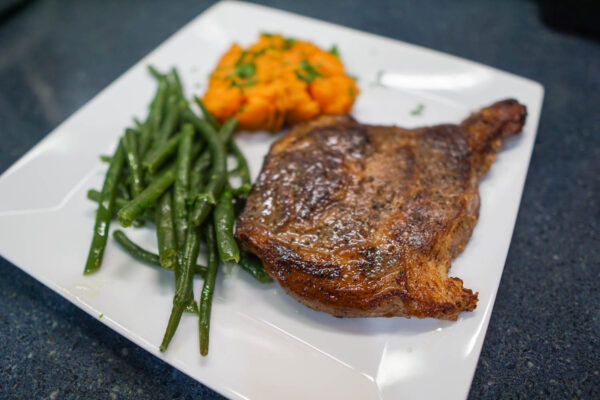 We paired this wine with one of our favorites for medium-bodied reds- pork chops!
The fat and the richness in the chops played quite well with the acidity in this wine and really helped highlight some of the fruit notes in the glass. I wouldn't say it was an exceptional pairing beyond this, but just a minor change within your mouth all the same when drinking this one.
Score: 4 / 5
We'd buy another bottle of this one.
When it comes down to it, we quite enjoyed this bottle of Gamay from Oregon as it had a nice medium intensity and trended into the riper fruit territory which is something we can always appreciate.
Ayres Vineyard is located at 17971 NE Lewis Rogers Road in Newberg, Oregon. We received this bottle as part of a mystery case from Plonk Wine Club and enjoyed it in 2020. It is listed on Wine.com as well but was unavailable at the time of publishing this review.