Last Updated on March 14, 2021 by Jeremy
Disclaimers: This review uses WSET Level 2 terminology and our own rating scale. Read more here. We use demographic data, email opt-ins, display advertising, and affiliate links to operate this site. Please review our Terms and Conditions for more information. This website is intended for those of legal drinking age in your jurisdiction.
The Gerogian grape Saperavi is quickly becoming a favorite of producers in the Finger Lakes. One of the first plantings of this grape came at Standing Stone vineyard and they have been excelling at this particular varietal for a while now.
One variant the winery offers is a rose made from this grape, and with a crisp acidity and strong red fruit flavors, we have to say it was a pretty delicious rose!
A Crisp Saperavi Rose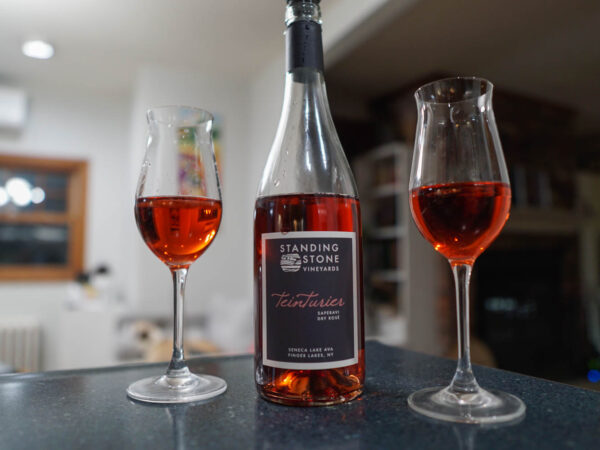 This rose was deep pink in color with medium aromas of strawberry jello, strawberry pie, and vanilla.
On the palate, it was dry with high acidity, low tannin, medium alcohol and body, and a medium- flavor intensity. We detected notes of strawberry, dried and possibly underripe red fruits, pomegranate, and a continuation of the jello note from the nose. The finish was quite long on this one which made it refreshing to drink.
Standing Stone Saperavi Rose Food Pairing – Kofta Kebabs in a Pita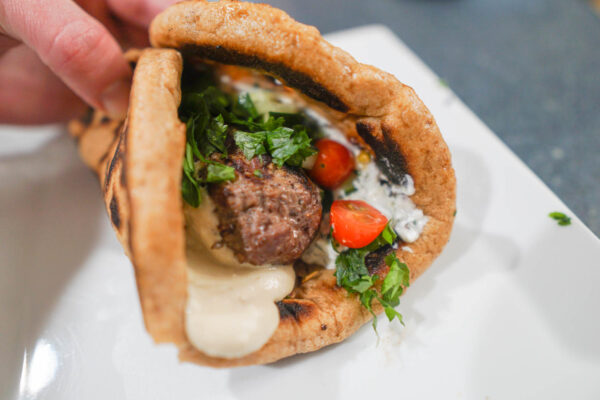 We went with the fallback thought of "rose pairs with everything" in enjoying this one with a kofta kebab pita, and really the high acidity of the rose wine was all that was really necessary to match the intense and somewhat fatty kebab pieces.
Did we get any play on the flavors at all with this one? Not really. Just a nice high acid pairing with a rich, meaty dish that will win us over all the time.
Score: 4 / 5
We'd buy another bottle of this one.
While we may say that the flavor didn't have a terribly strong depth to it, this was simply a delightful rose to sip on and had all of the things we look forward to in this style- namely sharp acidity and decent red fruit. We later put an order in for more Saperavi from Standing Stone and added another rose in our cart for good measure.
Standing Stone is located at 9934 NY-414 in Hector, NY. We purchased this bottle directly from the winery and enjoyed it in 2021. Wine.com had the Saperavi Rose in stock at the time of publishing.
Looking for more wine reviews from Standing Stone? Check out our review of their Blanc de Blanc or Chardonnay!