Last Updated on January 7, 2021 by Jeremy
Disclaimers: This review uses WSET Level 2 terminology and our own rating scale. Read more here. We use demographic data, email opt-ins, display advertising, and affiliate links to operate this site. Please review our Terms and Conditions for more information. This website is intended for those of legal drinking age in your jurisdiction.
When we visit Finger Lakes wineries, we almost always make a stop at Heron Hill on Keuka Lake.
Apart from having a stunning view of the lake, the winery does a good job at producing an array of delicious wines that we think are quite representable of their respective styles. One such wine was the Heron Hill Reserve Riesling which is true to form for a cool climate Riesling.
A Straight Forward Cool Climate Riesling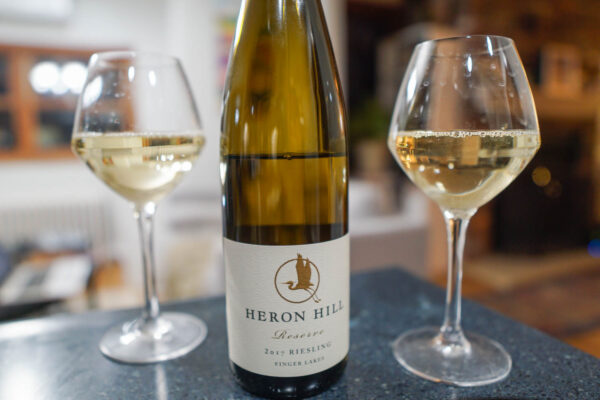 Heron Hill's Reserve Riesling had a medium lemon color with medium aromas of green apple, lime, peach, and a slight bit of petrol and white flower- all things we come to expect from a quality Finger Lakes Riesling.
The wine was dry with high acid, medium alcohol, body, and flavor intensity. The palate came across as a fairly conventional cool climate Riesling with notes of lime, green apple, and lemon to name a few without any other undertones of note.
Heron Hill Riesling Food Pairing – Dim Sum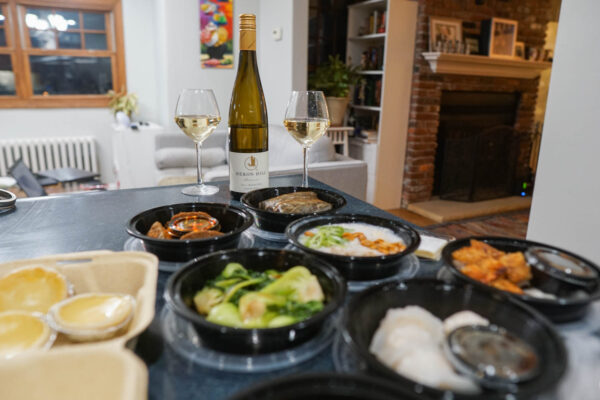 We picked this wine to pair with a takeaway order of Cantonese dim sum from a local pop-up. As Riesling tends to do well with an array of dishes thanks to its strong acidity and youthful flavor profile, we think this one held up to the intense flavors of Cantonese (thanks to the acidity itself).
As this wine didn't have any other undertones or unusual characteristics to it, the pairing held up quite nicely to what we thought was an intensely flavored meal.
Score: 3 / 5
We'd buy a glass of this one.
Overall, Heron Hill has a nice reserve Riesling that is characteristic of what you'd expect for a cool climate bottle of the grape. I don't necessarily need another bottle of this one, but if it were on a wine list and I wanted a Riesling I'd not be upset.
Heron Hill is located at 9301 Co Rd 76 in Hammondsport, NY. We purchased this bottle from the vineyard directly and enjoyed it in 2020. Wine.com has Heron Hill wines listed on their site but were out of stock at the time of publication.