Published Jeremy. Last Updated on January 26, 2021.
Disclaimers: This review uses WSET Level 2 terminology and our own rating scale. Read more here. We use demographic data, email opt-ins, display advertising, and affiliate links to operate this site. Please review our Terms and Conditions for more information. This website is intended for those of legal drinking age in your jurisdiction.
Dr. Konstantin Frank Winery in the Finger Lakes has been a staple of the region for many decades, and with good reason. This one produces some fine wines that are quite representative of their styles and go down quickly.
So if you are in the mood for an easy-drinking off-dry Riesling, Dr. Konstantin Frank's Reserve Riesling should be right up your alley!
Off-Dry and a Ton of Flavor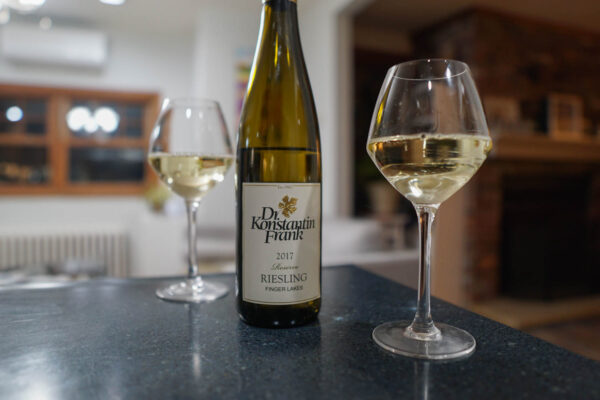 This pale lemon wine had medium aromas of yellow apple, peach, lime, and slight petrol notes that dissipated fairly quickly.
On the palate the wine was off-dry with medium characteristics across the board. For flavors we detected notes of apricot or ripe peach, pear, honey, elderflower, and lime. Coupled with the slight sweetness the flavors worked out well together and highlight why Dr. Konstantin Frank is one of the most popular wineries in the Finger Lakes.
Off-Dry Riesling Pairing – Ham and Cheese Crepe
We have to admit that when we opened this bottle of wine we did not realize it would be off-dry, and instead picked it assuming it would have a bit higher acidity to counteract the richness of the ham and cheese in the crepe. That being said, it is hard to make a mistake pairing a dry or, in this case, off-dry Riesling with any food, and this pairing was no different.
Score: 3 / 5
We'd buy a glass of this one.
Dr. Konstantin Frank's Reserve Riesling shows a lot about why this is a staple in the Finger Lakes. Its balance of subtle sweetness, medium acidity, and wide flavor profile works out well for a nice glass of Riesling we'd never say no to.
Dr. Konstantin Frank Winery is located at 9749 Middle Road in Hammondsport, NY. Wine.com appears to have Dr. Konstantin Frank wines in their system but were out of stock at the time of publishing.