Published Jeremy. Last Updated on January 26, 2021.
Disclaimers: This review uses WSET Level 2 terminology and our own rating scale. Read more here. We use demographic data, email opt-ins, display advertising, and affiliate links to operate this site. Please review our Terms and Conditions for more information. This website is intended for those of legal drinking age in your jurisdiction.
Chenin Blanc is said to be the most widely planted grape in South Africa, and after taking a sip of a bottle like Tania et Vincent Careme's Terre Brulee Le Blanc you'll understand why.
This one comes loaded with tart fruit and a bitterness that is balanced quite well.
A White With Bitter Citrus Flavors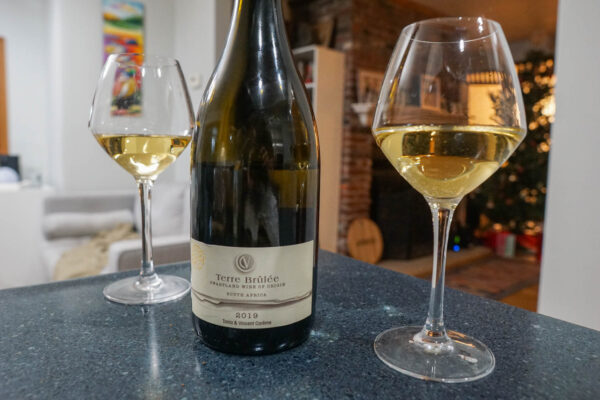 Terre Brulee Le Blanc is medium- gold in color and has a medium aroma of lime, peach, jasmine, honey, and a bit of minerality.
On the palate the wine is dry, with medium+ acidity, medium alcohol and body, and medium+ intensity of flavor. We got an upfront kick of a bitter citrus fruit that we had trouble describing, but ultimately settled on lime pith. From there we detected notes of green apple, grapefruit, and the pith stayed through to the finish.
While some people may find the bitterness a bit too much, the balance with the acidity worked well in this one for our tastes.
Terre Brulee Food Pairing – Mushroom Risotto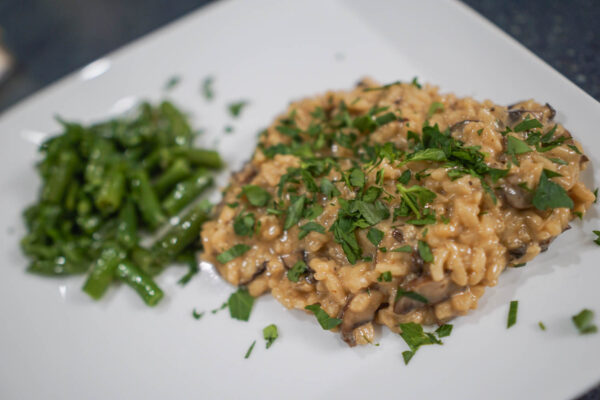 We decided to pair this Chenin Blanc with an umami-forward mushroom risotto. This pairing helped bring out the acidity in the wine significantly and brought out a delightful pineapple flavor that we never detected when enjoying the wine on its own.
Our side dish pairing, green beans covered in herbs, also exploded when pairing with the wine- accentuating the herbs specifically (likely in the food here, however). As such, we thought this was a wonderful combination to pair with this Chenin Blanc!
Score: 3 / 5
We'd buy a glass of this one.
Overall, Terre Brulee's Le Blanc is a relatively easy-drinking Chenin Blanc. We may prefer bottles with a bit more going on in terms of flavor, but we'd most certainly get a glass if we ever saw it on a menu and had a great pairing in mind.
Tania et Vincent Careme's Terre Brulee Le Blanc comes from the Swartland region of South Africa. We purchased this bottle from Plonk Wine Club and enjoyed it in 2021. It is also available on Wine.com at the time of publishing.