Last Updated on January 31, 2021 by Jeremy
Disclaimers: This review uses WSET Level 2 terminology and our own rating scale. Read more here. We use demographic data, email opt-ins, display advertising, and affiliate links to operate this site. Please review our Terms and Conditions for more information. This website is intended for those of legal drinking age in your jurisdiction.
It is hard not to love a good Gruner Veltliner, and we were fortunate enough to pick up several bottles from Domane Wachau while at Duty Free in Vienna's airport in 2020.
The Kinrberg bottle was an interesting one from the bunch as it had an intense minerality about it that the other bottles simply did not have. This one may be a bit too mineral-forward for some, but if you like this aspect in your white you may really enjoy this bottle!
A Mineral Rich Gruner Veltliner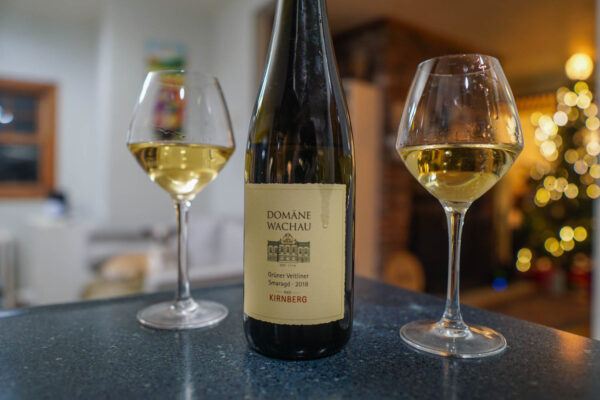 This Gruner Veltliner from Domane Wachau had a medium lemon color with medium aroma notes of lemon, yellow apple, nectarine, white flower, and some undertones of honey.
On the palate the wine was dry with a medium+ acidity, and medium characteristics like body, alcohol, and intensity of flavor. We detected notes of lemon, pear, heavy flint and minerals, slight honey, and a green finish (almost asparagus-esque, but hard to classify).
We had bought this bottle in the Vienna airport duty-free store along with two others from the producer that we tested out with our Coravin prior to starting this site, and we remarked how much more minerally this bottle was compared to the others- certainly highlighting the regional impact in flavoring wine!
Gruner Veltliner Food Pairing – Pork Chop with Pretzel and Sauerkraut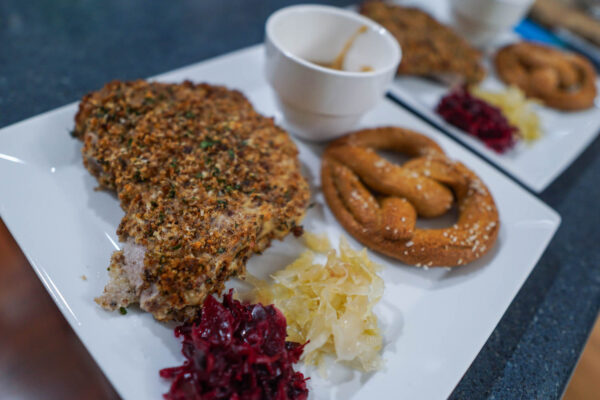 We paired this one with a New Year's feast of pork chop, homemade pretzels, and, of course, sauerkraut (a tradition).
What we really liked about this meal was how varied the ingredients were. The pork chop was savory and fatty, the kraut was tangy, and the beer cheese that accompanied the pretzels was nice and creamy. All of these interacted well with the wine one way in their own unique way.
It was perhaps the strong minerality in the wine that worked with this meal the most as it played well with the rich and fatty crusted pork chop as well as the pretzels (although the acidity also was paired by the tartness of the kraut too and allowed some more fruit flavors to shine). Either way, call us happy.
Score: 3 / 5
We'd buy a glass of this one.
Overall, Domane Wachau's Kirnberg is heavily mineral forward in this iteration of the wine. We'd buy a glass of this one in an appropriate context, but do have to think back at a few other bottles we enjoyed with our Coravin and note that those were likely the ones we'd buy another bottle of outright. This one was simply a bit too heavy on the minerals to make that leap.
Domane Wachau's Kirnberg vineyard is located on the Danube in Rossatz. We purchased this wine from the duty free at Vienna's airport and enjoyed it in 2021.