Published Jeremy. Last Updated on March 9, 2023.
Disclaimers: This review uses WSET Level 3 terminology and our own rating scale. Read more here. We use demographic data, email opt-ins, display advertising, and affiliate links to operate this site. Please review our Terms and Conditions for more information. This website is intended for those of legal drinking age in your jurisdiction.
Saperavi is a Georgian grape that has made its way to the USA where it is being grown (quite successfully) in the Finger Lakes.
We were quite fortunate to try this one at many Finger Lakes vineyards during our last visit, and bought several bottles both to enjoy now and to age. McGregor Vineyard's Saperavi was one such bottle, and we couldn't wait long to crack open this one- although we probably should have waited.
A Solid Dry Red that Could Use Some Age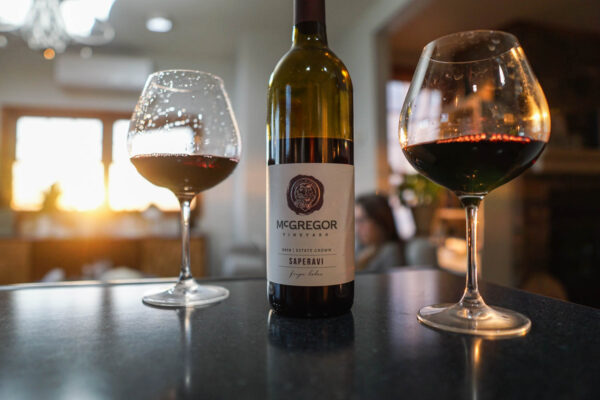 McGregor's Saperavi was medium+ purple in color with medium aromas of black raspberry, blueberry, cedar, licorice, violet, and vanilla that was developing.
On the palate, it was dry with high acid, medium+ tannin and body, and medium alcohol and intensity of flavor. We detected less than on the nose with flavors of red currant, cranberry, and cedar being present with a medium finish. As such, we may recommend waiting a few more years to drink this one although you certainly could enjoy it now.
McGregor Saperavi Food Pairing – French Dip Sandwiches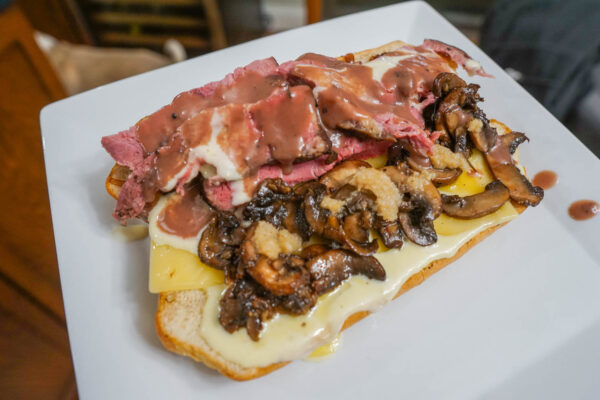 We paired this wine with a 48-hour sous vide roast that we sliced and turned into a play on a French Dip sandwich with horseradish sauce, mushrooms, and caramelized onions.
The fattiness of the meat helped match the acidity and tannins in this one and allowed some of the flavor notes to sing. In this respect, the pairing worked well for the otherwise young wine. I can't say that we detected any new flavors here, but just that the balance worked out in each sip.
Score: 3 / 5
We'd buy a glass of this one.
McGregor's Saperavi is a great example of this Georgian grape thriving in the Finger Lakes. While we would definitely have a glass of this one if we saw the vintage on a menu, we'd probably hold onto a bottle a few years longer to see how it develops if we had another in our cellar.
McGregor Vineyard is located at 5503 Dutch Street in Dundee, NY, on Keuka Lake. We purchased this bottle from the vineyard directly and enjoyed it in 2021. Wine.com carries some wines from McGregor but did not appear to carry the Saperavi at the time of publishing.