Published Jeremy. Last Updated on March 2, 2023.
Disclaimers: We use demographic data, email opt-ins, display advertising, and affiliate links to operate this site. Please review our Terms and Conditions for more information. This website is intended for those of legal drinking age in your jurisdiction.
We often lament about how we need more Spanish-style tapas bars in the country and European wine bars in general. So when I read about Barcelona Wine Bar in Washington DC and found that it was just a mile or so away from the hotel I was staying at, you know I had to go.
To say this wine bar checks both of those boxes is an understatement. But while you are not likely to get a free tapa with every wine order (like some tapas bars we went to in Spain), you will get the next best thing in all respect. That is to say, small plates, affordable prices, and an incredible selection all around.
Call me hooked on this great wine bar in DC!
Barcelona Wine Bar DC is a Stellar Place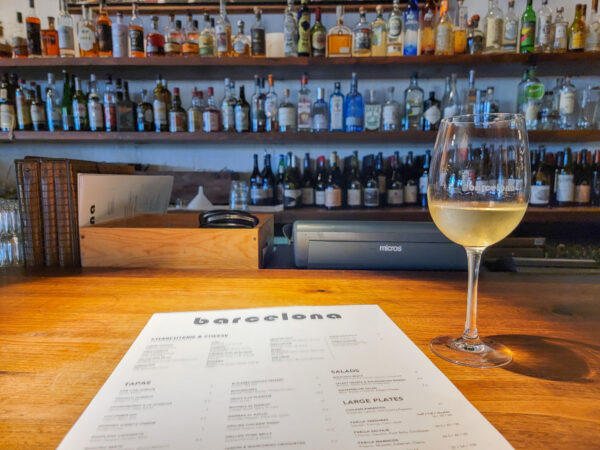 It doesn't take long after looking through the menu at Barcelona Wine Bar that you really get an appreciation for just how European it is. Roughly half the wines on the menu were from Spain proper, Portugal rounded out the second-highest representation, and only just one or two wines from France, Italy, and Germany graced the menu at all (although I was pleased to see decent representation from Uruguay, Chile, and Argentina as well).
One of the biggest perks of this wine bar, to me at least, is that they offered pours of all their wines as either full or half glasses, which made it very easy for me to try several wines during my visit (plus a few tastes courtesy of the bartender as well). Half pours ran anywhere from $4.50 to $7.25 and full pours were $9-$14.5, making this spot actually a reasonable drinking option considering you're in Washington DC. Throw on the fact that half pours were half the price of full pours exactly, and you call me a happy customer.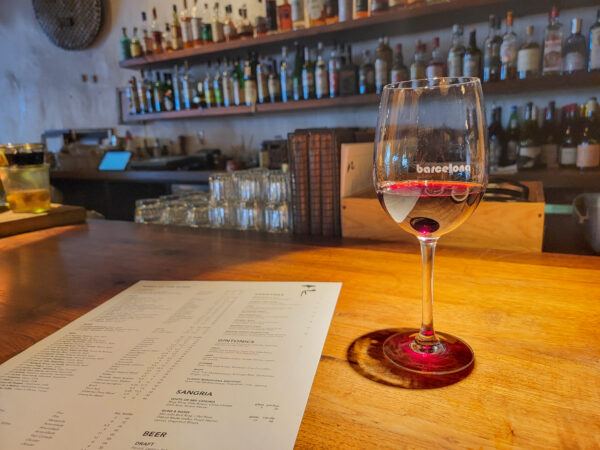 The pours I went for were, naturally, all about new-to-me grapes- Bodegas Maranones Albillo from Sierra de Gredos in Spain, Iniceri's Catarratto from Sicily, and Cesar Marques Perez Mencia from Bierzo in Spain. Splashes off Albarino, Arinto, and Xarel-lo may have shown up as well as the bartender really liked our quest to try new grape varietals and wanted to help me try a few more.
The star of all the pours was none of my orders, but in fact, the Mila Albarino from Rias Baixas from Spain as it had a much stronger floral component than I'm used to from the grape that was in perfect balance with the fruit notes. Had I not tried that towards the end of my tastings, I really could've considered a full pour of this one and need to be on the lookout for a bottle outright.
Don't Forget the Tapas at This Bar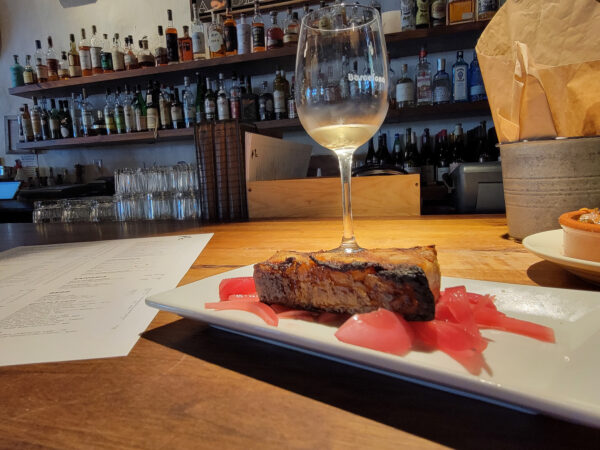 Now, you could probably go to Barcelona Wine Bar and be completely happy trying several half pours of wine. But in true Spanish wine bar fashion, this one is also a tapas bar and they have an impressive menu of conventional Spanish tapas as well as dishes that you can tell the chef put a house twist on.
Think dishes like whipped sheep's cheese, pan con tomate, gambas al ajillo, and patatas bravas next to sweet and sour figs, bacon-wrapped dates, grilled pork belly, and more.
To make this one a meal, I opted for orders of grilled pork belly, sweet and sour fig and chorizo, eggplant caponata, and bread and olive oil. All of these dishes clocked in between $5-$10 and were also a rather respectable price point for their size. In true tapas fashion, they were smaller, enough for a single person, but big enough to share between two or three if more were ordered (the latter would create a one-bite-per-person scenario).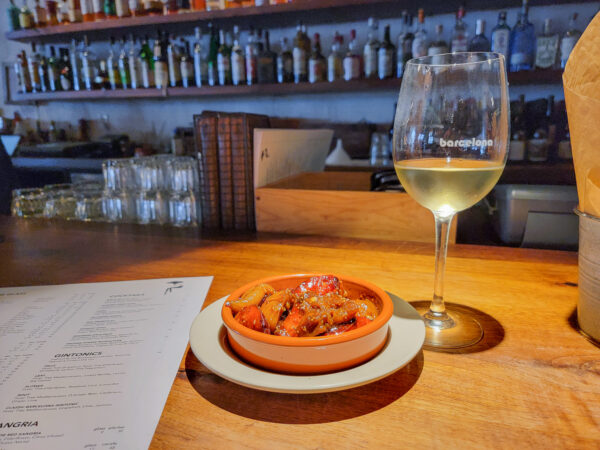 As with most tapas bars, dishes here come out as they are prepared, and most of mine came out within just a few minutes of ordering. So if you want to pair a specific dish with wine (like I did with the pork belly and Mencia), you may want to be prepared to be flexible on ordering. I'm not ashamed to say I was rocking two glasses at once because I trying to keep up with the pace of the food.
The dishes themselves may have upstaged the wine portion of the menu, which was no tall order. Think tender and succulent pork belly, perfectly seasoned caponata that didn't skimp on the herbs, and a devious fig and chorizo combination that was mixed with a tangy balsamic reduction that simply sang (and its acidity rivaled that of some of the whites- it'll make you pucker).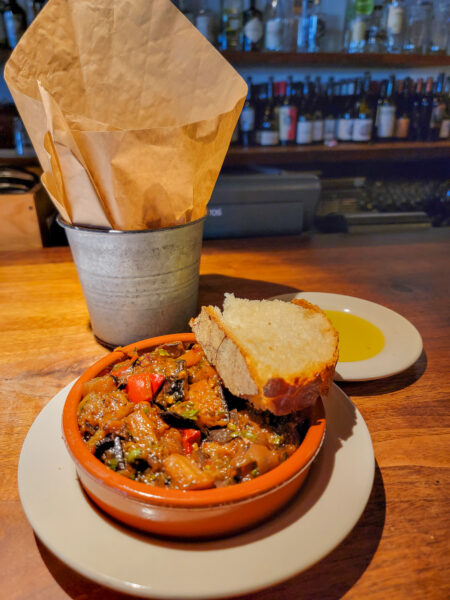 Really, for a sub-$50 dining experience (pre-tip), I couldn't have asked for more. Four small plates, three half pours of wine, and a few extra samples courtesy of the bartender? I'm going to have to make this one a regular stop when in Washington DC for my WSET exams– it really is that good. Don't miss Barcelona Wine Bar!
Barcelona Wine Bar is located at 1622 14th St NW in Washington DC.