Published Jeremy. Last Updated on November 3, 2021.
Disclaimers: This review uses WSET Diploma terminology and our own rating scale. Read more here. We use demographic data, email opt-ins, display advertising, and affiliate links to operate this site. Please review our Terms and Conditions for more information. This website is intended for those of legal drinking age in your jurisdiction.
Oh Pinotage, you are an interesting grape. A cross between Pinot Noir and Cinsault, this popular South African variety has many of the characteristics we love about the former grape bit amped up in intensity from the latter.
Interestingly enough, Pinotage comes with an interesting flavor characteristic you may not find on other grapes- coffee!
While we would say that David & Nadia's Topography Pinotage is perhaps lighter in the coffee notes than we've had in other bottles of this grape, it does hit us with all the right notes all the same.
A Stronger Intensity Pinotage and Lighter on the Coffee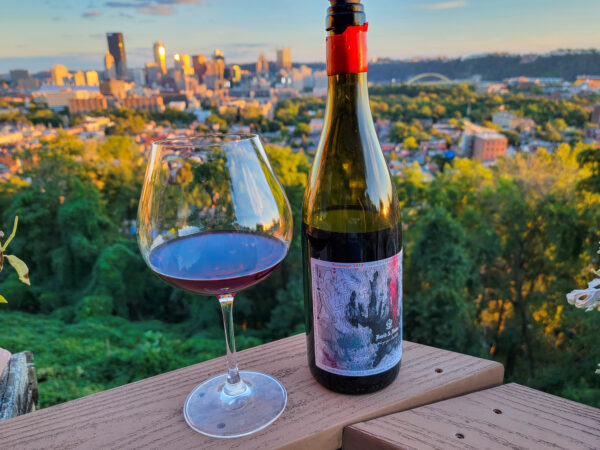 This pale ruby Pinotage from Swartland had medium aromas of red cherry, dried green herbs like sage, cranberry, blueberry, coffee, tobacco, leather, and was developing.
On the palate it was dry with medium+ acidity, tannin (that were smooth and persistent), flavor intensity, and finish, as well as medium alcohol and body. We got notes of red cherry, raspberry, cedar, clove, cola, coffee, and vanilla. Perhaps a bit lighter on the coffee than other Pinotage wines we've had, but definitely prominent enough if you know what you're searching for.
The acidity of this one also danced around on our tongue and had the mouthfeel like a carbonated soda, albeit without the bubbles. We definitely could see this one improving five to ten years, although I'm not sure we could wait that long in drinking another bottle.
Pinotage Food Pairing – Steak with Squash and Mushrooms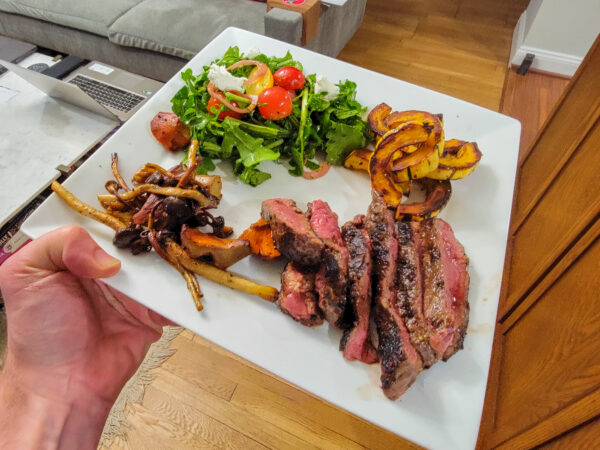 We paired this Pinotage with sous vide rib steak made with 72-hour shio koji aging and pan-seared mushrooms and roasted squash on the side.
As with most great red wines and steak pairing, the acidity and tannin combination was what made it work. The fat of the steak paired these wonderfully to allow more fruit flavors in the wine to shine. But as a surprise to us, the best pairing was in fact the roasted squash. The cola, spice notes, and red fruit in the wine hit with the sweetness in the squash to make a rather robust fall-centric feeling in our mouth. A lovely surprise!
Score: 3.5 / 5
We'd buy a glass of this one and a bottle in the right context.
Overall, David & Nadia's Pinotage hit a lot of the right notes for us in the acidity, tannin, and flavor department while also being a bit lighter in the coffee notes that you may expect from this grape overall. We'll definitely order a glass if not an entire bottle of this one in the right context.
David & Nadia Wines is located on Cormorant Street in Swartland, South Africa. We purchased this bottle on Wine.com and enjoyed it in 2021.