Published Jeremy. Last Updated on March 1, 2022.
Disclaimers: This review uses WSET Diploma terminology and our own rating scale. Read more here. We use demographic data, email opt-ins, display advertising, and affiliate links to operate this site. Please review our Terms and Conditions for more information. This website is intended for those of legal drinking age in your jurisdiction.
When we visited many wineries in Seattle, we quickly realized how great the wine regions are for Syrah. As Syrah happens to be one of our favorite grapes, we truly were in heaven and brought back many bottles to enjoy over the subsequent months and years.
One such bottle was from Amavi Cellars, and their 2018 Syrah was a bit unique in that it had some interesting jammy fruit characteristics!
Amavi's Syrah Pushes Towards Jammy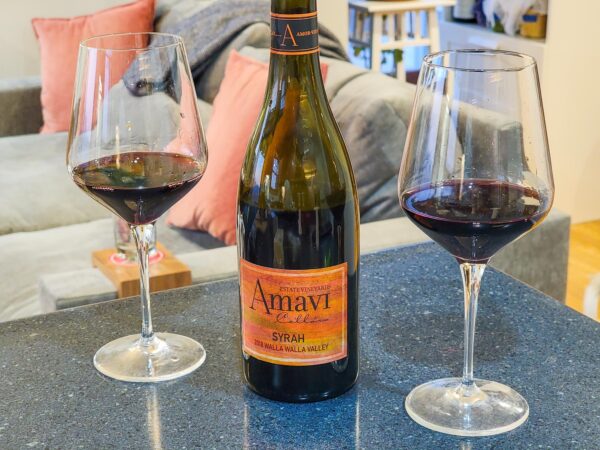 This deep ruby Syrah had medium+ aromas of black cherry, clove, vanilla, stewed plum, dried cranberry, leather, cedar, and was developing.
On the palate it was dry with medium acidity and finish, medium+ chalky tannin, body, and flavor intensity, and high alcohol. We got notes of jammy fruits including red and black cherry, strawberry, raspberry, blackberry, cedar, clove, and vanilla.
While this one trended to a jammier side than we normally prefer for our Syrah, the flavor notes hit quite well all the same.
Syrah Food Pairing – Enchiladas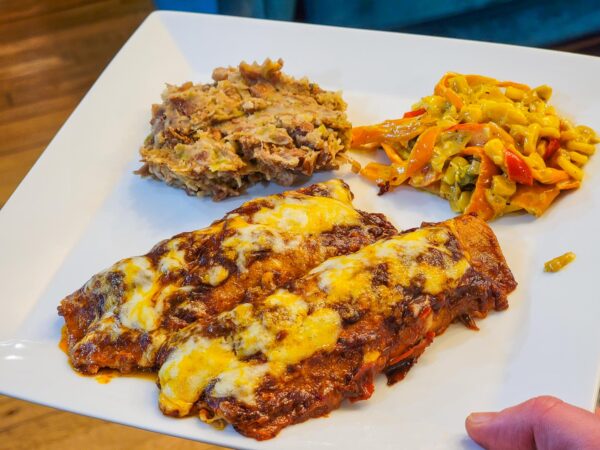 We paired this wine with homemade enchiladas with a smokey dried pepper sauce plus sides of rajas and refried pinto beans.
The acidity of the sauce in the enchiladas and the fat of the meat really helped cut through some of the tannins and made the fruit take on softer jammy notes as well. But the creaminess of the rajas really worked well in this wine to help bring out the barrel notes of vanilla, clove, and others too. As such, it was fun to try sips with all the bites of food, even if we thought the pairing worked the best with the rajas over the enchiladas as a whole!
Score: 3 / 5
We'd buy a glass of this one.
Overall, this was a rather delicious bottle of Syrah but we stop short of wanting another bottle partly because of just how jammy the fruit was. It was delicious but just a bit too much jam for us. However, if you love jam notes, this one could be a great bottle to try.
Amavi Cellars is located in Walla Walla, Washington. We visited their tasting room at 14810 NE 145th St A3 in Woodinville, Washington, in 2021 where we purchased this bottle and enjoyed it in 2022.