Published Jeremy. Last Updated on March 1, 2022.
Disclaimers: This review uses WSET Diploma terminology and our own rating scale. Read more here. We use demographic data, email opt-ins, display advertising, and affiliate links to operate this site. Please review our Terms and Conditions for more information. This website is intended for those of legal drinking age in your jurisdiction.
We've been lucky enough to sample some wines from Armenia Wine Co. as finding Armenian wine in the USA is often difficult outside of this brand. Their non-vintage white comes from the Kangun grape and offered a somewhat simple flavor profile with some slight aged notes on the finish.
This one will truly go with many dishes, but we ended up wanting just a bit more.
Kangun is a Simple Armenian White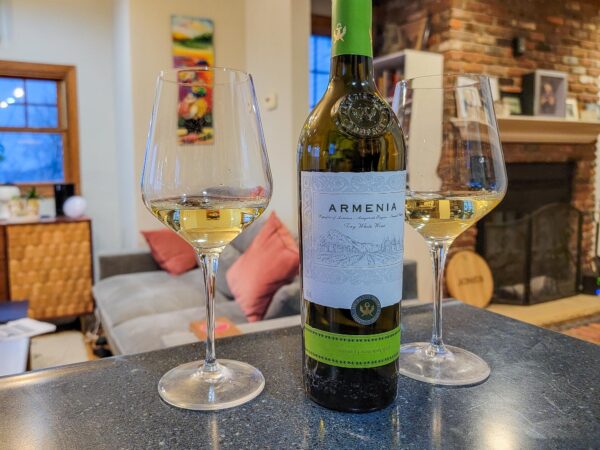 This pale gold wine from Armenia had medium aromas of petrol, lemon, lime, pear, geranium, and ripe yellow apple that was youthful. We also detected a slight reductive note upon opening of the bottle which went away fairly quickly.
On the palate, it was dry with high acidity, medium alcohol, body, and flavor intensity, and medium- finish. We had notes of lemon, lime, grapefruit, nectarine, almond, and a slight saline note as well. We couldn't find an indication of age on the bottle, but we suspect this one was probably on our store's shelves for a few years thanks to the presence of almond notes.
Armenian White Wine Food Pairing – Vegan Burgers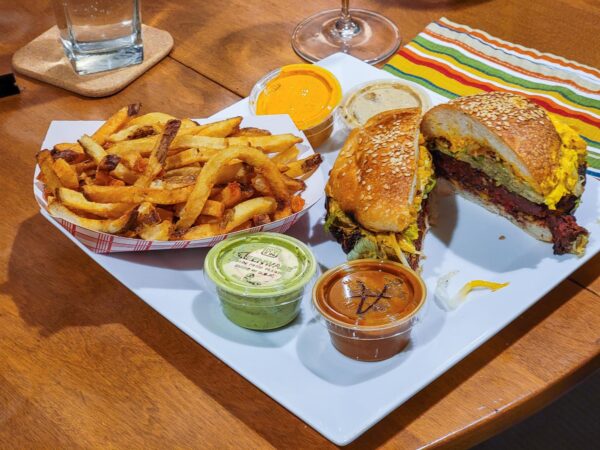 We paired this wine with Eastern European-inspired burgers from one of our favorite local restaurants as we thought this bottle would fit well with the food. Primarily this one worked as a pairing thanks to the high acidity and simple flavor profiles, and as such, we didn't really detect any changes on the palate that are worth writing home about.
Score: 2 / 5
We're okay on this one.
When it comes down to it, Armenia Wine Co's Dry White is a fairly simple wine with relatively straightforward flavor profiles. The almond and salinity give this one an interesting finish, but overall it is the kind of bottle that could pair with anything simply because it isn't that complex outright. Good enough for what it is, but not something we necessarily would seek out again either.
Armenia Wine Company is located in Sasunik, Armenia. We purchased this bottle locally and enjoyed it in 2022.