Published Jeremy. Last Updated on March 4, 2022.
Disclaimers: This review uses WSET Diploma terminology and our own rating scale. Read more here. We use demographic data, email opt-ins, display advertising, and affiliate links to operate this site. Please review our Terms and Conditions for more information. This website is intended for those of legal drinking age in your jurisdiction.
When it comes to French Sauvignon Blanc, if you know a bit about regions your mind may first go to Sancerre in the Loire Valley. While this region does make stellar bottles, we often find the prices in the USA to be just a bit more than what we'd prefer for the respective bottles.
Thankfully, Pouilly-Fume nearby also makes some stellar Sauvignon Blanc at, in our limited sampling at least, slightly better quality when comparing two similarly priced bottles. The only downside? They can be quite hard to find in the USA- so whenever we see a bottle we snatch it up right away. Domaine Serge Dagueneau et Filles Pouilly-Fume was no different, and we really could use another bottle of this one in our cellar!
A Fairly Intense Sauvignon Blanc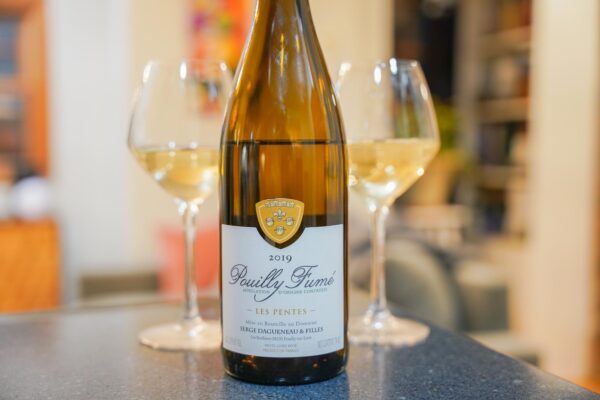 This Sauvignon Blanc was medium lemon in color with medium aromas of grapefruit, peach, lemon, lime, slate, honey, pear, pineapple, and was youthful.
On the palate, it was dry with high acidity, medium alcohol, medium+ body, flavor intensity, and a long finish. We got notes of pear, pineapple, lychee, geranium, saline, lemon, lime, grapefruit, and slight peppery notes too. We always love intense Sauvignon Blancs and this one most certainly didn't disappoint in the flavor department.
Pouilly-Fume Food Pairing – Trout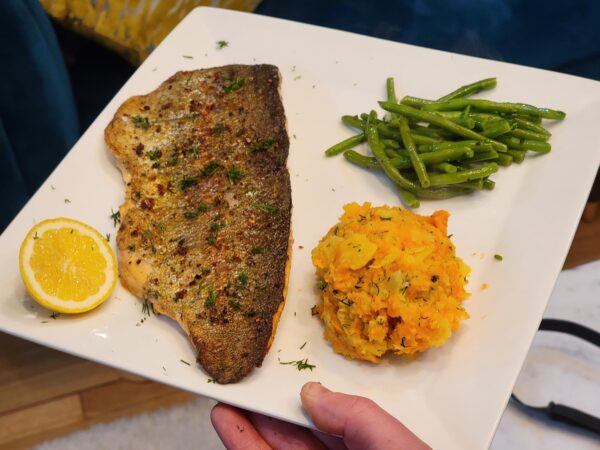 We paired this wine with a seared trout that we bought locally as we wanted to have a fairly intense white to hold up to what many would consider a fairly intense fish. The richness of the fish worked nicely with the acidity, and even the salinity and geranium notes were balanced quite well within the fish. Lots of fruit came out as a result and allowed the wine to sing!
Score: 4 / 5
We'd buy another bottle of this one.
Overall, we really like Pouilly-Fume wines in general and the Serge Dagueneau et Filles Pouilly-Fume Les Pentes was no different. Our only regret is that bottles from this region are sometimes hard to come by locally so we may have to resort to buying online at places like Wine.com to get our fix (although they didn't seem to have this particular producer in stock at the time of publishing)!
Domaine Serge Dagueneau et Filles is located at 22 Les Berthiers, 58150 Saint-Andelain in France.