Published Jeremy. Last Updated on January 25, 2022.
Disclaimers: This review uses WSET Diploma terminology and our own rating scale. Read more here. We use demographic data, email opt-ins, display advertising, and affiliate links to operate this site. Please review our Terms and Conditions for more information. This website is intended for those of legal drinking age in your jurisdiction.
It only took a while after arriving in Washington that we realize this state produces some pretty incredible grapes. Not only that, but Washington wineries tend to produce similar to two renowned Old World styles- namely Bordeaux and Rhone blends.
As we are fans of all things Rhone wine (less so Bordeaux, if we are being honest), we were drawn to sampling as much Grenache, Syrah, and Mourvedre as we could in Washington.
So when we were visiting Latta Vineyards outside of Seattle (after trying a bottle of their amazing Grenache), we found ourselves heading next door to Rotie Cellars immediately thereafter. As the name comes from one of the best wine regions in the Rhone (making arguably some of the finest Syrah in the world), we knew we had to give them a try.
As it turns out, their Southern Rhone Blend was a winner!
Rotie Cellars Southern Red is Intense
This red blend produced in GSM style was pale ruby in color with medium+ aromas of black cherry, blackberry, dried red cherry, dried cranberry, green pepper, tomato leaf, pomegranate, clove, cedar, cola, eucalyptus, and chocolate that was developing.
On the palate, it was dry with high acidity and alcohol, low smooth tannin, medium+ body, pronounced flavor intensity, and a long finish. We detected notes of blueberry, black cherry, black currant, blackberry, black raspberry, clove, vanilla, cedar, black pepper, leather, and tobacco to name a few. This one truly had a lot going on with it!
Southern Rhone Red Blend Food Pairing – Pasta Alla Vodka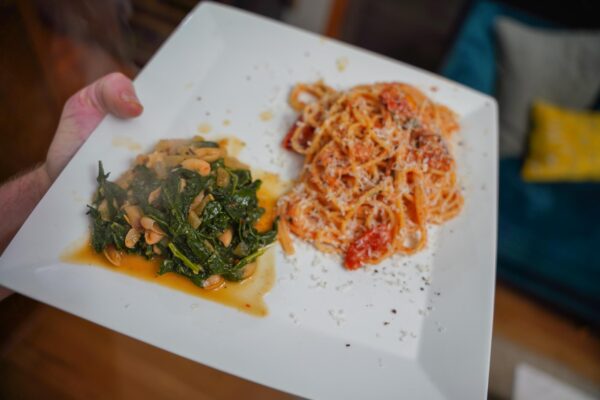 Nothing beats a flavor-forward red wine with tomato sauce on pasta, and throwing cream into the mix really helped highlight the dark fruit flavors and even pull out more pronounced barrel notes like vanilla and baking spices. A lovely pairing for this high acid and strongly flavored wine!
Score: 4.5 / 5
We want several bottles of this one.
Overall, this Southern Red blend from Rotie Cellars shows that the Rhone does not have a stranglehold on great GSM and that the Pacific Northwest of the United States should really be on your radar for these particular grapes. Rotie Cellars does this one right and we want several bottles of it in our cellar!
Rotie Cellars is located at 3861 1st Ave S Suite F in Seattle, Washington. We visited the cellar in 2021 and enjoyed this bottle in the same year. Rotie Cellars is listed on Wine.com but were out of stock at the time of publication.