Last Updated on September 7, 2021 by Jeremy
Disclaimers: This review uses WSET Diploma terminology and our own rating scale. Read more here. We use demographic data, email opt-ins, display advertising, and affiliate links to operate this site. Please review our Terms and Conditions for more information. This website is intended for those of legal drinking age in your jurisdiction.
Every time we travel, there is almost always a winery that we find by chance and fall in love with. During our trip to Washington, that winery was Latta Wines.
We stumbled upon this one when shopping for a bottle to take to a nice dinner as the corkage fee was reasonable relative to the heavily marked-up bottle prices. We stumbled upon the Latta Grenache Upland Vineyard 2015 at a nearby store. We saw it had stellar reviews and was at a reasonable price, so we jumped on it. What a wine it was!
The wine left such an impression on us that we immediately had to look up where the winery was, and we found out they are based in the south end of Seattle outright (as many wineries in the state buy their grapes from various vineyards)! Naturally, we visited, adored all the wines we tried there, and left with even more bottles of the Upland Vineyard Grenache, 2016 vintage, to take home with us.
It was just a few weeks later that we opened our first bottle, and wanted to share more in this review!
An Incredibly Fruity Grenache
This pale ruby Grenache had medium+ aromas of red cherry, plum, cola, vanilla, nutmeg, cinnamon, vanilla, black cherry, and a slight herbal note as well that was developing.
On the palate, the wine was dry with medium+ acidity, medium+ smooth tannin, high alcohol, medium body and flavor intensity, and a medium+ finish. We had notes a lot like the palate with red cherry, vanilla, clove, nutmeg, and a vegetal note like tomato leaf being the main flavors.
What we really liked about this one was just how fruity it was. There were some barrel notes, sure (more so in the aroma) but overall was a nice, fruit-forward Grenache that we adored. As some of this varietal can be lighter in body and flavor intensity, we really appreciated how robust this one was overall despite not being overly complex- especially when you consider we drank this one at five years old.
While we would be happy enjoying this bottle right now, we also think you may be able to age it for a few more years as the higher acid and tannins give indication for age. That being said, as we hadn't noted many tertiary notes in this wine just yet we cannot say for sure how long that vibrant fruit note will hang on, which is why we'd personally err on drinking sooner rather than later.
Latta Grenache Food Pairing – Burgers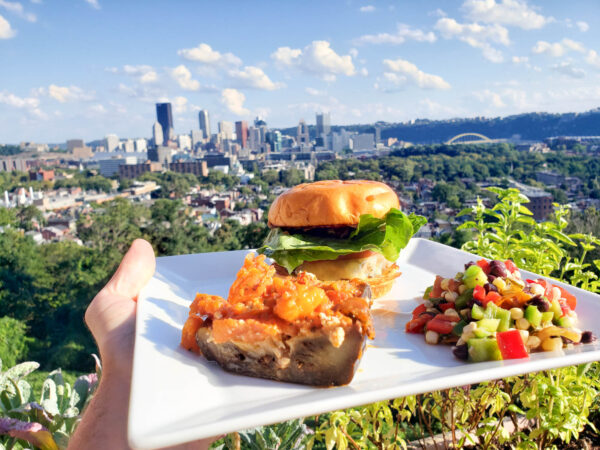 We paired this wine with the classic All American burger with a vegetable salad and roasted eggplant with tomato sauce and feta.
The two highlights of this food pairing were that the fat of the burger helped mask some of the tannins, allowing for more fruit flavor to shine through and that the vegetables both on the sandwich and as a side helped highlight some more green/vegetal notes in the wine.
I'm not entirely sure I'd say that this was accented in a good way, but also wouldn't call it bad either- just a bit more unexpected. As such, I think this bottle is perhaps better suited for something a bit more fat-rich (steak) or maybe trending on the acidic side (tomato-sauce based pasta). That being said, it still drank well with the burger all the same. This bottle can really go with a lot of things!
Score: 4.5 / 5
We want several bottles in our collection.
Overall, this is the kind of bottle that uplifts Grenache as a single varietal wine in our eyes. Great intensity, lovely fruit flavors, and some possible aging potential as well. We would not be upset if we had a few bottles of this one in our cellar at all times.
Latta Wines is located at 3933 1st Ave S in Seattle, Washington. We purchased this bottle directly from the winery and enjoyed it in 2021.