Published Jeremy. Last Updated on March 2, 2023.
Disclaimers: This wine or experience was provided complementary for this review. We use demographic data, email opt-ins, display advertising, and affiliate links to operate this site. Please review our Terms and Conditions for more information. This website is intended for those of legal drinking age in your jurisdiction.
When it comes to thinking about boxed wine, we often remember the lower-quality beverages we had way back in our younger days. As some of the connotations that go along with this packaging medium are generally on the negative side, we've not really rushed to try out any of the new brands pushing boxed wines that have been popping up in recent years.
It wasn't until Gratsi contacted us to see if we wanted to try their Washington-grown Sauvignon Blanc and Cabernet Sauvignon that we decided to give boxed wine a chance. All we have to say is if boxed wine was like this when we had it last, we may have not waited so long to try them again.
To be sure, this is table wine. But it is damn good table wine, and at 3L per box provides an ample amount of wine for meals, cooking, and even some sneaky sips here or there all at a respectable price point.
We could get used to that.
Gratsi is What Boxed Wine Should Be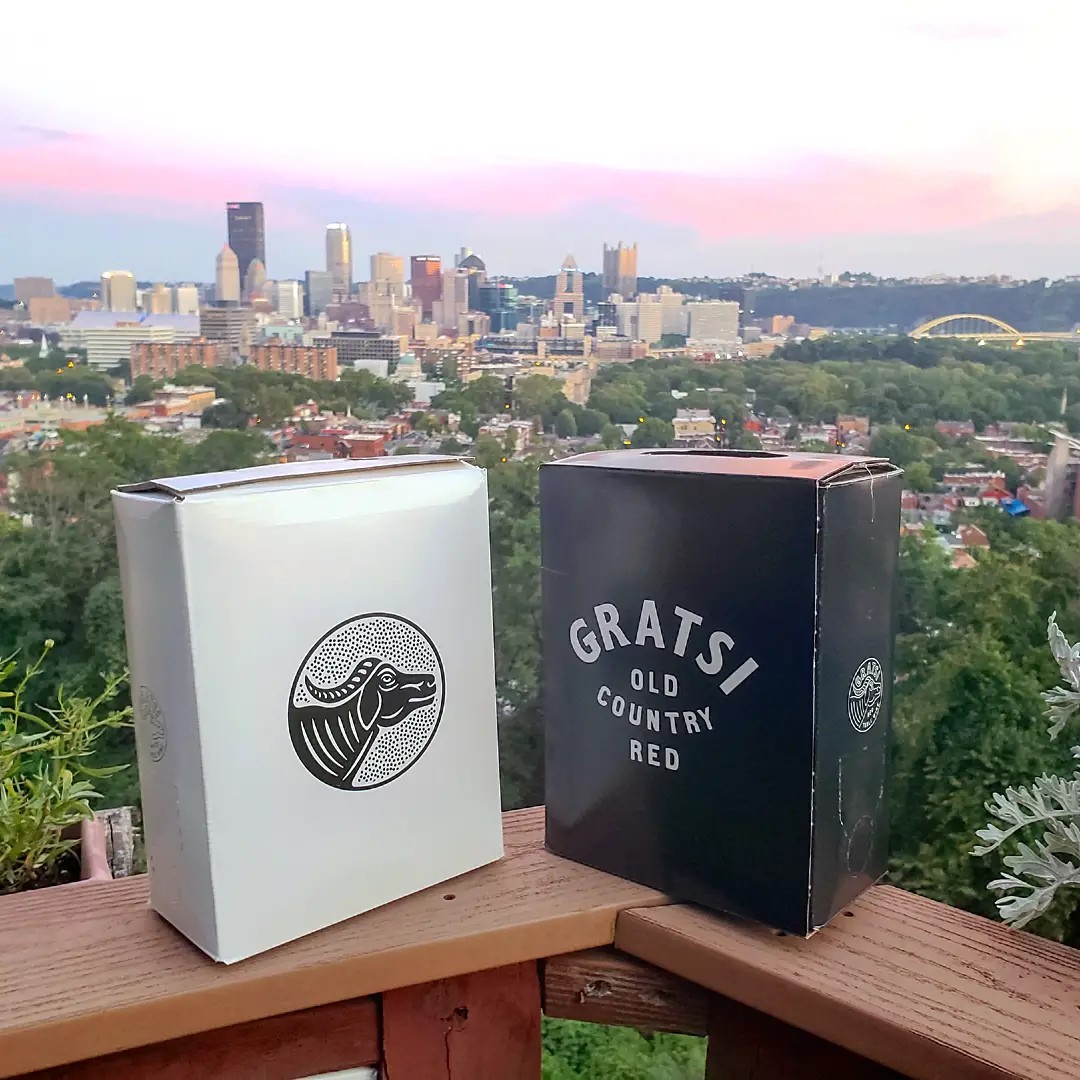 Gratsi's wines are aptly named Old Country Red and Old Country White and are an homage to European table wine made in a Mediterranean style. They're fermented to be fruit-forward and easy-drinking such that they can pair with, well, anything that may show up on your table!
But before we get into our traditional tasting notes and food pairing commentary, I want to take a step back and elaborate a bit more on what we think of when it comes to European table wine and why boxes are perhaps the perfect medium for them when you are outside of major wine regions.
Yes, table wine is the ubiquitous carafe of dry, fruity wine that can show up at your table for next to nothing price-wise. But apart from having it at a restaurant in Europe, where do you get it?
In Italy, I was fortunate enough to visit a bulk wine store and was immediately enthralled with the concept. You simply go in with a clean vessel, fill up as much wine as you want from giant vats, pay by weight, and take it home to enjoy over the next few days. After visiting, it really turned my whole appreciation for table wine on its head.
The only downside? We don't have stores like that at home. Enter boxes as a packaging medium to solve this dilemma.
As we've come to find out, boxes are actually the perfect way to package table wine when you cannot access these stores for bulk purchases outright. First, they are recyclable and great for the environment. Second, the medium is much, much cheaper to produce than glass (more wine for your money!). Finally, the bagged system allows the wine to stay fresh for up to 30 days as it does not allow in much oxygen when pouring.
This is all worth noting because the $40 price tag for a 3L box may look daunting at first. But you really need to take a step back to realize that a 3L box is equivalent to four bottles of wine, and at an effective $10/bottle price point, you can really see how economical it is- insofar as you can go through 3L of wine in a month!
So, how do they taste? Well, quite good actually.
Old Country Red and White are Easy Sippers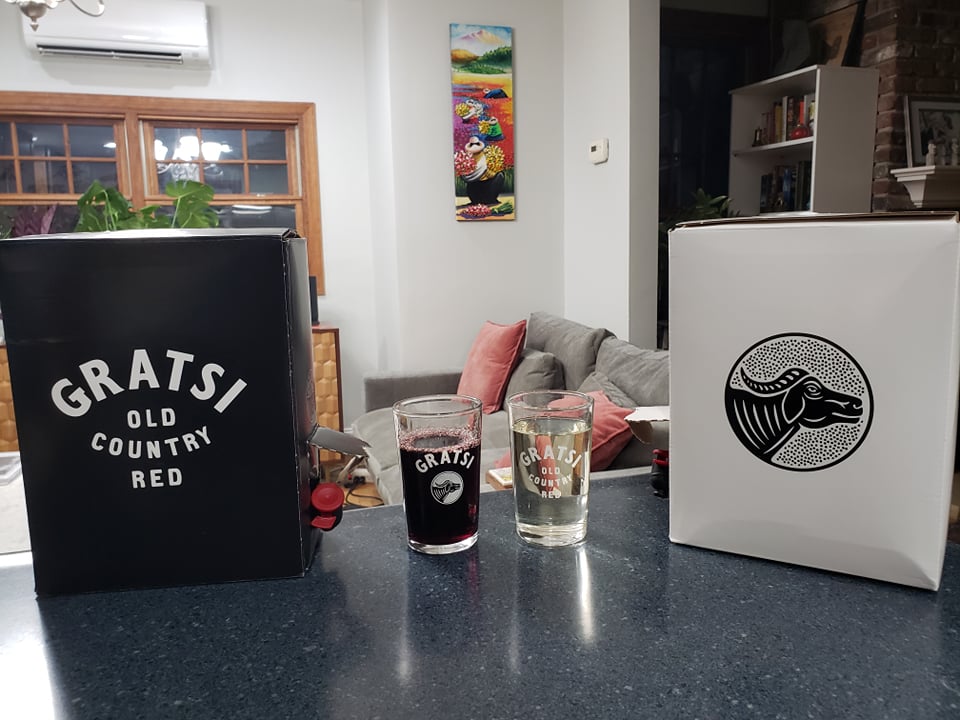 Gratsi's Old Country White is a Sauvignon Blanc that is pale gold in color with medium+ aromas of yellow apple, pear, pineapple, lemon, guava, grass, peach rings, and was youthful.
On the palate, it was dry, with medium+ acidity and medium alcohol, body, and flavor intensity with notes of lemon, lime, pineapple, slate, a slight minerality, peach, and a long finish.
Gratsi's Old Country Red is a Cabernet Sauvignon that was deep ruby in color with medium+ aromas of red cherry, cranberry, cola, vanilla, herbs, raspberry, and a slight vegetal note that was developing.
On the palate, it was dry with medium acidity, alcohol, body, and flavor intensity, medium- tannin, and notes of red cherry, cranberry, vanilla, sandalwood, plum, and a medium+ finish.
Gratsi wine alcohol content ranges from 12.7-13.4% ABV depending on style with their rose being on the lower end and red on the higher.
For the white, it was a pretty representative Sauvignon Blanc all around and the Cabernet Sauvignon was similar, albeit trending to a bit more youthful and less developed than what you'd expect for the grape outright when buying bottles.
That being said, what makes both of these great table wines is that they have a good amount of acid, the Cabernet Sauvignon is surprisingly on the lower side for tannin, and the flavors are incredibly fruit-forward with only minimal barrel and aging notes present in the red. Throw in the fact that both hang on the palate for a decent finish and you have two wines that will go with almost everything- ensuring the 3L disappears quickly.
Are they complex? Not terribly. Are they delicious? Yes, and at $10/bottle equivalent it really is hard to say no to these- although personally, we do have to admit that the white was just a bit more to our liking overall.
From there, the sky is really the limit on what you can do with these wines. Take a sip for happy hour just because the box is open? Yep. Pair them with virtually any dish? Yep- we enjoyed the white with fish and red with pasta, meat-heavy dishes, and even Asian cuisine as well. Make Sangria? We made giant pitchers with the white and still barely put a dent in the box. Cook with it? Yep- these make wonderful cooking wines too!
So while we cannot take an empty vessel and run out to a bulk wine store to grab table wines as we saw in Italy, boxed wines like those from Gratsi are the next best thing. Having wine on hand at all times really isn't the worst thing in the world, but just don't be surprised if your consumption rises to go along with it. Ours did!
Gratsi Wines are made from grapes produced in the Columbia Valley of Washington. We were shipped these samples complimentary for our review. As always, all opinions are our own.